Detroit Red Wings: Players That Will Need to Step Up with Pavel Datsyuk out
Christian Petersen/Getty Images

Injuries and losses have been plaguing the Detroit Red Wings. A team that was once at the top of the Western Conference, that was once on top of their Central Division, that once had a strong winning streak at home, is now slipping down the ranks. They are not playing like the team they were a few weeks ago.
Not only has this team been struggling without star player Pavel Datsyuk, but also, for some time, without defenseman Nicklas Lidstrom and goalie Jimmy Howard.
Datsyuk skated with the team during practice recently, but it doesn't look as if he'll be returning to the ice until Saturday or later. The season is closing to an end; if the team wants to get far in the playoffs they need to keep winning. Certain players need to step up, certain players need to play harder.
Injuries have been a problem of late for the Wings, but they are not to blame for the struggle on ice.
These players need to step up.
Begin Slideshow

»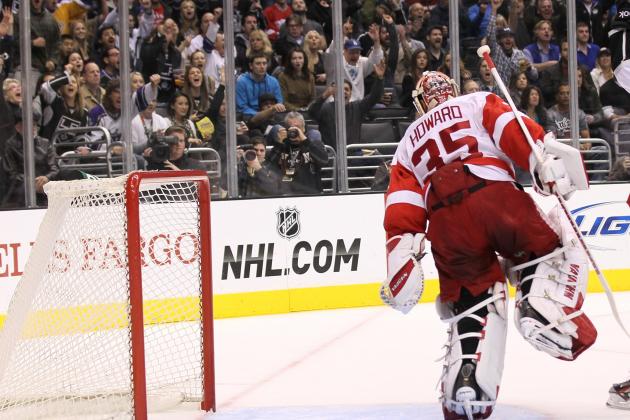 Stephen Dunn/Getty Images

Jimmy Howard had been out for three games with a groin strain, and wasn't exactly like himself in his first start back with the Wings when they played against the LA Kings on March 13th; losing 5-2.
He stated that he had trouble following the puck, but the Wings need him to get sharper in the next remaining games. He had been a major key element on defense this year, and it is this key that will help shift the momentum for the Wings towards confidence.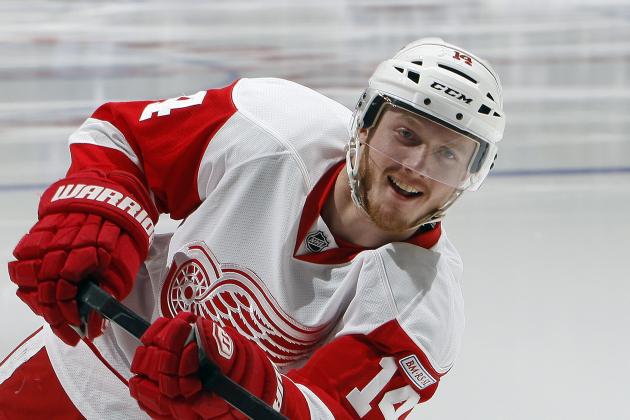 Abelimages/Getty Images

This skilled rookie is stated to be the most creative forward prospect the Wings has seen in a few years.
While Gustav Nyquist is a skilled player who can hold onto the puck like Datsyuk and make tremendous plays, they don't amount to anything.
He needs to take more shots on the goal, take more chances. In the last nine games with the Wings, he's only had six shots on goal.
His teammates believe in him. Now he needs to believe in himself, go out there and get some results.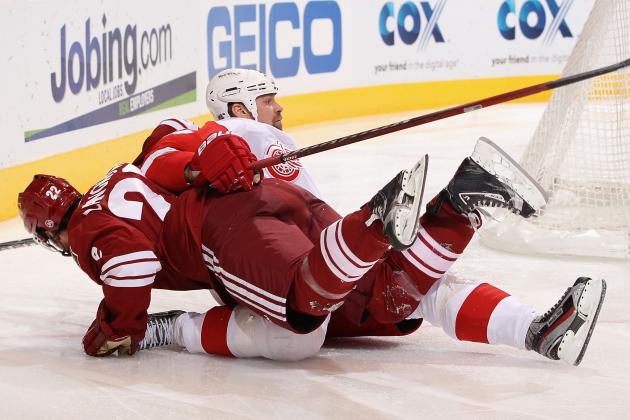 Christian Petersen/Getty Images

Goalies hate to see Tomas Holmstrom screening them in front of their nets; he's always creating havoc. He is a great power-play specialist, great on one-man advantage. He has a strong presence on the ice.
Or used to.
In the last 24 games, he has not scored and has picked up only one assist. He has struggled greatly—as well as the rest of the team—on creating opportunities on power plays.
Homer needs to find himself again. The Wings need his creating-havoc ways on the ice once more. Especially on a power play. They have yet to convert a one-man advantage in the past seven games.
Step up, Homer!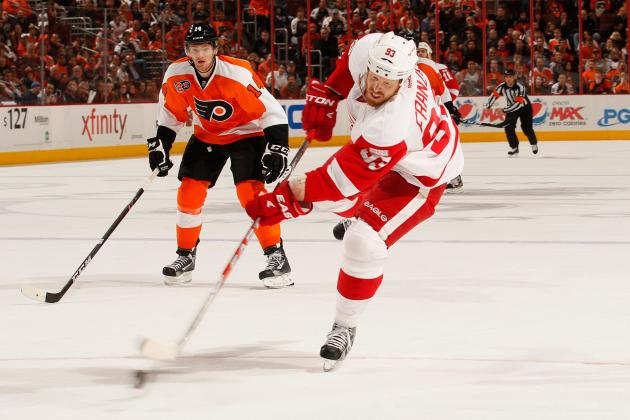 Rob Carr/Getty Images

Johan "The Mule" Franzen has been slumping as if late and hasn't been living up to his nickname. He's been creating opportunities on the ice and had many chances to score. In the last four games, however, he's scored two goals.
Coach Babcock had moved him around different lines to see who he skates better with. Right now, he's on a line with rookie Nyquist and Dan Cleary. It was an effort to create better chances on offense.
His slump is not lack of trying. He's creating chances. He had a career-high of seven shots on goal against the Philadelphia Flyers on March 7th. He needs to turn those chances into results.
He's struggling to carry the load of this team, and The Mule needs to carry it if he wants to aid his teammates into the playoffs.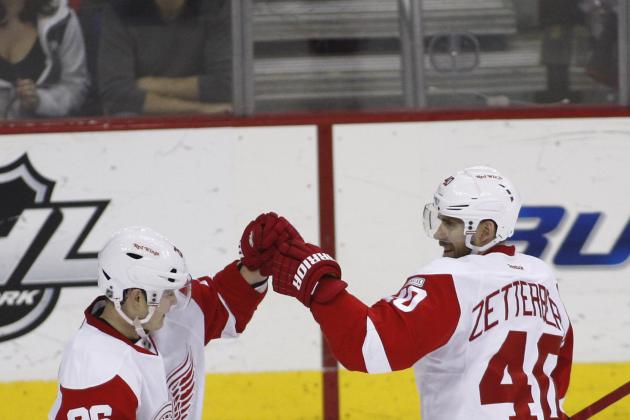 John Grieshop/Getty Images

Out of the four lines, Henrik Zetterberg's line is the one that has been producing the most results, been scoring the most goals. They have been applying the pressures on defense. They have been the line that has been controlling the puck.
They don't need to step up, they need to keep it up. They are the reasons why the Wings are holding on, even if by a thread.
Jiri Hudler is only two goals short of tying with his career-high from 2008-09. He's been on fire as if late as he scored his 21st goal against the Kings. Aren't you fans glad we kept him?
Zetterberg has scored nine goals and 14 assists in the last 18 games. He's been stepping up, close to surpassing team leader Datsyuk on points.
Valtteri Filppula has been having a breakout year; he's been on fire. He's taking the puck to the net, and creating lots of opportunities. He's adding onto his career-high in points (58) and goals (22).
Detroit has dropped from first place in the Western Conference. They have dropped in their division and are currently seven points behind the leader St. Louis with Nashville on their tails, nearly catching up.
The Wings sadly cannot survive with Zetterberg's line alone. The other three lines need to step up now and start creating results before its too late.