Golden State Warriors vs. Sacramento Kings: Game Preview and Prediction
March 12, 2012
Jonathan Daniel/Getty Images
When
Tuesday, March 13. Tipoff is slated for 10:00 p.m. ET.
Where
Power Balance Pavilion, Sacramento, CA.
TV/Radio Coverage
The game will be shown on CSN-BA and CSN-CA. It is also available on local radio at KHTK 1140 out of Sacramento and KNBR 680 out of San Francisco. You can also watch the game on NBA-TV if you have the NBA League Pass.
Injuries
Warriors: Kwame Brown is out with a torn pectoral muscle. Shockingly, Stephen Curry re-injured his ankle during Saturday's win against the Dallas Mavericks. While Curry didn't return to Saturday's game, the injury doesn't appear too serious, as Curry was able to log nine minutes in Sunday's win over the Los Angeles Clippers.
Kings: J.J. Hickson has missed the last six games with a hip pointer. He's listed as day-to-day and his status for Tuesday's game is up in the air.
Team Records, Home/Road Records and Recent Performance
Warriors: 17-21 overall, 7-11 on the road and 6-4 in their last 10 games.
Kings: 14-27 overall, 10-7 at home and 4-6 in their last 10 contests.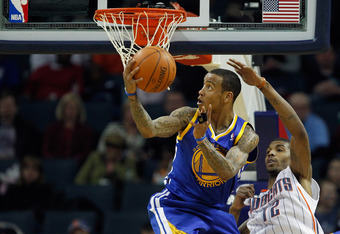 Streeter Lecka/Getty Images
Projected Lineups
Warriors: Stephen Curry—point guard, Monta Ellis—shooting guard, Dorell Wright—small forward, Ekpe Udoh—power forward, David Lee—center.
Kings: Isaiah Thomas—point guard, Marcus Thornton—shooting guard, Tyreke Evans—small forward, Jason Thompson—power forward, Demarcus Cousins—center.
Matchup to Watch
Shooting guard: Monta Ellis and Marcus Thornton have the ability to absolutely light up the scoreboard. While Ellis is certainly a better scorer and a more consistent scorer than Thornton, there's something to be said for Marcus Thornton's recent performances against the Warriors.
Since being traded to the Kings before last season's trade deadline, Thornton has played in three regular-season games against the Warriors, averaging 30.3 points in those games. Ellis, meanwhile, has averaged 20.5 points against the Kings over the last three seasons.
Prediction
Predicting games between these two teams is always difficult. The Warriors and the Kings have been pretty evenly matched in recent history. Over the last 14 contests between the two teams, each squad is 7-7.
Consider that over the previously listed 14 games between the two teams, each team is 5-2 on their home floor. Because of that, I'll take the Kings pulling out a close one, 110-106.