Notre Dame Football: Setting Realistic Expectations for Fighting Irish in 2012
March 12, 2012
Gregory Shamus/Getty Images
Brian Kelly is heading into his third year as Notre Dame's head coach. He was brought in to restore the Fighting Irish's winning tradition, which has faded since Lou Holtz left in the mid-90s.
In his two seasons, his team has shown promise, but has never been worthy of top-10 consideration or a BCS bowl invitation. After back to back 8-5 seasons, Kelly will try and lead his team out of mediocrity and into the spotlight.
Kelly needs to push the Fighting Irish hard if he expects to get to the next level in 2012.
However, a coach can only do so much. It comes down to how well the bodies hidden under the pads perform come fall.
While a BCS bid is the end goal, that may be too lofty an expectation; 2012 smells like another up-and-down season for the Fighting Irish, and one which will tantalize with potential, but ultimately end in a meaningless bowl game.
Notre Dame's success next season will be decided by the play of their quarterback and secondary.
Quarterback
Tommy Rees is currently penciled in as the starter. The 19-year old has played well considering his age, but has left a lot to be desired in terms of results.
Rees' accuracy has improved over the last two seasons, but he still has the tendency to force passes. He has thrown for 31 touchdowns and 20 interceptions in his career.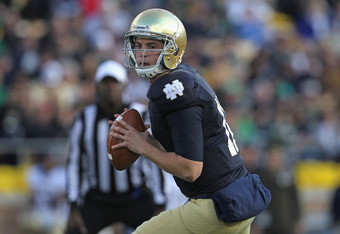 Jonathan Daniel/Getty Images
Rees must limit his mistakes next season if the Fighting Irish are to have a shot at contending with the elite teams on their 2012 schedule.
The fact that he is losing his favorite target, Michael Floyd, is not reassuring. He will need tight end Tyler Eifert and wide receiver DaVaris Daniels to fill Floyd's void, not the easiest task.
If Rees is unable to cut down on turnovers, there will be a strong push to give Andrew Hendrix or (fan favorite) Everett Golson a chance to run the offense.
Secondary
All of Notre Dame's cornerbacks have little to no experience. How they are able to hold up against tougher opponents will go a long way in determining their success next season.
Zeke Motta and Jamoris Slaughter are returning safeties, but leave a lot to be desired in terms of consistency and overall talent.
This is a shame considering the Fighting Irish's talented front seven.
Star linebacker Manti Te'o overshadowed DE Aaron Lynch's strong season. As a true freshman he recorded 5.5 sacks. Expect the 6'6", 265-pounder to double his sack total in 2012 and establish himself as one of the premiere defensive ends in college football.
However, the damage these two are able to cause up front will not make up for the lackluster play of the secondary. 
Prediction
While the Fighting Irish seem on the brink of earning a BCS bowl bid, they will finish the 2012 season on the outside looking in.
They lack the difference makers on offense, and the complete defense needed to beat the tougher opponents on their schedule: Michigan State, Michigan, Stanford, Oklahoma and USC.
Notre Dame will once again fall victim to hyped preseason expectations and finish the regular season with a measly 7-5 record.