Tim Tebow Trade Rumors: Broncos Should Keep Tebow Regardless of Peyton Manning
March 12, 2012

Doug Pensinger/Getty Images
It looks as if the Denver Broncos actually have a real shot at landing free agent quarterback Peyton Manning, but even if they do, the team would be foolish to part with their savior Tim Tebow.
According to NBC Sports Mike Florio, the team would likely trade Tebow if they were able to lock up No. 18.
Per a source with knowledge of the dynamics in Denver, if the Broncos land Manning, Tebow most likely will be gone.

He wouldn't be cut.  He'd be traded.  At while the number of potentially interested teams isn't known, the next yard sale at Shad Khan's house may include some oversized tarps.
Those over-sized tarps are in reference to some serious fan backlash, which is such a ridiculous thought given the result of Tebowmania just about three months ago.
While there is no question that Manning is a much better option when compared to Tebow, the team certainly would be running a huge risk in departing with the hero from just a season ago.
If Manning was to come to town, it is clear that he would be the designated starter. There is just no other way he would have it. The opportunity that presents itself here is that Tebow can finally learn from a talented passer, and no one is a better option than Manning.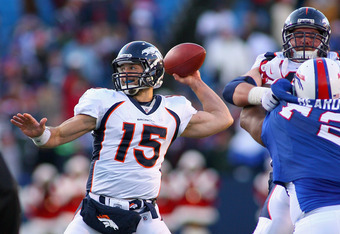 Rick Stewart/Getty Images
Sure, it is difficult to tell Tebow that he is now benched after everything he did just a season ago, but it is sure a lot easier than sending him packing while having to deal with the media and, more importantly, the fan backlash on such a move.
Don't forget, Tebow took this team from the dead and made them into a playoff team. While it wasn't exactly done in the prettiest fashion, he still got the job done and became a sensation for this team. It just wouldn't sit right to dump him if Manning came to town.
It also is no secret that Manning isn't in perfect health. There is a reason why he missed the entire 2011 season, and there is no clear answer as to him having a perfectly healthy 2012. Honestly, one can never predict such an outcome, so the Broncos would be foolish to not have a backup QB they could trust.
Tebow clearly still has much developing to do, and while he did get off to a nice start with his emergence this past season, pretty much anyone would agree that No. 15 could benefit from a little more development.
Manning isn't done yet in visiting teams, and he certainly still hasn't made his final decision yet. He has been linked to the Arizona Cardinals and possibly the Miami Dolphins, so this whole situation is far from being a reality in Denver.
If Manning does head to Mile High, the Broncos front office shouldn't make any drastic moves. Otherwise, they may really regret that decision throughout next year.
Jeff Chase is a Featured Columnist for the Chicago Cubs and Arizona State football.
Follow @Real_Jeff_Chase