Michigan Football 2012: Breaking Down the Rising Wolverines Special Teams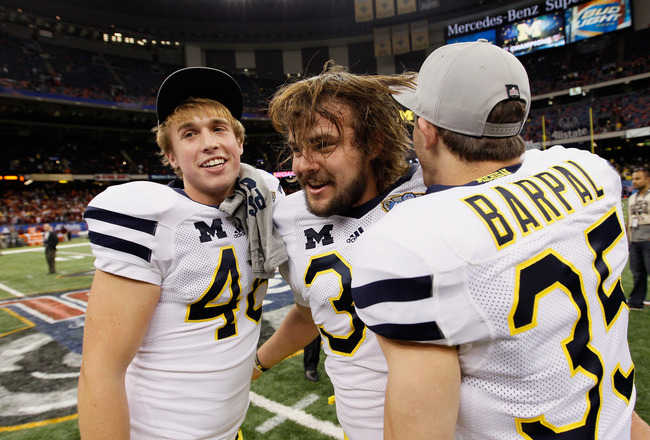 Brendan Gibbons celebrates with his team as he hit the game winning field goal in the 2012 Sugar Bowl
Kevin C. Cox/Getty Images
As I've given a detailed analysis about Michigan's offense and defense going into the 2012 season, it's time to turn our attention to the one facet on every football team that's completely underrated in its importance: special teams.
Before Brady Hoke became the head coach of the maize and blue, the special teams part of the squad was in disarray. Coverage on kickoffs and punts was less than inspiring, but what the entire country took notice of from the Wolverines was their putrid kicking abilities.
Brendan Gibbons and Seth Broekhuizen combined for just four field goals the entire 2010 season. They missed 10 field goals between them.
As a result of the incompetence between the two placekickers, Rich Rodriguez would go for it on fourth down frequently and turn the ball over to the opposing team as a result of his lack of confidence in his kickers.
Place kickers and punters aren't noticed until they're exceptionally good or bad at what they do. Unfortunately for Michigan, the kind of attention they received on special teams was very, very bad.
Brady Hoke was able to turn around the defense in 2011. Would he be able to do the same with his kickers? Yes, he did.
Projected in this article are the starters for place kicker, punter, kick returner and punt returner.
Place Kicker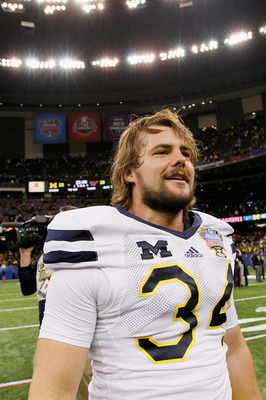 Brendan Gibbons has improved as a place kicker substantially from his freshman season to his sophomore season
Kevin C. Cox/Getty Images
Brendan Gibbons redeemed himself in 2011. While he made just one field goal out of five attempts in 2010, Gibbons secured the starting job as a redshirt sophomore.
He made 13 field goals out of 17 attempts and became the reliable kicker he was expected to be when the Wolverines recruited him.
Gibbons made national headlines in the Sugar Bowl when he told reporters he pictured brunette girls when kicking the football.
"Every time we were struggling in kicking, coach tells me to think about girls on a beach or brunette girls," the sophomore kicker told reporters. "So that's what we did. Made the kick."
Left tackle Taylor Lewan knew of the increased amount of effort from Gibbons and that it would pay off for the 2011 season.
"It's a complete zero-to-hero moment for him," left tackle Taylor Lewan told reporters. "He worked so hard in the offseason. We knew he was going to make that kick. I knew he was going to make that kick, 100%."
Heading into 2012, he's expected to be even better than last season. Backing him up will be sophomore Matt Wile. Before the season started in 2011, many expected Wile to win the job from Gibbons, but that didn't happen.
Hoke indicated that shorter kicks would go to Gibbons while Wile would be handling some of the longer attempts. Wile never got a chance to kick a field goal the entire season.
But Wile was the lone player with excellent kickoff abilities, as he kicked off 79 times with 64.0 yards/kick average and 19 touchbacks.
Expect the same excellence from the two kickers for the 2012 season.
Projected Starters: Place Kicker, Brendan Gibbons; Kickoffs, Matt Wile
Punter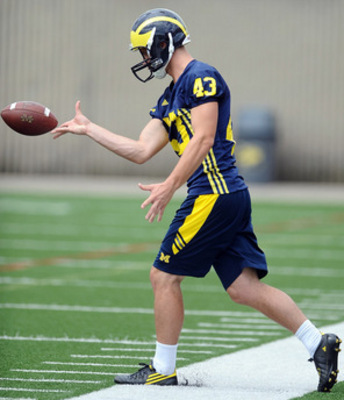 Will Hagerup must regain his 2010 form as a punter to retain the starting position from Matt Wile
Will Hagerup posted some of the most impressive punting statistics in school history as a true freshman in 2010.
He smashed 33 punts for 1,440 yards, which was second in school history with a single-season average of 43.64 yards per punt. Also impressive was that he kicked 11 punts inside the opponent's 20-yard line and had 10 punts 50-plus yards.
But mysteriously, he was suspended for the Ohio game. Rich Rodriguez called it a "violation of team rules." He wouldn't expand on that.
Even more baffling, Hagerup was suspended by Brady Hoke for four games to start the 2011 season for the same reason.
Unfortunately, when Hagerup was able to play again, he was unable to duplicate his numbers from the previous year (29 punts for 1043 yards only averaging 36 yards per punt) and was replaced by freshman Matt Wile.
Wile was much more impressive, punting 17 times for 707 yards with an average of 41.6 yards per punt. He also kicked longer than 50 yards three times while kicking inside the 20-yard line four times.
If Will Hagerup can stay out of trouble, expect him to regain his 2010 form and make a comeback. Matt Wile will drive him to be better and they will fight hard this spring for the starting punting job.
Projected Starter: P Will Hagerup
Kick Returner and Punt Returner

Dennis Norfleet is an explosive runner at running back, kick returner and punt returner

While the kicker position was a strength of the special teams, kick and punt returns were less than inspiring for the Wolverines in 2011.
Michigan averaged just 18.43 yards a kickoff return while on punt returns they averaged a mere nine yards.
Both kick and punt return teams yielded no touchdowns offensively.
Brady Hoke saw a need in his 2012 recruiting class for an explosive playmaker who had the ability for blazing speed combined with the proficiency to break tackles.
The man in the video, Dennis Norfleet, will be a true freshman who I believe will be the starting kick and punt returner.
Norfleet is rated with four stars by Rivals, Scout and 247Sports and three stars from ESPN.
You may also remember he was the last recruit that signed up with Michigan for the 2012 class. Hoke was able to steal him away from Cincinnati on February 1st. Perhaps this will take the sting away from Cincinnati grabbing OG Caleb Stacey from Michigan just two weeks before.
Allen Trieu from Scout.com gives a really good breakdown on his thoughts about Norfleet:
One of the most explosive players in the class, Norfleet has great acceleration, open field elusiveness and a natural knack for making defenders miss. Has excellent skills in the pass game, and is a dangerous receiver. Is also a great return man. He is not the biggest back, although solidly built, but he is a guy who can be used in a variety of roles, including slot receiver. He's also a tough, competitive kid who plays with a chip.
Brady Hoke also talked about Norfleet contributing to the return game in a Detroit Free Press article: "Look for him to help us in the return game, because he really does a nice job there, and a guy who's going to add a value to our team when you look at his athleticism."
So he has the acceleration running a 4.39 40-yard dash, open-field elusiveness, great hands and experience being a return man.
And if Michigan is short on receivers this year, he could move over to the slot receiver position and contribute there as well.
Sounds like he has all the abilities for a great Michigan player for years to come.
Check out the video to see just how explosive this all-purpose back is. For kick returns, look at 2:25 and 3:20 while punt returns are at 4:05 and 4:35. The rest of the video shows him from the running back position.
Projected Starter: Kick Return and Punt Return, Dennis Norfleet
Final Thoughts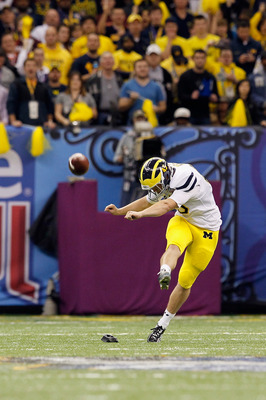 Matt Wile kicking off during the 2012 Sugar Bowl
Kevin C. Cox/Getty Images
Special teams, like the defense, rebounded nicely from 2010. Look for all facets of the special teams from kicker, punter and returns to get even better than last season.
Brendan Gibbons will need to increase his leg strength to reach the longer field goals while continuing to concentrate on his brunette girls and increase his accuracy.
If Will Hagerup can't rebound from his horrific 2011 season filled with suspensions and inconsistent play, look for the very strong leg of Matt Wile to take over punting.
Kicking and punt returns were disappointing last season. Look for Dennis Norfleet to step up into that role right away and compete for the starting job.
Michigan's coverage for kick and punt returns was very good from a defensive standpoint. They gave up no touchdowns all season and will look to duplicate this performance in 2012.
I, for one, will be watching how the special teams progresses—perhaps more than even the offense or defense.
Keep Reading

Michigan Wolverines Football: Like this team?