Boston Celtics Trade Rumors: Ranking Their Best Trade Pieces
March 12, 2012

Elsa/Getty Images
The Boston Celtics are likely to make a trade before the NBA's trade deadline on Thursday, March 15 in order to better position themselves come playoff time. The Celtics are hovering just above .500 this season with a 21-19 record, but their age has been a hampering factor and it may be time to break up the core that gave them two Finals appearances and one ring. 
If the Celtics are going to make a trade, they have a number of options of players they can try to move. 
1. Rajon Rondo
Rondo may have played himself off the trading block with his spectacular and historic performance against the New York Knicks in a 115-111 overtime victory. Rondo scored 18 points, collected 17 rebounds and dished out 20 assists.
As a young point guard, Rondo would likely be able to give the Celtics the most in return, but would also take away one of the youngest core players on a team that is getting up there in age. 
Because of this, the Celtics shouldn't be looking into trading Rondo at this point. They should instead be looking to build around Rondo and getting younger pieces to surround their talented point guard.
2. Paul Pierce
This season, Pierce has fought incredibly hard to fight off critics saying that he is slowing down due to his age. He has played just around the same number of minutes while scoring similar numbers he has for the past few seasons, averaging 34.7 minutes per game and 18.2 points per game. The decrease in Pierce's game has come in the form of his lowest field-goal percentage since the 03-04 season, shooting just under 43 percent.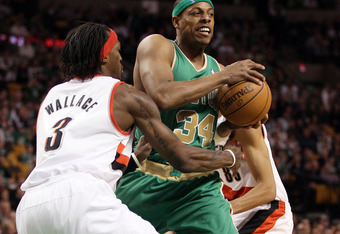 Elsa/Getty Images
According to Ken Berger, the Celtics are willing to listen to offers for Paul Pierce, but will have some problems trying to trade Pierce because of the $32 million and two years still remaining on his contract.
If the Celtics are serious about rebuilding, they will likely need to move Pierce this year or next in order to use the money to bring in younger players.
According to Mitch Lawrence of the NY Daily News, the Celtics are willing to part with Kevin Garnett and hope to land Josh Smith from the Atlanta Hawks. It is no secret that Smith is interested in being traded, but it would likely take things souring very quickly in Atlanta for them to move Smith. It would also most likely require more pieces from the Celtics' side. 
Landing Smith could be huge for the Celtics. Smith has another year on his contract following this season and the Celtics would likely try to extend Smith in order to build around a core of Rondo and Smith.  
4. Ray Allen
According to Jackie MacMullen of ESPNBoston, the Celtics and Pacers have discussed a trade for Ray Allen.
"Here's the thing," Larry Bird said told MacMullen. "When Danny [Ainge] and I talked about trading for Ray, he wanted Tyler Hansbrough and a first-round pick. If that's the value he's putting on Ray Allen, he ain't getting it. That tells me he's in no hurry to trade him."
Allen's contract expires after this season so the Celtics are exploring options to see what they could get for Allen before most likely letting him walk this offseason. If the Celtics could work an Allen for Hansbrough deal somehow, it would be a decent move for the Celtics.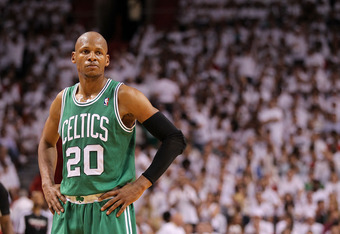 Mike Ehrmann/Getty Images
With an aging core that has probably seen its window close, the Celtics are in dire need of making a move in order to compete this season. If they choose not to make a move, the Celtics will likely let both Allen and Garnett walk via free agency and hope to sign a free agent to pair with Rondo and hope Pierce can maintain his level of play for a couple more years.