Association Aggregation: Bynum Comes Up Big for the Lakers; More Dwight Talk
March 12, 2012

Stephen Dunn/Getty Images
Happy trade deadline week!
Will he stay or will he go?
Dwight Howard is set to be at the center of discussion all week, which is probably more than alright with him. With Ken Berger reporting that the Orlando Magic would be open to talking with Chicago about Howard, Howard apparently does not have the Bulls on his "list" of teams he'd be willing to commit to beyond this season. Here's Berger:
Such a scenario has gained no traction since Chicago is "not on his list," a person familiar with the situation said of Howard. Without assurances from Howard or his camp that he'd be willing to sign long-term with the Bulls, Chicago executives have exhibited no appetite for trade talks with the Magic. The two teams have spoken, but there's "no type of serious discussions" going on, a person familiar with the situation said.
You know, I've come to realize that there is no point in getting frustrated with superstar players trying to call the shots with their careers. Trade discussions during the season are annoying and distracting, but it's going to happen. What I can't deal with is a guy wanting to be traded, but not to a destination that currently has the reigning 23-year-old MVP.
Come on, Dwight. What's wrong with Chicago? If your desire to be traded isn't to directly impact your desire to win a championship, get out of town. Or, stay. Just get out of my newsfeed with this nonsense. I'll never fault a player for trying to make the best decision to advance his career. I will roll my eyes at players who say they want to win and then contradict that statement with their actions. 
Also: Howard should have tuned in to the Lakers/Celtics game on Sunday to see how Brandon Bass was hurting L.A. It was Howard who wanted his friend Glen Davis brought to Orlando. How well has that worked out for him? Might be time to recognize that there's a reason why he isn't a GM. Maybe. 
Of course, I could just be cranky because it's a Monday and my internet wasn't working this morning.
Speaking of the Lakers and Celtics, they gave us a great game yesterday. While it started out pretty slow, the second half was nice and close and the fourth was fantastic as the Lakers pulled out a 97-94 victory.
In the end, when it mattered most, the Lakers went to Andrew Bynum and he delivered, scoring on a hook shot over Kevin Garnett with less than a minute remaining. It was Kobe Bryant's decision to play the decoy and go to Bynum and it was a great one.
Looking at the reaction of Bynum after the final buzzer sounded, it was clear that this was a huge, huge deal. It was the Celtics, it was at home, it was a big moment, but it was a moment even bigger than a game against rivals in March.
It was a moment in which Bynum was trusted and in which he was able to come through for his teammates. As he celebrated with Pau Gasol and then with Bryant, it was easy to see that this was a moment he wouldn't forget. The Lakers absolutely need a Bynum that is engaged and focused; this is the way to keep him locked in. 
The finish was also great when you look at his quote from the day before the game:
"We're going at they head. We're going at the Celtics' rack. Yo, we going at the Celtics' rack. At they head."
It's great that Bynum got to have a moment to be the hero. 
Bryant's decision-making in this one also has to be mentioned. In addition to the decision to go to Bynum, he played a really smart, contained game. Finishing with 26 points on 9-for-20 shooting, he let the game unfold in front of him and reacted accordingly, a huge switch from his approach on that horrible road trip the Lakers just returned from.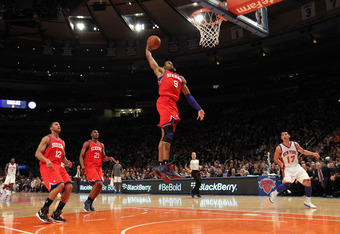 Nick Laham/Getty Images
In New York, the Knicks continued to struggle as they fell to the Philadelphia 76ers, 106-94. The Sixers were solid, continuing to play the team game that has made them so enjoyable to watch this season.
An efficient Andre Iguodala is one of my favorite players in the league, and on Sunday he had 19 points on 11 shots to go with seven rebounds, eight assists, four steals and a blocked shot. Swoon. Worthy. Line. 
Evan Turner continued to show why he wants to be in that starting spot, pouring in 24 points to go with 15 rebounds. Lou Williams scored 28 points off of the bench for the Sixers.
The Knicks are in an interesting spot right now. Carmelo Anthony took just 13 shots and scored 22 points to go with nine boards while Jeremy Lin struggled with six turnovers and 14 points on a team-high 18 field goal attempts.
It'll be interesting to see how the field goal attempts among Lin and Anthony shake out over the next few weeks. Teams are definitely learning how to play Lin and he hasn't been able to adjust on the fly. 
J.R. Smith had 12 points off of the bench in his first game since being fined $25,000 for posting a pants-less photo of his girlfriend (rapper Joe Budden's ex) to his Twitter account. Seriously. 
Why you want the world to see what your girlfriend is working with when they can Google it for themselves is beyond me, but, these are your New York Knicks.
Never a dull moment in the city that never sleeps.
Now, onto what might be the most disappointing news of the season: Ricky Rubio.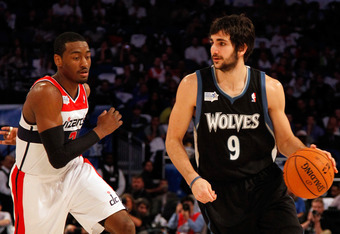 Mike Ehrmann/Getty Images
Rubio went down against the Lakers on Friday night and suffered a torn ACL. The team announced the news on Saturday. Rubio will miss the rest of this season and will have surgery.
Such a horrible injury, such a huge bummer. After Rubio finally arrives in Minnesota to bring life back to the franchise, exceeds all of the crazy expectations we'd put upon him and manages to charm us all with his game and his larger-than-life personality, to see him go down was horrible. 
Thoughts are with Rubio (and if you needed another reason to like him, check out his Twitter account for a glimpse into how upbeat and genuine he is @RickyRubio09), for the quickest and easiest recovery possible.
Still bummed about that. It was heartwarming to see the outpouring of support for Rubio from NBA players all over the league. 
In other Los Angeles news, the Clippers received a technical for having six players on the floor last night. Chris Paul suffered a nasal fracture in a victory over the Spurs on Friday and was rocking his own mask similar to the one that Bryant has been wearing.
The Mavericks went 0-3 on their back-to-back-to-back against the Suns, Kings and Warriors. They looked like anything but the defending champs, too. It was a brutal trio of games for Dirk Nowitzki and Co.
I'll finish with this: I just want Lamar Odom to be Lamar Odom again. I'm not sure if that's going to happen this season, either.