NHL Trade Rumors: Columbus Blue Jackets Considering Trading First-Round Pick?
March 12, 2012

Abelimages/Getty Images
Before the trade deadline, it was assumed that the Columbus Blue Jackets would take part in a fire sale of the team's roster, dealing some of their big names for draft picks and prospects so that they could rebuild the franchise.
The Jackets were able to pick up a first-round draft pick in either the 2012 or 2013 Entry Draft when they traded center Jeff Carter to the Los Angeles Kings for their pick, as well as young defenseman Jack Johnson.
They were also able to acquire a few other picks by trading centers Antoine Vermette (to Phoenix) and Samuel Pahlsson (to Vancouver).
Along with the acquired picks, the Jackets will most likely have the top overall pick in this year's draft, which many believe will be Russian winger Nail Yakupov (depending on his recovery from a possible concussion suffered on Saturday night).
Yakupov is talented enough to make an immediate impact for the Jackets if drafted, and could be a replacement if the team still has plans of trading Rick Nash in the offseason.
However, the Jackets hanging onto that No. 1 overall pick may no longer be such a sure thing.
According to the Twitter account of Marc Antoine Godin of La Presse in Montreal, Columbus is considering dealing the draft pick,
"NHL execs from three different teams told me #CBJ are expected to trade their 1st round pick (likely 1st overall) at upcoming draft" #yakupov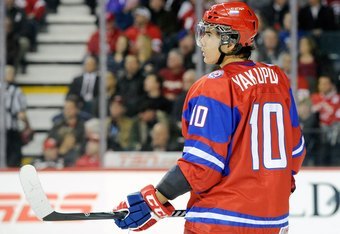 Richard Wolowicz/Getty Images
Now, this is not to say that the Jackets will in fact trade their pick, but the fact that they are considering it will have plenty of teams calling general manager Scott Howson to inquire about it.
It will be interesting to see what Columbus would ask for in return for the pick, most likely a swap of first-round picks and possibly some immediate help.
The Jackets need help at the goaltending position with Steve Mason struggling with consistency in his three years with the team and the need for a franchise goaltender.
If Columbus still has plans of trading Nash, a trade of the first overall pick could also bring a needed replacement to the winger position.
Acquiring an already proven winger in the NHL may be a safer move then waiting to see if Yakupov will pan out or not.
The Jackets have had a bad history with Russian draft picks with both Nikolai Zherdev and Nikita Filatov turning out to be busts and would prefer not having it happen again.
Columbus seems to be doing whatever they can to prevent a rebuilding of the franchise, but instead are trying to reshape it.
The franchise is done waiting to be competitive in the Western Conference and do not want to tear down and start from scratch, spending another three years at the bottom of the NHL.
Whether that means trading their No. 1 draft pick or not is yet to be seen.
What we do know is that these next few months will undoubtedly be the most interesting in franchise history.