Iona Basketball: The Gaels Deserve to Dance in the NCAA Tournament
March 12, 2012

Chris Chambers/Getty Images
Following their elimination from the semifinals of the MAAC tournament against Fairfield on March 4, it appeared that the Iona Gaels were not going to play in the NCAA tournament.
Iona was one of the top mid-majors in the country throughout the season, but they had two bad losses at Hofstra and at Siena. Both schools had an RPI beyond 200, yet were able to get the best of the Gaels in each of those games.
Due to their loss, Iona suffered through an entire week not knowing if they were going to reach the NCAA tournament. They were not projected to be in the field of 68 by Joe Lunardi and needed many breaks to go their way if they were to be considered a tournament team.
But those breaks continued to happen. Long Island won the NEC. Vermont won the American East Championship. Northwestern fell out of their conference tournament early, as did Seton Hall. Drexel lost their title game to VCU.
However, the Gaels status in the tournament appeared to be over when St. Bonaventure won the A-10 over Xavier. With a small school of just over 2,000 students reaching the tournament over Xavier, it meant one less spot for a school and Iona looked like they weren't going dancing because of this.
Iona ended up being one of Lunardi's first four teams out once the Selection Show came on.
In a surprising twist to some, Iona was given a tournament play-in game against Brigham Young that will be played tomorrow night in Dayton, Ohio.
Almost immediately, many people in the college hoops community questioned if Iona's spot in the tournament was warranted.  Now something like this should be expected considering Iona is a small school in a weak conference (ranked 16th by Statsheet,com), but the Gaels were one of the most under-appreciated sides in the country throughout this season.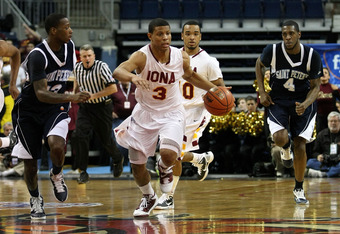 Chris Chambers/Getty Images
Iona are first in the country with 83.3 points per game, first with 19.3 assists per game and are second in the country in field-goal percentage, making 50.4 percent of their shots.
The Gaels offense has been spectacular with their own "Big Three" that very few schools can match.
Scott Machado is one of the best point guards in the country, averaging 13.3 points per game with 9.9 assists per game. Machado has also been nominated for the Bob Cousy Award and the John R. Wooden Award and was named the MAAC Player of the Year for his performance this season.
Michael Glover was shortlisted before the season to win the Wooden Award, and was also nominated as the Preseason Player of the Year in the MAAC. And Lamont "Momo" Jones was a star at Arizona who scored 43 points in a game this year and has brought an added dynamic value to the Iona offense.
Iona posses key role players like Sean Armand, who scored 32 points off the bench against Siena at Madison Square Garden in January, along with Randy Dezouvre, who scored 17 against Nevada in what is the biggest win for Iona to date this season.
These players faced plenty of adversity this season by playing all of their games away from the Hynes Athletic Center during a five-week stretch during December and the beginning of January.
That stretch saw the Gaels play away games at schools like Denver, Marshall, Richmond and Vermont.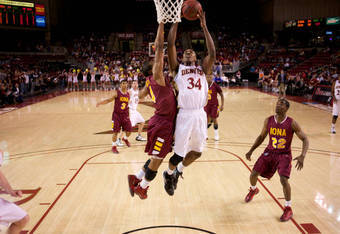 Iona did lose two games during this stretch, but this tough road stretch helped to prepare the Gaels for the rest of their season.
The NCAA did admit that Iona's tough non-conference road schedule was a key factor for choosing Iona to make the tournament. Iona has a strength of schedule ranking of 43 according to CBS Sports, and recorded an RPI ranking of 18 due to their efforts.
Playing on the road was a major benefit for Iona this season. Out of their 25 wins, Iona recorded 15 of them playing away from New Rochelle. Only Harvard and Murray State were able to win more away games this season.
Iona also received a lack of respect from their lack of a signature win throughout the season. Yet were able to prove some of the critics wrong with a good home win against Nevada in their bracketbuster game. Iona won the game 90-84, yet were dominant offensively. Scott Machado recorded 15 assists and Iona was able to win with a strong team effort.
That team effort is a major key to Iona's success. The Gaels know how to pass the ball efficiently and look to find the open man. It is a key that allowed Iona to record 100 points on four different occasions this season.
When the NCAA committee make their final decision over who makes the tournament, they do not succumb to media pressure and make "the popular choice" for the bubble schools that are in the tournament.
Instead, they judge everything that these schools do and make their field based on who are the best of the best.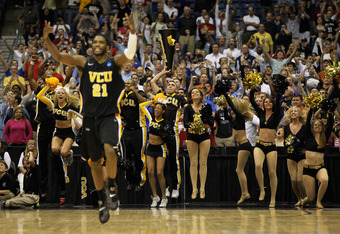 Jamie Squire/Getty Images
Iona do not play in a power conference—they play in the MAAC, a conference that only once had a team get rewarded with an at-large spot in the final field before Iona's appearance in this tournament.
The committee did make the right decision by agreeing with Tim Cluess to not overly populate the tournament with power conference teams and instead give the smaller teams a chance.
Last year, VCU got that chance to shine when the committee stunned everyone and put them in, going against the wishes of many. VCU went on to stun everyone and reach the Final Four.
From a quick glance, Iona do resemble VCU's story from last year. Now only time will tell if the Gaels can replicate that run this year.
Follow me on Twitter @Andrew_Jordan