NIT 2012: Minnesota and Sleepers Destined for the Final Four
March 12, 2012

Jonathan Daniel/Getty Images
The National Invitational Tournament boast a deep tournament of teams that could go on a run at making the Final Four in Madison Square Garden. However, a team like Minnesota is a low seed that will be a sleeper among the Final Four teams. 
Minnesota Golden Gophers (19-14)
The Golden Gophers finished with a respectable 19 wins this year. However, their subpar eight wins in the Big Ten Conference kept them being a higher seed in the NIT. 
They started this year winning 12 of their first 13 games, but ended up losing 13 of their last 20 games. They won the first game in their conference tournament beating the No. 4 seed, Northwestern, in overtime, 75-68. 
However, what should scare potential NIT opponents is that this Golden Gophers team came within a late-game meltdown of defeating a great Michigan Wolverines team before losing in overtime, 73-69. 
Minnesota opens with La Salle, which has its most notable win during their season against Xavier. 
Massachusetts Minutemen (22-11)
UMass has proven that it can go on a stretch of wins over a period of time, when the Minutemen won six straight games from Dec. 6 through Jan. 5. Their 22 wins put them on an limited list of teams that have more than 20 wins that come into this tournament. 
UMass ranks 23rd in points per game (76.8), 13th in rebounding (39.3) and 17th in assists (15.8). 
If UMass can get into a nice offensive rhythm in its first-round game against Mississippi State, the Minutemen will cruise to victory, like they did against an NCAA tournament team like Temple in the Atlantic 10 tournament (77-71). 
Nevada Wolf Pack (26-6)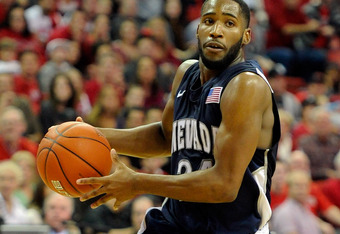 Ethan Miller/Getty Images
Nevada comes into the NIT tournament as one of the teams who has the most wins, with 26. The Wolf Pack went on an amazing 16-game winning streak during their middle part of the season stretching from Nov. 26th through Feb. 2nd. 
Nevada is led by two scorers with Deonte Burton and Malik Story, both of whom average over 14 points and over 30 minutes per game. 
The Wolf Pack opens their NIT against Oral Roberts. Nevada will have to shut down Oral Roberts' ability to shoot at a lights-out pace, as they averaged a .487 percentage during the season. 
Led by Burton and Story, Nevada will be able to get past Oral Roberts and then make a deep run in the NIT.