Lakers Trade Rumors: Latest Buzz Going into Trade Deadline
March 12, 2012

Stephen Dunn/Getty Images
The Los Angeles Lakers will remain active in discussions leading up to the March 15 trade deadline, but it's uncertain if the team will make the blockbuster deal so many fans would like to see.
The club will continue to pursue improvements to the roster, but it looks increasingly unlikely that the Lakers will blow apart the current core in order to get that done.
Here are some updates for what is going on in Lakerland.
Rajon Rondo
Despite constant denials from Boston's front office that Rondo isn't being shopped, actions are louder than words and it's been that way since before the season started.
He's been rumored in a variety of deals since prior to Chris Paul being traded, and with less than four full days before the deadline, he's once again at the center of discussions.
The Lakers and Celtics briefly discussed a Rondo deal, but Los Angeles is "unwilling to trade Pau Gasol for Rondo," making the chances of a trade remote.
It's surprising that the Lakers are not willing to move Gasol for Rondo, but it makes sense considering it would leave the team with a gaping hole at power forward.
It's become clear that the Lakers won't move Gasol to address one need while creating another, and the only trade that might be attractive enough to lure the big man out of L.A. is one that fills multiple needs in emphatic fashion.
In other words, it's going to take more than just a one-for-one swap.
Pau Gasol
As more time passes and Gasol remains with the Lakers, the less likely it is than he's moved before the deadline.
The Lakers are not just going to give Gasol away nor is general manager Mitch Kupchak looking to actively move him for the sake of moving him—he's only going to pursue a deal that undoubtedly improves the roster.
As mentioned above, the Lakers were unwilling to move him in exchange for Rondo, and if that's the case, then who would fit the bill?
The asking price for Gasol is high (as it should be), and it's more likely that a deal is consummated in the offseason unless an interested team really steps up its pursuit by drastically overpaying for Gasol's services.
Ramon Sessions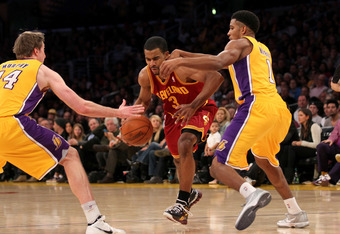 Stephen Dunn/Getty Images
Sessions' name has been linked to the Lakers more prevalently than anyone else on the market, and it would be a huge surprise if the veteran point guard isn't dealt out of Cleveland.
Although the team previously rejected an offer to land Sessions, Los Angeles will almost certainly re-engage Cleveland in discussions in an effort to upgrade production from the position.
Steve Kyler of Hoopsworld believes that the "only way" the Lakers don't land Sessions is if the team is able to grab someone better, but there may not be a more attractive target available at the price the Lakers are willing to pay.
Sessions is expected to opt out of his contract and become an unrestricted free agent at season's end, so it would be a short-term solution to a long-term problem unless the Lakers are willing to retain him.
He'll be in search of a new multi-year deal.
Michael Beasley
There has been longstanding interest in Beasley since before the season began, but nothing has heated up on that front. Yet.
Just like with Sessions, the Lakers rejected a first-round pick in exchange for Beasley, but it wouldn't be surprising to see the two teams discuss the potential to discuss a deal once again.
The Lakers have been hesitant to add salary without shedding some dead weight of their own, but nobody is taking a player like Luke Walton (and his insane contract) unless the pot is sweetened significantly using future draft picks.
Beasley is a player who is among the strongest candidates to be dealt, but it is far from a slam dunk that it will be to Los Angeles.