Peyton Manning Sweepstakes: Where Will He Land?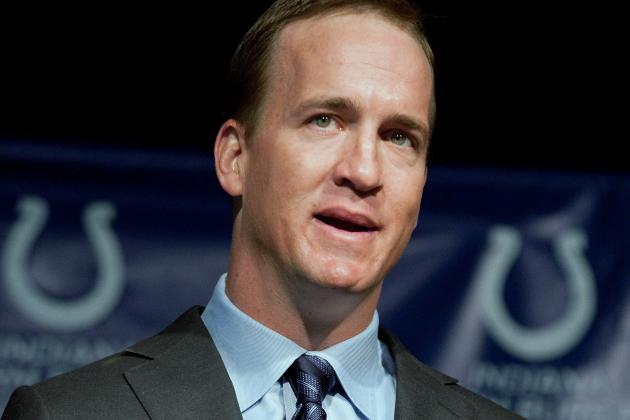 Joey Foley/Getty Images

Peyton Manning is arguably the most exciting free agent ever to hit the open market.
Though the speculation has been unrelenting for months now, since being released by the Colts, the blogosphere and twitterverse have gone into overdrive.
From a field of dozens of potential suitors for the future Hall of Fame quarterback, a few have quickly shot to the head of the pack, asserting themselves as clear front-runners.
Who are they? Join me as we take a look at the candidates so far.
Begin Slideshow

»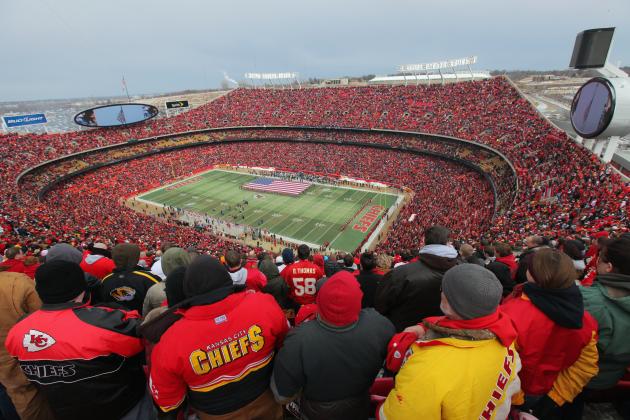 Doug Pensinger/Getty Images

Though at one point considered out of the running, following reports that Manning flatly refused to even visit their stadium, recent reports from Doug Farrar over at Shutdown Corner encourages caution. His sources indicate that not visiting somewhere is not the same as ruling them out, and the Chiefs remain in play to land Manning.
What's in their favor?
A loyal and rabid fanbase. New head coach, Romeo Crennel will want to stamp his identity on the team with a new QB. A defensively-minded head coach, he will give Manning a lot of freedom and flexibility. Talent at all key positions. Recent contenders in AFC East. Old school AFC team.
What's not in their favor?
Question marks over almost every key position. High level of turnover both of staff and players in recent years. Controversial GM Scott Pioli has reportedly left culture in tatters. By all accounts, not a pleasant place to work right now. Crennel has a patchy history as head coach, at best. Cold weather, outdoor stadium a concern for a recovering Manning. Positive meetings with divisional rivals, the Denver Broncos would make a really hard sell.
In Conclusion
Once upon a time, the Kansas City Chiefs were as obvious a choice for a franchise player like Manning to land as any. A family-owned, old school team, steeped in history and tradition. Sure they have struggled to achieve success, post merger, but their recent upsurge in form would make them a no-brainer.
But their recent controversies under Scott Pioli, and reports of difficult working conditions have clearly taken their toll on the team, and following a recent painful divorce from the Colts, Manning, it appears, will be looking for a more productive working environment
Chances of signing Manning?
Not good...but there's a chance. Manning does want to stay in the AFC, and the Chiefs are in the AFC. They certainly have the cap space to make a play for him, but it seems that the best odds will go to a team he's visited, and... well... he's not visited the Chiefs yet.
The Chiefs will likely have a new QB in 2012, if only to try and push Matt Cassel, but the chances of it being Peyton Manning are shrinking with every passing hour. Unless Manning boards a plane to Missouri within the next 24 hours, you can pretty much rule it out altogether.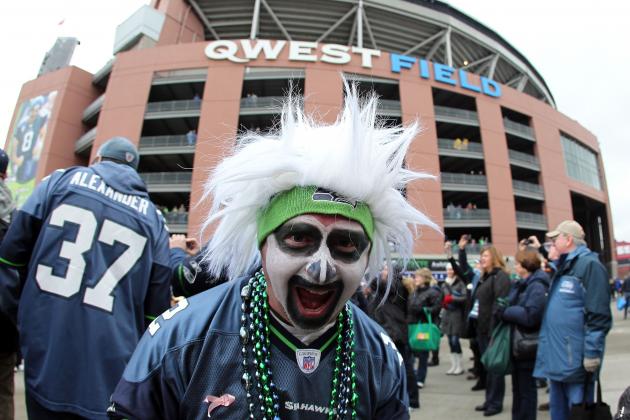 Otto Greule Jr/Getty Images

Much like the Chiefs the Seahawks were initially considered a no-go. However, Eric Williams of the Tacoma News-Tribune has reported that Manning has not shut the door, and has not yet declined to visit Seattle.
What's in their favor?
A highly motivated fanbase. Some recent playoff success. Pete Carroll is well liked, players coach. NFC West still considered softer division. Enough cap space to make a real play at Manning
What's not in their favor?
No elite level receiver. Cold weather city, roofless stadium a concern for a recovering Manning. Manning has expressed a preference to remain in the AFC if possible.
In Conclusion
The Seahawks may not officially be out of the running, but their chances of landing Manning continue to shrink. While a good choice, in some ways, Manning clearly doesn't consider them to be a top-tier team, worthy of his consideration at this point.
Chances of signing Manning?
Slim. Barring any major breakdown between Manning and his top suitors, Seattle appear out of the running. While anything can still happen in the NFL, Seahawks fans should not be holding their breath.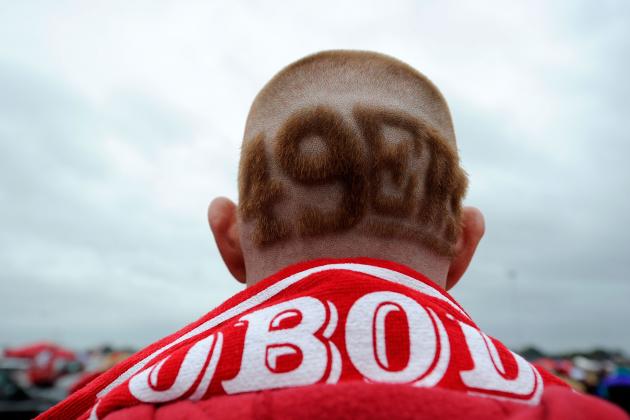 Thearon W. Henderson/Getty Images

The San Francisco 49ers remain on the fringes when it comes to discussions about Manning. However, the team dominated the NFC West last season, with Alex Smith, QB who has struggled in the same system previously. If Manning wants another Super Bowl ring quickly, the 49ers may be the team to give it to him
What's in their favor?
Winning record in 2011, narrowly missing out on an NFC title and shot at the Super Bowl. Successful in spite of subpar performance from their QB. Solid, though not elite, receiving group. Good run game. Good Offensive line. Stellar Defense. Enough Cap space to make an offer without having to make any changes to lineup.
What's not in their favor?
Remain non-committal about signing him. Have offered Alex Smith a contract for 2012 and beyond. Any other QB talk considered a fallback position—Manning doesn't consider himself a backup. San Francisco can be a tough place to play if you don't pan out as expected.
In Conclusion
While it's hard to imagine Manning not having considered the possibility of signing with a team which can bring him playoff glory immediately, the 'Niners, not Manning, seem to have put the kibosh on this one. They appear to consider Alex Smith their QB of the future. And while many 49ers fans would struggle to agree with that assessment, the team's interest in Manning seems to be hesitant and wavering. Manning wants to play. He believes he can play, and he is unlikely to wait around while the 49ers and Smith argue amongst themselves about his future.
Chances of signing Manning?
While it's never a smart bet to rule anything out in the NFL, the 49ers have made themselves outsiders in the Manning sweepstakes. Had they come out swinging when he was first released, then they would likely be considered front-runners now, but they did not, and are not. Never say never, but I can't see it happening.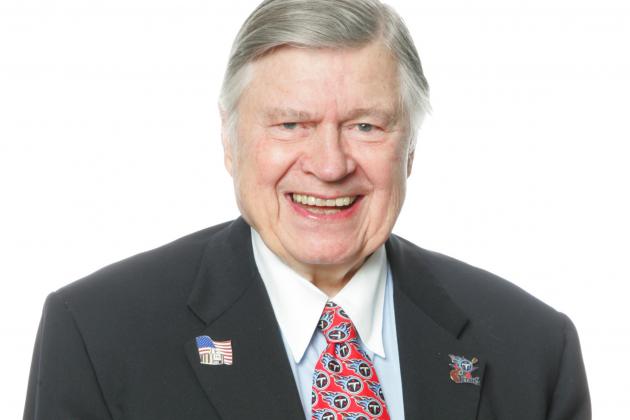 Handout/Getty Images

Bud Adams wants Peyton Manning. "He is the man I want. Period," Adams told Jim Wyatt of The Tennessean. "And the people that work for me understand that. They know who I want. I want Mr. Manning with the Titans and I will be disappointed if it doesn't happen."
Seemingly out of nowhere, the Tennessee Titans are suddenly trying to elbow their way into the mix for the services of Peyton Manning, and if anyone can make it happen, then it's someone as belligerent as Bud Adams.
What's in their favor?
The Titans are a team on the up, and are unafraid of spending money to make it happen. Have been very vocal about their desire to secure Manning's services from the very top. Appear to be the only team to have discussed money with Manning's agent, Tom Condon, so may have inside track with his negotiator. Manning has links to Tennessee—played college football there.
What's not in their favor?
Late to the party—Manning appears to have visited those teams he is most interested in already. Brash and vocal owner unlikely to win much favor with Manning. Two able QBs on the roster already. Appears to be an executive order from Adams, rather than an informed and agreed upon decision by the whole staff. In spite of links to the area, Manning has no links to the staff or players.
In Conclusion
The Titans have come out of nowhere to try and insert themselves into the Manning sweepstakes. Unfortunately for the Titans, they appear to be a little late to the party. Speaking to Condon is a smart move on owner Bud Adam's part, as none of the teams Manning has yet met with discussed money with him. Should any of these teams drop the ball, Adams has an in with Manning's chief negotiator, and could be in a position to win out, if it becomes an out-and-out bidding war.
Chances of signing Manning?
Manning has agreed to meet with Titans head coach Mike Munchak, but will not be visiting the facility, or meeting with the owners or other staffers, perhaps a telling sign, when compared to the amount of time he has spent elsewhere. The Titans remain on the fringes of the Manning sweepstakes. However, don't count them out. It would be foolish to discount the possibility of the top teams having gravely miscalculated what it will cost to land Manning. Should this happen, and the leaders low ball Manning, expect the Titans bid to be seriously considered.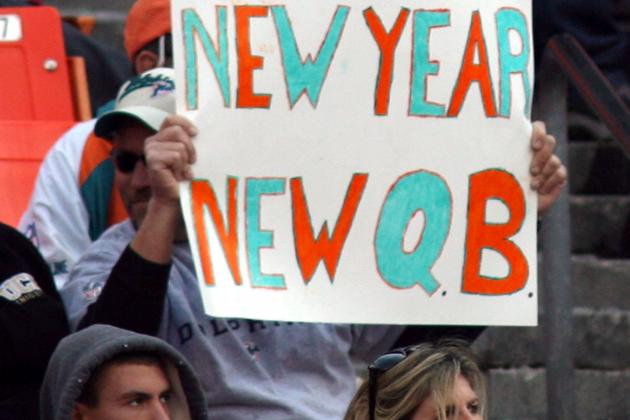 Marc Serota/Getty Images

At one point the Dolphins were the runaway favorites to land Peyton Manning. Today, their chances continue to tumble, but no one is ready to rule them out yet either.
The Miami faithful have been vocal about their desire to bring Manning to the Dolphins... perhaps too vocal. Reports suggest that the Dolphins began to fall in Manning's opinion because the media circus which greeted him when he returned to his condo in the area.
What's in their favor?
Dolphins have the favorable mix of new head coach, system in transition and near ground up rebuilding. Manning would be able to really stamp his identity on the offense. Good weather and familiarity with the area help their cause. AFC team with a lot of history of elite QB play. Miami is known for nurturing Hall of Fame QBs.
What's not in their favor?
Media attention would be impossible to escape—Manning is known for being low-key and preferring to stay away from the limelight whenever possible. Top receiver, Brandon Marshall, is not "QB friendly." No real links to the owners or management. Offensive line issues. Many players prefer to keep their summer home well away from their team—Manning would possibly need to find a new summer condo. Less than perfect schedule, facing the Patriots twice and being forced to return to Indianapolis.
In Conclusion
The Dolphins high profile, media circus may have been responsible for scared off their number one head coach choice earlier in the season, when Jeff Fisher chose the Rams over the Dolphins. Unfortunately they appear not to have learned their lesson in dealing with Manning.
That Manning made no real attempt to contact the Dolphins, and ruled out a sit-down meeting with the team, opting instead for an off-site meeting with just head coach Joe Philbin, is perhaps telling too. However, the Dolphins certainly have enough positives to make a solid case, and should not yet be considered out of the running.
Chances of signing Manning?
While the Dolphins are no longer considered favorites to win Manning's services, they remain committed to signing the player, or making their best possible attempt to do so. They certainly have the cap space necessary to make a sizeable offer to Manning, and Manning's decision to meet with Philbin, even away from the facility, gives them a real chance of making a solid pitch.
Dolphins fans, don't rule it out, but don't hold your breath either.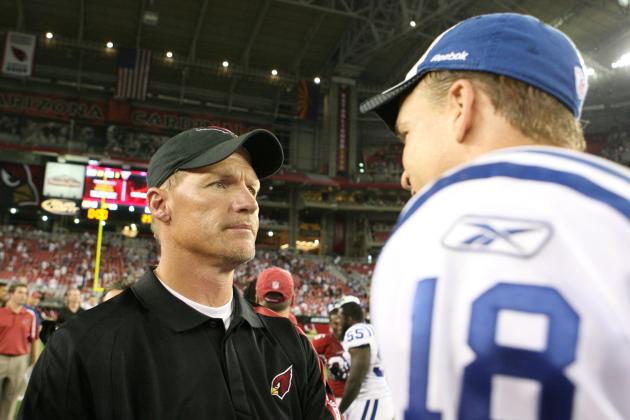 Christian Petersen/Getty Images

The Cardinals are one of only two teams which Manning has yet met, and he spent more than 6 hours touring the Glendale facility. The team have been down this road before, with Kurt Warner, and were very successful with it.
The Cardinals are considered one of two destinations Manning is most seriously considering, and it's easy to see why.
What's in their favor?
Cardinals have recent experience, and success with a big-armed veteran QB. Considered by many to be just an elite QB away from another playoff run. Level headed, flexible coaching staff willing to build around Manning. Cardinals locker room considered one of the most positive, least diva-ish in the league, a great place for healing. Great weather, and state of the art domed stadium suit Manning. Larry Fitzgerald is a huge selling point. Has close links to Ken Whisenhunt, and wide receivers coach Frank Reich. Reportedly very impressed with most aspects of the club. Kolb can be cut up until 17 March and still avoid paying his roster bonus, giving Manning a little extra time to make his decision.
What's not in their favor?
Cap space—Cardinals already forced to cut Levi Brown just to shed more than $16 million required to come in below the cap. Offensive line still a concern. Cutting Kevin Kolb will still result in a significant cap hit in 2012 and/or 2013. Manning has expressed a preference to stay in the AFC.
In Conclusion
The Cardinals spent more than six hours wooing Manning, and according to reports, did a good job selling him on the merits of the Cardinals. Early reports suggested that Manning had, in fact, contacted the Cardinals before he was released, to inquire about whether they had any interest in him, so the possibility of his joining the team are serious.
In many ways, the Cardinals are a near perfect fit for Manning, and vice versa, but there is one big hang up which prevents them from being the top dog, at this point.
The Cardinals will need to do some major restructuring of several contracts, to make space for Manning, and Reggie Wayne, who is expected to follow Manning to wherever he signs. While Larry Fitzgerald has always been accommodating, in his willingness to rework his contract to help the Cardinals win or keep top-tier talents, there is much more that the teams will need to do.
While cutting Kolb prevents the Cardinals from having to pay the remainder of his contract, including a sizeable roster bonus due on March 17, as his $10 million signing bonus is prorated over the lifetime of the contract, the Cardinals would still get a cap hit of nearly $8 million in 2012 (or $2 million in 2012 and $6 million in 2013) which still leaves the Cardinals well short of being able to make a sizeable offer to Manning.
Cutting Levi Brown, or restructuring his contract was expected to make space for Manning or others, instead it has merely removed their cap surplus. Though the Cardinals have other players which they can release to make space for Manning, doing so leaves the team weakened, and without the space to make any other signings.
The Cardinals may be the best fit for Manning, they may be his preferred choice, they may have one of the all time great receivers on their roster and a location unmatched in the NFL, but if a bidding war erupts, the Cardinals will struggle to compete, which may prevent them from sealing the deal.
Chances of signing Manning?
My personal opinion, and that of several journalists in the area, is that Manning is the Cardinals to lose. Barring a misstep by the management, Arizona is his preferred destination, and the place he will sign. However, the Cardinals cap space issues run deeper than anyone expected—most projected that the Cardinals would have around $3.5 million to play with before cuts, not a nearly £17 million overspend to have to slash, and when dealing with a tiny budget, missteps are inevitable.
I believe that the Cardinals are willing to make those cuts, and confident in their ability to make those deals that need to be made, if they weren't they wouldn't have wasted Manning's time, they simply aren't that sort of team. The fact remains, however, that they have to do a lot more contract renegotiation and roster trimming than most before they can even consider making a play for Manning, and given the truncated schedule, it's a tough ask, which prevents them from being the out-and-out number one choice.
It's a narrow difference between No. 2 and No. 1, to be sure, and if the Cardinals can get busy in the next 48 hours, and announce even a couple of significant cuts or restructured contracts, expect to see the Cardinals shoot straight to the top of this list again.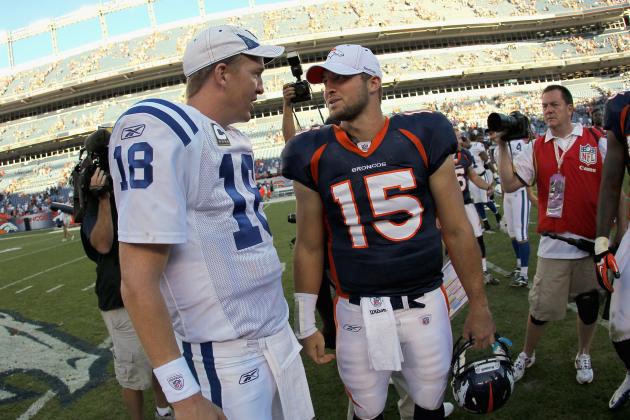 Doug Pensinger/Getty Images

The first team which Peyton Manning met with appear to remain the favorites to land him, at least right now. Manning spent two days in Denver, meeting with team officials last Friday and Saturday. He left Denver, for Arizona, reportedly very impressed with the Broncos, their informal, casual style and the pitch they made to him.
What's in their favor?
The Broncos are a young team, with bags of untapped potential. Proved in 2011 that they were more than willing to make changes to accommodate whomever was under center. Proven power running game would take pressure off Manning, give him time in the pocket. Quickly improving defense a real positive too. Reportedly quickly developed a good rapport with John Fox and John Elway. Denver fans are known to strongly rally behind a QB it likes, and it's hard to imagine Manning not becoming an immediate hit in the city. Would allow Manning to remain in the familiar AFC, in a wide open AFC West division. Unsung heroes on their O-line.
What's not in their favor?
Weather—by far the biggest concern for Manning would be the cold weather and outdoor stadium. Manning has always played in a dome, and coming off a neck injury, a warm climate and roofed stadium would certainly help. Denver fans have invested a lot of emotion, and money in support of Tim Tebow—also represented by Tom Condon. Many are fiercely loyal to Tebow, and any deal which sees him traded away likely to cause uproar. Fans likely to turn on Manning if he doesn't succeed, and Tebow remains in Denver, however. WR position is not considered one of real strength for Broncos. Very tough schedule.
In Conclusion
Manning met with the Broncos early, and they appear to remain his favorite landing spot. He was reportedly impressed with the laid back atmosphere in Denver. He brought into the ambition of the owners and the passion of the fans—several of whom were on site when he visited Arizona, to try and dissuade him there.
In John Elway, Manning will have a close friend, and kindred spirit, and head coach John Fox is exactly the sort of personality that Manning can get behind. As they demonstrated in 2010 and 2011, the Broncos are an organisation which is more than willing to shape their playing style around whichever quarterback they have under centre. They are more than able to rethink and re-imagine their offense to suit very different styles of play, and Manning would certainly get the freedom and trust he needs to excel in Denver.
Playing in Denver would also allow him to remain in the AFC, where he has played all of his career, and in a wide open AFC West, without the concern of having to return to play against Indianapolis this year.
Clearly, the team have plenty of upside, which keeps them at the head of the pack right now, but anyone who believes that it is a done deal is kidding themselves.
The weather is a real concern for Manning, as is their schedule, with games against New England, New Orleans, Pittsburgh, Baltimore and Atlanta.
Perhaps a bigger issue is the clear conflict of interest for agent Tom Condon. Negotiating a deal for one client, which you know will negatively impact another is a tough place to be, and could stymie any deal before they even reach the negotiating table. And whatever the Broncos do with Tebow is considered a lose-lose situation for Manning.
Tebow's fans are fiercely loyal, even when it flies in the face of all logic. If Tebow is traded away, Manning will forever be the player who forced out Tim Tebow, not the best way to win friends. If they keep him, then any failure on Manning's part, any run of poor form, minor injury or big loss will inevitably be enough to mobilise Tim's rabid fanbase, calling for Manning's removal, and making Sports Authority Field a decidedly unpleasant place to play.
Chances of signing Manning?
In spite of these obvious hurdles, the Broncos remain the most likely team to land Manning, albeit by a small, and constantly decreasing margin.
The Broncos bring to the table the right mix of what Manning appears to be looking for in a team, and have the cap room—more than $40 million free right now—to make him a very good offer. Time is on their side—unlike the Cardinals, they do not have any major due dates to work towards—and the decision to cut, trade or keep Tebow can be made at any point after locking Manning up.
However, money is clearly not everything for Manning. Indeed, his decision to contact and meet with the Cardinals, and effectively shun the Chiefs and Seahawks indicates that Manning would rather work in the right environment, with the right players, than to merely sign with the team with the deepest pockets. In that respect, the Cardinals still appear to have the upper hand, which prevents the Broncos from becoming runaway favorites.
Slight though it is, however, it remains, at this juncture, advantage Broncos.