Buffalo Bills: Building the Perfect 2012 NFL Mock Draft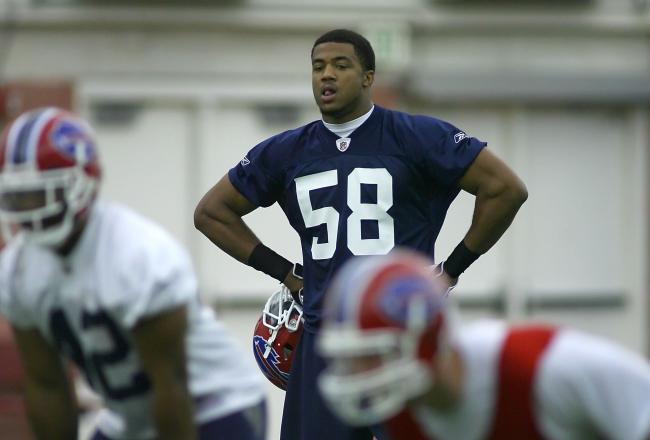 If the Bills are lucky, they'll get a re-do on the busted Aaron Maybin pick at this year's Number 10 pick.
Rick Stewart/Getty Images
The Buffalo Bills find themselves back in all-too-familiar draft territory at the No. 10 pick of the first round. They have picked between eighth and 12th five out of the last six years, and that is the kind of familiarity that does indeed breed contempt.
GM Buddy Nix had a much better second draft than his first outing in 2010, as I detailed here. How can the 2012 draft shake out so that the Bills finally find themselves climbing out of the first half of the first round again?
Round 1, No. 10
Plan A: Melvin Ingram, DE/OLB, South Carolina - The Bills should keep their fingers crossed that the Jacksonville Jaguars and Miami Dolphins end up passing on Ingram so they can get the best overall pass rush prospect in the draft. Their defense has been sorely missing the disruptive edge rusher that can create pressure for the rest of the unit to capitalize on.
Plan B: Jonathan Martin, OT, Stanford - This Plan B could become Plan A if the Bills don't re-sign OT Demetrius Bell in free agency. Martin is the best true left tackle in the draft after Matt Kalil, who won't last until No. 10 in any scenario.
Round 2, No. 41
Plan A: Brandon Boykin, CB, Georgia - Boykin's broken fibula suffered in the Senior Bowl could become the Bills' gain as he may fall to them in the early second now at a position of need.

Plan B: Alfonzo Dennard, CB, Nebraska - Dennard's poor Senior Bowl week could become the Bills gain as he may fall to them in the early second now at a position of need.
Round 3. No. 70
Plan A: Cam Johnson, DE/OLB, Virginia - The Bills need not one, but two quality pass rushers. If Andre Branch falls near their second-round pick, they should trade up for him instead.
Plan B: Chandler Jones, DE, Syracuse - Jones isn't a quick-twitch pass rusher, but he would be a nice long-framed handful for the other side of the opponent's offensive line.
Round 4, No. 105
Plan A: Ty Hilton, WR, Florida International - The Bills love their three- and four-wide sets, and Hilton would give them the deep speed to clear out all kinds of room for Stevie Johnson to operate.
Plan B: Joe Adams, WR, Arkansas - Like Kendall Wright, Adams' 40 time isn't up to the speed he flashes on film. He would make sense for the same reasons that Hilton would.
Round 4, No. 124
Plan A: Trade this pick away to move up when a top target falls within reach of their natural second-, third- or fourth-round pick. With two early fifth-round picks, the team has flexibility to move up for any late fourth-round target they miss here by trading the pick away, and GM Buddy Nix should have the clarity to know when to pull the trigger. This is a luxury pick, so use it to get exactly who they want earlier in the draft.
Plan B: Trade this pick away to the Oakland Raiders, who will have been waiting for three days to pick and will probably give a 2013 third for it. The Bills have nine picks and may have trouble rostering all of their picks, so use this freebie obtained for a useless-in-2011 Lee Evans to get capital elsewhere.
Round 5, No. 136
Plan A: Levy Adcock, OL, Oklahoma State - Even if the team re-signs Bell or drafts Martin, they'll need depth at left tackle. Adcock also provides depth at guard, so he would be an excellent get in the fifth.
Plan B: Olivier Vernon, DE/OLB, Miami-Florida - A boom/bust pick, but exactly the kind of developmental pass rusher the team should be looking for to continue to address one of the biggest missing pieces of their defense.
Round 5, No. 139
Plan A: Ryan Lindley, QB, San Diego State - This extra pick obtained in the Marshawn Lynch trade is a terrific spot to add a developmental QB like Lindley.
Plan B: Ryan Broyles, WR, Oklahoma - The Bills can hope to steal this once-potential first-round pick in the fifth round because he tore his ACL last year.
Round 6, No. 167
Plan A: Keshawn Martin, WR, Michigan State - The new Roscoe Parrish.
Plan B: Chandler Harnish, QB, Northern Illinois - If the Bills can't land a Lindley-type with a little better tools in the fifth, they could look to a more athletic type like Harnish in the sixth.
Round 7, No. 201
Plan A: Bradley Sowell, OT, Mississippi - The Bills made a starter out of Demetrius Bell when he was just as raw.
Plan B: Akiem Hicks, DT, University of Regina - The Bills have made reclamation project Michael Jasper a decent guard prospect after taking the all or nothing prospect in the seventh round last year. I like that philosophy and Hicks fits after not making it at LSU despite having the size and natural tools to make it in the NFL.
This article is
What is the duplicate article?
Why is this article offensive?
Where is this article plagiarized from?
Why is this article poorly edited?