Fantasy Baseball Rankings 2012: 5 Power Pitchers You Must Draft
March 12, 2012

Rob Carr/Getty Images
Roy Halladay, Philadelphia Phillies
Halladay is the most consistent pitcher of the last decade, and he has the statistics that you need in every category. Wins, ERA, strikeouts, etc., he's got them all.
Though he turns 35 years old in May, Halladay still has some of the best stuff in baseball. In fact, his 2.35 ERA and 220 strikeouts last season were career highs.
His ERA has been below three since 2007. He's thrown 200-plus innings eight of the last ten years, and has recorded 200-plus strikeouts the last four seasons.
He'll definitely be drafted within the first two rounds, but if you want a guy that can take care of business in all fantasy aspects, Halladay is the man.
Justin Verlander, Detroit Tigers
Yes, he won the pitching Triple Crown (wins, ERA, strikeouts). Yes, he won both the American League CY Young and MVP awards.
No, he won't have the same season that he did in 2011. However, that doesn't mean you shouldn't draft him.
Like Halladay, he should give you numbers all across the board. Though getting 24 wins will be tough to reach, he has plenty of run support, especially now with Prince Fielder in the lineup. Also, he does compete in the weak AL Central, so getting 20-plus wins isn't too much of a stretch.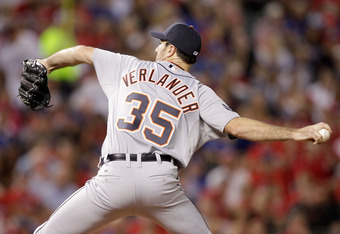 Bob Levey/Getty Images
He'll also get you plenty of strikeouts, even more so than Halladay. He recorded 250 strikeouts last year and had 269 in 2009.
The only thing that might not return in 2012 is his ERA. He had a 2.40 ERA, but this was the first time in his career that his ERA went even below three (his career ERA is currently at 3.54).
Like I said, his stats will be tough to repeat, but there's no doubt that he'll still be able to record fantastic numbers in 2012.
Felix Hernandez, Seattle Mariners
Until the Seattle Mariners start producing offensively or until he is sent somewhere else, Felix Hernandez will always suffer in value in terms of garnering wins. However, because of this, his lower value makes him a much easier pitcher to grab.
While his numbers in 2011 were nothing like they were in 2010, he still managed to record a 3.47 ERA, and struck out more than 200 batters for the third consecutive season.
He's also durable. He's yet to been put on the disabled list, so that means you can count on him throughout the season.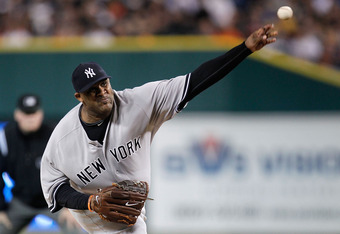 Gregory Shamus/Getty Images
C.C. Sabathia, New York Yankees
If you want a workhorse, look no further than C.C. Sabathia. Since breaking in the majors in 2001, he's pitched in no less than 180.1 innings each season.
Sabathia is capable of striking out players, though not as much as the other three players mentioned above. However, because he plays for the New York Yankees, he's capable of registering more wins than the other three.
Add to that an ERA that typically hangs in the low threes, and you got a pitcher that's going to be taken early in the draft.
Dan Haren, Los Angeles Angels
I could have thrown in Clayton Kershaw, Cliff Lee, Tim Lincecum and several others on this list, but there's a reason why I have him above the others.
He's a guy you want now and can easily trade later.
You see, in 2011, before the All-Star break, he had a 2.61 ERA and a 0.81 WHIP. However, afterwards, he had a 3.89 ERA and a 1.12 WHIP.
In 2009, he suffered the same thing: 2.01 ERA and 0.81 WHIP before, 4.62 ERA and 1.26 WHIP after.
You can draft Haren now, ride him throughout the first half of the season, fool your foes and then trade him around the All-Star break for a position player that you need.
And if you don't want to trade him, that's fine too. He was a 16-game winner last season, and with Albert Pujols now on board and the Texas Rangers the only decent competition in the AL West, he's capable of netting an extra couple of wins. In addition, he's a guy that registers 190-210 strikeouts and an ERA in the low-to-mid-threes each season.