Boston Red Sox Spring Training Report: Breaking Down Biggest Roster Battles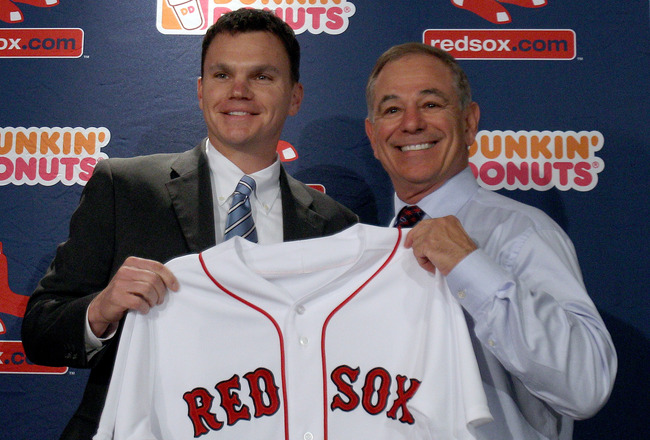 New manager Bobby Valentine and new General Manager Ben Cherington have several key roster decisions to make in 2012
Elsa/Getty Images
Although the games don't count, there is already serious competition underway in Ft. Myers.
Unlike last year, the Boston Red Sox will enter the season with the starters at several key positions on the field unsettled. This type of uncertainty is new for Red Sox fans, who are used to seeing a familiar stable of players from year to year.
A combination of age, injury, and ineffectiveness has led new General Manager Ben Cherington to make several changes to the core of the roster in the offseason. High-priced veterans have been jettisoned in favor of more modestly-priced players, the hope being that the competition will elevate every player's game.
The team still maintains a $170 million payroll, so it's not as if they've become the Pittsburgh Pirates. While this sort of budget-conscious philosophy is a new one for Red Sox fans to digest, it is nevertheless an important shift towards a more restrained approach to free agency.
Avoiding the type of signings (e.g., John Lackey, JD Drew, et al.) that can hamstring the team in future down the road seems to be Cherington's top priority, a wise approach given the multitude of bad contracts the team is currently carrying. He is content, instead, to allow lower-priced players to compete with one another for roster spots.
This philosophy echoes back to the same one Theo Epstein used to assemble the 2003 squad, where low-cost veterans named Kevin Millar, Bill Mueller, and David Ortiz came in to compete for vacancies in the Sox infield.
While the success of 2003 may not be replicated this season, the Sox would be plenty excited if they got anywhere close. Here are several key positions still to be decided in camp:
Right Field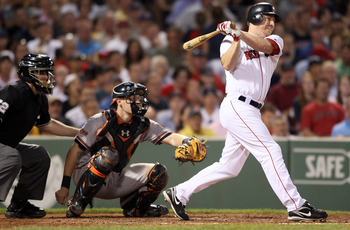 Unsurprisingly, JD Drew was not resigned by the Red Sox this offseason
Elsa/Getty Images
With the departure of JD Drew, the Red Sox now have a vacancy in right field. And after Drew's abysmal season last year, any kind of production the Sox get will be a huge upgrade from the absolute black hole that was there previously. The candidates to replace Drew are:
Ryan Sweeney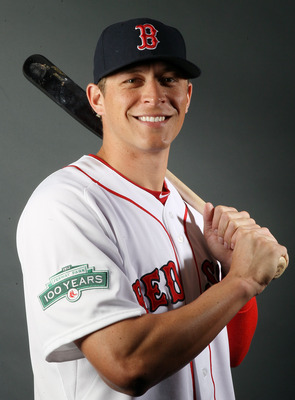 Elsa/Getty Images
Sweeney, acquired from Oakland in the deal that also brought over Andrew Bailey, looks to be the early favorite to be the everyday right fielder. After a big first game against Northeastern University (4-for-5 with a home run and five RBI) Sweeney has scuffled a bit, but he did deliver a big hit yesterday in a 6-1 win over Baltimore.
Sweeney has previously been both an everyday and backup player, so his versatility in that regard will be valuable. Since Sweeney is another lefty in an already lefty-heavy lineup, the Sox may use him in a platoon with the next candidate on the list.
Cody Ross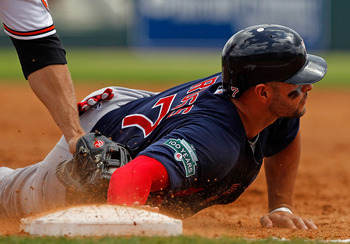 J. Meric/Getty Images
Ross followed up winning the 2010 NLCS MVP with the San Francisco Giants with a disappointing campaign last season, hitting .240 for the offensively-challenged Giants. Now with his sixth Major League team, Ross will look to rediscover the form that made him one of the key members of the former champions' lineup.
Ross got off to a fine start this spring in the 25-0 thrashing of Northeastern University, crushing two home runs to pace the Sox. Ross hits lefties very well (an .863 OPS over the last three years), so even if he does not become the everyday right fielder he will most certainly be used frequently.
Ryan Kalish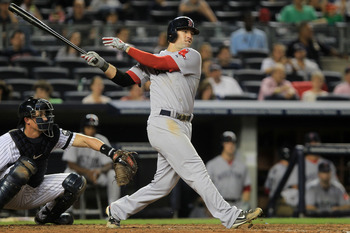 Chris McGrath/Getty Images
While Kalish will not start out the season with the team due to his recovery from a shoulder injury, he has begun throwing again and is well on the road to making it back. Kalish impressed in 2010 during a 53 game stint with the big club, showing promise both at the plate and in the field.
Kalish also has youth on his side, something the veteran-laden roster sorely lacks. If not this year, at just 23 years old he will be a factor for several years down the road.
Fifth Starter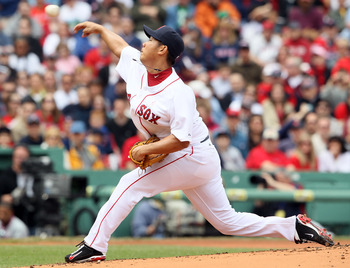 The fifth starter out of camp may just be holding Daisuke Matsuzaka's spot until his projected mid-season return
Elsa/Getty Images
The battle for fifth starter is in full swing, between a few holdovers from last year as well as some new faces. This key position in the rotation may simply be keeping Daisuke Matsuzaka's place warm as he rehabs from Tommy John surgery, but the Sox are hoping they find a long-term solution in this group:
Alfredo Aceves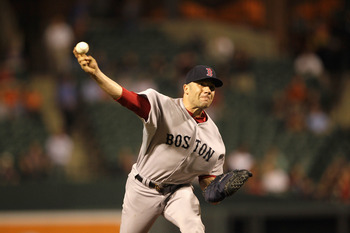 Rob Carr/Getty Images
Aceves has never made more than four starts in a season, but is nevertheless a prime candidate to win the job out of camp this year.
He was not great in his starts last season, going 1-1 with a 5.12 ERA, but Aceves proved he has huge value to the Red Sox as a long reliever, earning nine wins out of the bullpen. If the Sox can help it, they'd prefer to find someone else to fill the spot in the rotation so that they can keep Aceves in the same bullpen role in which he thrived in last season.
Felix Doubront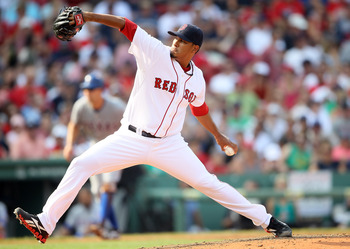 Elsa/Getty Images
Doubront has gotten off to a fairly average start this spring, shutting down Boston College before struggling with his control (three walks in two innings) against the St. Louis Cardinals. Doubront does have the advantage of being a lefty, which would give the Sox rotation more balance.
Because he is out of minor league options, it seems highly likely Doubront will make the roster in some capacity. However, if he continues to struggle, it could be as a long reliever or mop-up man. As someone who has had a lot of injuries in his career, Doubront may best be suited for this role.
Vicente Padilla
J. Meric/Getty Images
Padilla is by far the most experienced of this group. The volatile journeyman righthander has thrown 1521.1 career innings with four major league teams. He appears to have fully recovered from elbow and neck surgery that limited him to a mere 8.2 innings last season.
While any player coming back from surgery is a risk, Padilla has a strong track record of being the "innings eater" teams look for out of the fifth slot. He has topped 200 innings on four different occasions in his career, and if he can approach that number this year he will bring the stability to the back end of the rotation that the Sox have lacked the last several seasons.
Shortstop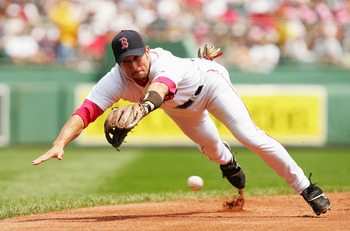 Ezra Shaw/Getty Images
The Red Sox are hoping that this is finally the year they find a long-term solution to the "Nomar Problem." Since the 2004 season, the Sox have trotted out an impressive twenty-four different shortstops. With this year's candidates, the Sox are hoping they have found a long-term solution:
Jose Iglesias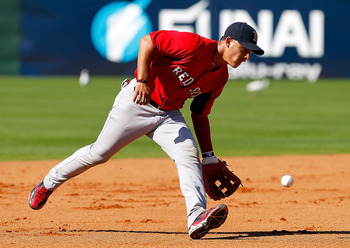 J. Meric/Getty Images
Considered the top prospect in the Red Sox organization, the Cuban-born Iglesias is the type of slick fielder that the Sox need at this position. While his bat is not as far along as his glove, Iglesias has made great strides this spring and is earning rave reviews from his coaches and fellow players.
After a strong start, Iglesias has become a favorite of manager Bobby Valentine and seems to be headed towards winning the everyday job. However, he has recently been slowed by a groin injury, and missing out on any playing time could impact his effectiveness when he returns. His recovery bears watching.
Mike Aviles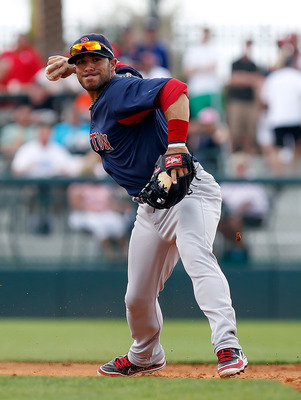 J. Meric/Getty Images
The versatile Aviles came over from Kansas City last season and was immediately effective for the Sox. He hit .317, and perhaps more importantly, played five different defensive positions (second base, third base, shortstop, left field, and right field).
After an excellent rookie season in 2008 that saw him finish fourth in Rookie of the Year voting, Aviles battled injury and general offensive regression over the next several seasons, which ultimately led to his being dealt to the Sox. Now 30 years old, he will need to continue his strong finish from last year to challenge Iglesias for the starting shortstop job.
Nick Punto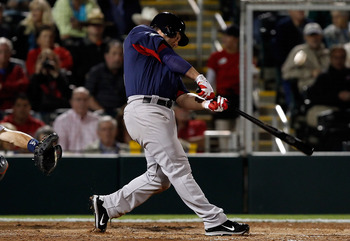 J. Meric/Getty Images
A long-shot due to the rise of Iglesias this spring, Punto will need a very strong effort (and perhaps another candidate to be injured) to become the starter at shortstop. He has not been an everyday player since 2009, when he struggled in that role with Minnesota.
Like Aviles, Punto's main value to the Red Sox is in his versatility. The 34 year old can play all infield positions, having done so in each of his last nine Major League seasons. Look for him to be used as a late inning defensive replacement this year.
Primary Setup Man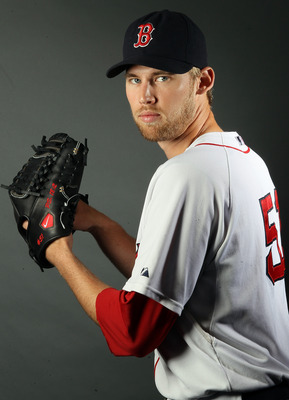 With Daniel Bard now a starter, the Sox will look elsewhere to find their setup man for new closer Andrew Bailey
Elsa/Getty Images
With the departure of Jonathan Papelbon and Daniel Bard's move to the rotation, the Sox have a significant hole to fill in the back end of their bullpen. The acquisition of Andrew Bailey satisfies their need for a closer, but someone will have to step up and fill the role that Bard performed so capably in last season. The Sox will rely upon two players early on, unless someone else emerges:
Mark Melancon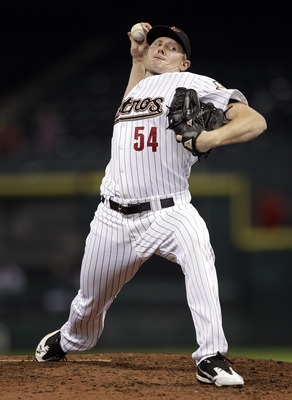 Bob Levey/Getty Images
The newly-acquired Melancon will bring late-game experience to the back end of the Sox bullpen. Having saved 20 games for Houston last season, he is very familiar with the pressures of working late in close games, an incredibly valuable skill for the Sox.
Should Bailey have a recurrence of the injury problems that have occasionally haunted him, Melancon gives the Sox a nice insurance policy. A former Yankees prospect, he will now be a very valuable piece on the other side of the rivalry and should see many chances to prove himself early on this season.
Alfredo Aceves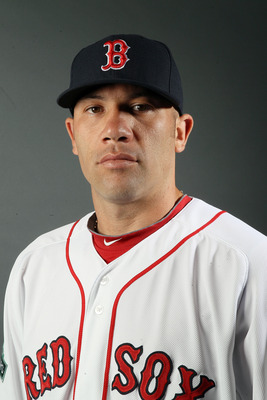 Elsa/Getty Images
While we are double-dipping on using Aceves on this list, the righthander nevertheless is a prime candidate to help finish games for the Sox this year should he not be the fifth starter. Aceves won nine games out of the bullpen last year, and was arguably the team's most valuable pitcher.
The man who wears number 91 as a tribute to Dennis Rodman (his favorite athlete) was excellent as a reliever last season, posting a 2.03 ERA in 93 innings out of the bullpen. Should he find himself out there again this year, new manager Bobby Valentine will call on him early in the season due to Aceves' strong track record with the Sox.
Backup Catcher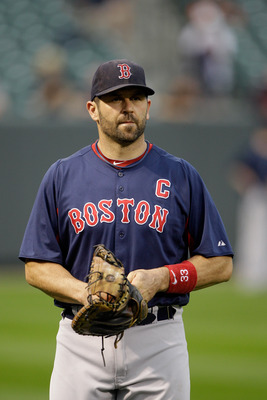 With Jason Varitek's retirement, the Red Sox will be looking for a new backup catcher in 2012
Rob Carr/Getty Images
The Sox lost their captain and last season's backup catcher Jason Varitek to retirement this offseason. While replacing his leadership will not be easy, Varitek's deteriorating skills and age (40) made him expendable. The Sox have two candidates with two distinctly different skill sets with which they will try to replace him:
Kelly Shoppach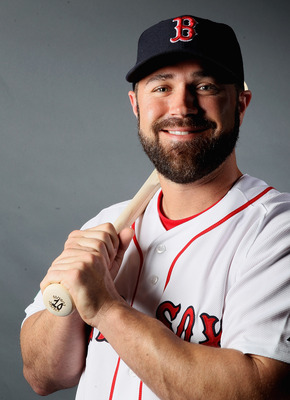 Elsa/Getty Images
A former Sox farmhand sent away in the deal that brought the immortal Coco Crisp to Boston, Shoppach is back for a second tour with the Sox. His primary value in Boston lies in his defense, particularly his ability to throw out runners.
Despite a horrific showing at the plate (.176 batting average in 221 ABs) Shoppach led the American League by throwing out 41% of potential base stealers last season. Especially because their pitchers have been so bad at holding on runners, the Sox are looking for a big boost in this area. If they can live with his offensive woes, Shoppach will likely break camp as the backup.
Ryan Lavarnway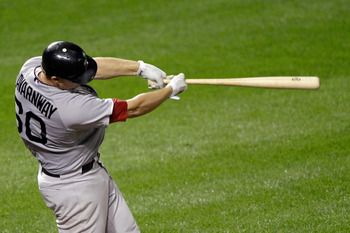 Rob Carr/Getty Images
Lavarnway impressed many after being called up in September last season, showing excellent power in 17 games. Although the Sox will want to be patient with him, he could force their hand with a strong showing in big league camp this spring.
The 24-year-old is not a particularly strong defensive catcher, and the team envisions him as more of a DH-type hitter long term. However, if he proves that he is ready to play now, he could still make the roster as a key hitter off the bench. Otherwise, he will start the season in Triple-A Pawtucket and will likely be the first person called up if there's an injury.
Keep Reading

Boston Red Sox: Like this team?