Why the Boston Red Sox Would Love to Have Hanley Ramirez Back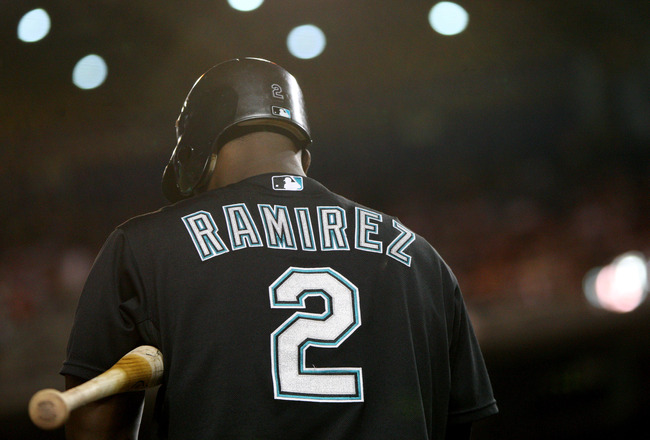 Ned Dishman/Getty Images
There's no question that the Boston Red Sox benefited from the 2005 trade that delivered them Josh Beckett, Mike Lowell and Guillermo Mota in exchange for Hanley Ramirez and Anibal Sanchez.
Beckett was the ace of Boston's rotation during its run to the 2007 title and remains one of baseball's most electric starters. Lowell, meanwhile, was a steadying clubhouse presence and a terrific offensive and defensive third baseman (when healthy) and had his own moment in the sun during his MVP performance in the '07 Fall Classic.
Nonetheless, it's hard not to look at Ramirez—entering his sixth season in Miami—and wonder what might have been had he remained a member of the Red Sox.
The 28-year-old has blossomed into one of the best overall players in the majors while Boston has struggled to find a full-time shortstop.
How would life in Beantown be different—for the better—if Hanley were patrolling shortstop in Fenway, both this season and beyond?
Best Infield in Baseball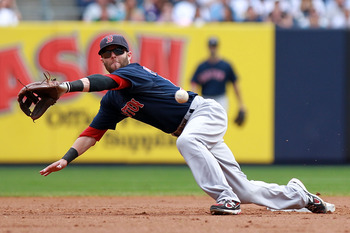 Nick Laham/Getty Images
Ramirez would give the Red Sox homegrown cornerstones at three infield positions: shortstop, second base (with Dustin Pedroia) and either third or first base (Kevin Youkilis).
At 32, Youkilis would be the oldest of this trio while Ramirez and Pedroia, both 28, would be firmly entrenched in the prime years of their careers.
For hypothetical purposes, assume that Boston still ended up adding Adrian Gonzalez before the 2011 season. With him in the mix, the Red Sox would have the best infield in baseball—and with three members under the age of 30, they would hold that title for a long time to come.
Any team would be happy to have one or two players capable of hitting .300 with 20 home runs and 100 RBIs while playing Gold Glove-caliber defense.
Red Sox fans would be positively giddy at the thought of having four such players in the infield alone.
Epitome of the New Red Sox Paradigm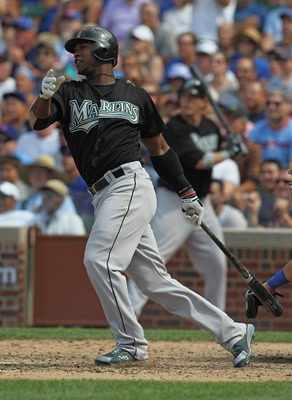 Jonathan Daniel/Getty Images
When Ramirez was still a member of the Red Sox organization, one of the knocks on him was his inability to take pitches and build up his OBP, back when that was gospel in Boston.
Not only has Hanley greatly improved in that area of his game—registering an OBP of .370 or better in his last four full seasons with the Marlins—he also exhibits an all-around game that now defines the current stars of the Boston organization.
Ramirez hits for power and average, he steals bases and is a very capable fielder. His penchant for racking up doubles would only be magnified if Ramirez played half his games with the Green Monster looming in left field.
It's not just Ramirez' on-field skill set that's valued by the Red Sox brass these days.
The ability to weather the constant scrutiny from Boston's rabid fans and media coverage of the team is just as important.
As someone drafted by the organization, Ramirez has that mindset—something that a fair share of the free agents brought in since Ramirez's trade have lacked.
Benefit of His Larger Than Life Personality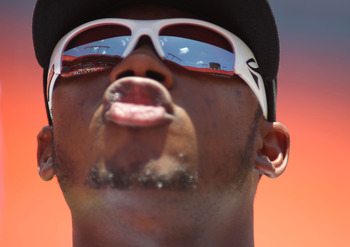 Marc Serota/Getty Images
The "idiots" mentality of 2004 has long been replaced by a more buttoned-down approach in Boston.
Manny Ramirez was shipped out of town in 2008 when he became too much of a distraction, and even David Ortiz has grown quieter as he has gotten older.
Hanley Ramirez's personality is almost as prodigious as his talent.
His ego does create its share of problems, but it's not as if that petulance hasn't been seen in Boston before. Pedro Martinez, Nomar Garciaparra, Manny Ramirez and David Ortiz all had their moments where they demanded special handling.
If anything, having one player serve as the lightning rod for criticism can ease the pressure on the rest of the clubhouse and allow other players to do their jobs in relative anonymity.
It's distracting at times, but the Red Sox have a track record of overcoming such distractions and making them work for the better.
Fewer Bad Free Agent Signings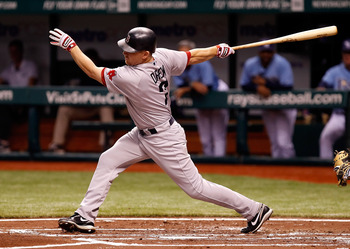 J. Meric/Getty Images
This is more of an idealistic "what if?" scenario involving Hanley Ramirez.
If he were manning shortstop in Boston starting in 2005 or 2006, there's a good chance that the Red Sox would be satisfied with their offense to the point where signing free agents would have less priority.
Just imagine the frustration that could have been saved had Boston not given foolish contracts to the likes of Edgar Renteria, Julio Lugo, J.D. Drew and perhaps even Carl Crawford.
With a lineup in the mid to late to 2000s consisting of Hanley Ramirez, Manny Ramirez, David Ortiz, Dustin Pedroia, Kevin Youkilis and Jacoby Ellsbury, there would be no need.
However, free agency was never Theo Epstein's strong suit.
The less he would have to dip into the free agent pool on an annual basis, the better—both for him personally and the organization.
Theo Epstein Remains in Boston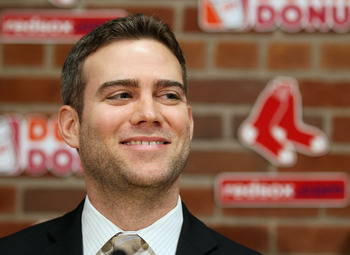 Elsa/Getty Images
If Epstein chose developing and nurturing homegrown talent over signing pricey free agents, he might have been granted the additional power that he sought from ownership.
In that case, Epstein would never have felt the need to leave Boston.
Just think: The one thing challenging the notion that Epstein was a bulletproof GM—in the eyes of Red Sox fans—was his poor track record of signing free agents.
It may have been a major factor in Boston's ownership not giving him more front office power.
Take away that flaw in his record as a front office executive, and Sox ownership would have no choice but to reward his flawless tenure as GM.
Keep Reading

Boston Red Sox: Like this team?