Golden State Warriors: 5 Starting Lineups the Team Should Use
Ezra Shaw/Getty Images
Who should the Warriors play on the court together?
Warriors head coach Mark Jackson finally made the move everyone expected him to by benching center Andris Biedrins in favor of 2010 first-round pick Ekpe Udoh earlier this month.
The shift appears to have paid off for Golden State, as the Udoh-David Lee-Dorell Wright-Stephen Curry-Monta Ellis starting lineup is 3-2 since Udoh became a regular. But is Jackson's starting five the best combination, or should guys like point guard Nate Robinson and defensive specialist Dominic McGuire get the nod at tipoff?
Begin Slideshow

»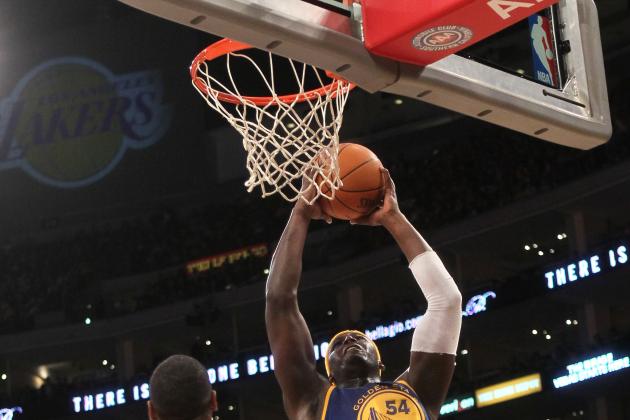 Stephen Dunn/Getty Images
Brown looked promising for the Warriors before his injury.
Starters: Curry-Ellis-Wright-Lee-Kwame Brown.
Stephen Curry continues to struggle through his ankle woes and Kwame Brown is likely out for the season with a torn pectoral, but both would be viable options for Jackson's lineup.
Curry is already the slated starter—it's just a matter of his maladies keeping him off the court. He's one of the league's best shooters and his developing skill set could one day be among the NBA's elite.
Though his $7 million signing this offseason drew blank expressions from fans (and presumably Steven A. Smith), Brown appeared to have revitalized his career as a key reserve off the bench for Golden State in the early going this season. His energy, glass-work and post defensive skill set had many pondering if Brown would usurp the starting center position from Andris Biedrins.
Unfortunately, Brown's injury derailed his opportunity to elevate himself beyond the NBA's prime example for untapped potential. Brown would have made a solid splash at the center position, and perhaps could have given the Warriors the post presence they so desperately sought.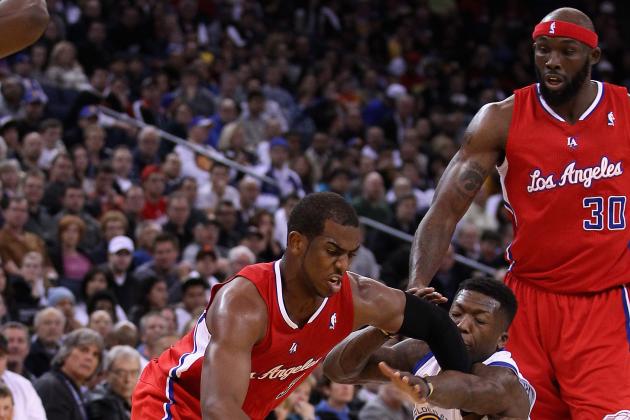 Ezra Shaw/Getty Images
He may not be the most adept defender, but Nate Robinson certainly has the aggression to relentlessly pester opponents
Starters: Nate Robinson-Ellis-Dominic McGuire-Udoh- Andris Biedrins
Jackson wants to play defense, so why not put his five best defensive players on the court? Biedrins and Udoh are okay post defenders, McGuire is the best on the team, Ellis doesn't get enough credit for his work on the perimeter and Robinson is the biggest case of little-man-syndrome-induced tenacity on the planet.
Granted, the only players in this lineup who average more than 5.5 points a game are Ellis and Robinson, but who needs to score when you can't be scored against? Jackson could always sub Curry or Wright when in need of a trey or two.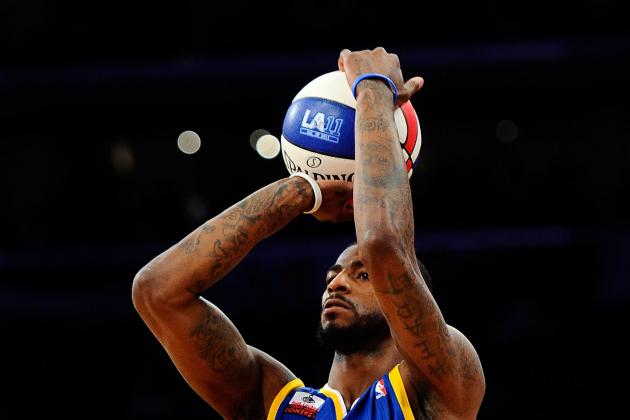 Kevork Djansezian/Getty Images
A Warriors three-point line-up would certainly be formidable.
Starters: Curry-Ellis-Klay Thompson-Wright-Lee
Picture this: Ellis isolation, with Wright and Thompson camped out in the corners and Curry on one of the wings. Ellis drives and dumps to the open man after drawing the slide from breaking his man's ankles. Shooter 'X' gets a wide open catch and shot look while Lee eats up anything that doesn't rip the net.
Wash, rinse, repeat.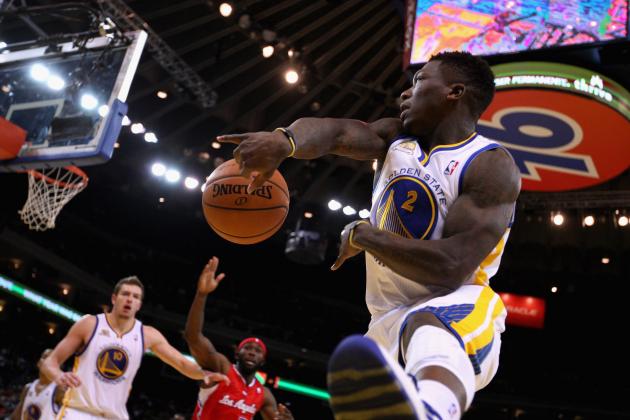 Ezra Shaw/Getty Images
At 5' 9'', Robinson definitely makes the 'Small' line-up.
Starters: Robinson-Curry-Ellis-Wright-Lee
The Warriors are in the pits of the league as far as team rebounding goes, averaging just 40.3 per contest (26th in the NBA), so why not just leave the team's best rebounder on the court alone with the the team's best scorers?
Don Nelson loved using small lineups and we've seen Jackson go with this unit when he wants to change the pace of the game.
Watching Robinson, Curry and Ellis routinely push the ball in transition would be dazzling from a fan's standpoint, but Jackson would likely be up in arms watching this team get dominated down low night and night out.
Oh wait…doesn't that sound familiar?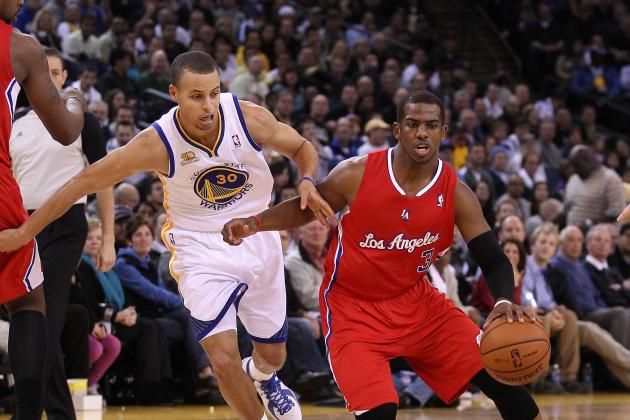 Ezra Shaw/Getty Images
Klay Thompson's development makes Stephen Curry expendable.
Starters: Ellis-Thompson-Wright-Lee-Udoh
Consider that Curry has struggled all season with consistency, whether it be due to injury or just sheer on-court performance. Now consider that Ellis' assist numbers are slightly better than Curry's (6.0 per game to Curry's 5.3) and he has run the point in Curry's absence.
Ellis is a combo-guard by nature and is more than capable of becoming the team's de facto floor admiral. Thompson would give the starting lineup size as well as perimeter shooting. Curry would become the team's sixth man (it's in his blood after all—his father Dell won the award in 1994) or could be traded at market value.