San Francisco 49ers: Figuring out What All the Free Agency Rumors Mean
March 12, 2012

Jim Prisching/Getty Images
This past weekend was an extremely busy time when it came to your San Francisco 49ers. While nothing happened of substance, a foundation seemed to be laid for that their plan is going to be heading into free agency.
Take it from me, someone that gets paid to navigate and decipher rumors, it can be a mind-boggling situation to look at. I am pretty sure that most of you went through the same "eye-bleeding" process as I did Saturday and Sunday.
With free agency set to begin tomorrow I thought I would be kind and put some of these rumors on one page for your viewing pleasure. Of course, we are going to get a lot more substantive information as the offseason progresses, but for now this is what we can take out of the proverbial calm before the storm.
By now I am pretty sure that most of you know that Randy Moss flew into the Bay Area last night and plans to workout for the 49ers today. This shouldn't be too surprising and I predicted this would happen last week.
Moss is just a couple years removed from being one of the best receivers in the entire game. While he did struggle a great deal in 2010, the veteran receiver will come cheap.
Moss might not fit what San Francisco is attempting to build in the locker room. He has had off-field concerns in the past and their experiment with Braylon Edwards didn't seem to work out too well last season.
With that said, if Moss returns to old form he could be a major steal in free agency.
Not sure why I decided to add the future Hall of Fame quarterback to this article. The 49ers have shown absolutely no interest in signing Manning. In fact, they keep going out of their way to declare that they don't have this interest.
Could that be PR spin?
Jay Glazer reported that a mystery team was involved in Manning on Saturday night, he hasn't followed up with that report since. This didn't stop the Denver Post from indicating that the 49ers could be in on Manning.
If this isn't enough confusion for you, try the following. Alex Smith and the 49ers remain far apart in contract negotiations as it appears he is going to hit the open market on Tuesday. At the very least, San Francisco could bring in a veteran quarterback for a meeting in order to put pressure on Smith.
This could be one of the reasons that unsubstantiated rumors continue to swirl that Manning is on the 49ers' radar. Fear not, we should have some sort of resolution to this issue within the next 48 hours.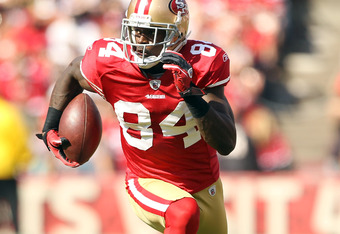 Ezra Shaw/Getty Images
Josh Morgan
According to Evan Silva over at Pro Football Talk the 49ers are making a strong push to re-sign Josh Morgan before he hits the open market on Tuesday. This is great news if you ask me, Morgan would have made a huge difference as the 2011 season progressed if he hadn't gotten injured early in the year. 
This is a player that fits perfectly in the slot and can provide San Francisco with that extra weapon down the seam. It would also allow the 49ers to possibly avoid reaching for a wide receiver in the first round of the 2012 NFL draft.
With that said, the Jacksonville Jaguars seem extremely interested in Morgan.
Vincent Jackson
While there are reports that the 49ers remain interested in signing Vincent Jackson, they are not the ones making noise in regards to the soon-to-be free agent.
The Washington Redskins have made Jackson their No. 1 priority after acquiring the rights to select Robert Griffin III on Friday night. Other reports indicate that the Tampa Bay Buccaneers have the "inside track" on Jackson.
Either way, the 49ers cannot get into a bidding war for the talented receiver. They just don't have the cap space that Tampa Bay and Washington have.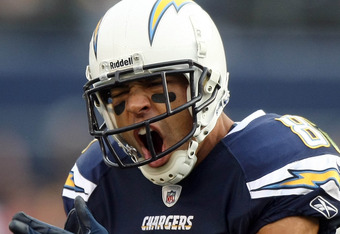 Donald Miralle/Getty Images
Mike Wallace
Nothing has really changed in regards to the talented young Pittsburgh Steelers wide receiver. The 49ers have the ability to acquire his services if they decide that he is a fit. Matt Maiocco over at Comcast Sports Net Bay Area has indicated that San Francisco will make a play for Wallace.
This should get settled relatively quick. One thing is for sure, the salary cap being set at just over $120 million helps the 49ers if they decide Wallace is the direction they want to go.
Well, that is about it for me right now. This should be an extremely entertaining week in San Francisco.