Cal Football 2012: Predicting the Pre-Spring Two-Deep Depth Chart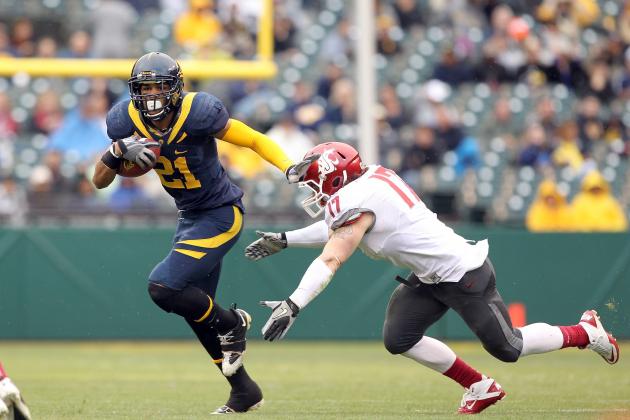 Ezra Shaw/Getty Images

With spring practices just a day away for the California Golden Bears, much anticipation is surrounding Jeff Tedford's team.
After a disappointing 7-6 campaign in 2011, Tedford is looking to right the ship and return Cal football to the promised land.
Let's take a look at the most likely candidates to fill Cal's two-deep roster with spring practices just around the corner...
Begin Slideshow

»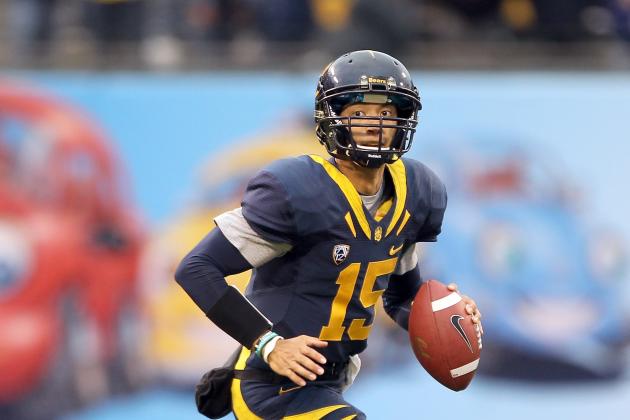 Ezra Shaw/Getty Images

1. Zach Maynard
Maynard is the clear cut No. 1 at the quarterback position for Cal heading into spring. The rising senior had an up-and-down 2011 campaign, tossing for 2,990 yards and 17 touchdowns but also 12 interceptions.
In his second year in Berkeley after transferring from Buffalo, Maynard will get the nod come fall, barring a breakout performance from one of the younger quarterbacks on the roster.
2. Allan Bridgford
Many Cal fans will be clamoring for freshman phenom Zach Kline to step into the backup role for the Bears, but it's still Bridford's job to lose at this point.
The rising junior was used sparingly in the backup role in 2011, but he was highly recruited out of high school and has enough talent to fill in if needed.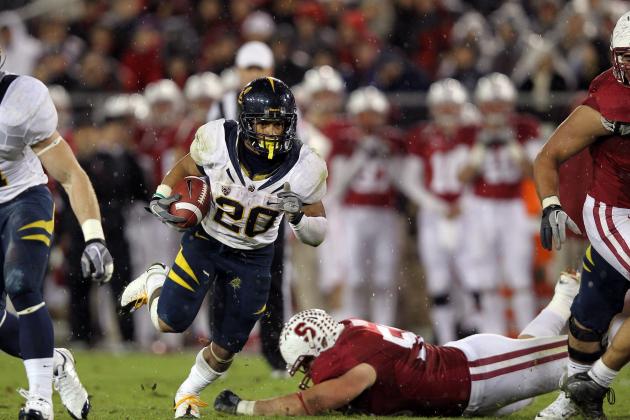 Ezra Shaw/Getty Images

1. Isi Sofele
Like Maynard, Sofele has his starting position all locked up heading into the spring. The rising senior had a stellar 2011 season, breaking the 1,000 yard rushing mark (1,322) while also scoring double digit touchdowns (10).
Much is expected of Sofele heading into 2012, but look for him to answer the call in his second full year as a starter.
2. C.J. Anderson
Anderson was the backup running back last year, and you can expect him to fill that role again in 2012. The rising senior had a solid season a year ago, rushing for 345 yards and eight touchdowns.
Anderson is as steady as they come as a backup, but if he can replicate his production from a year ago this fall, Tedford will be forced to give him more carries.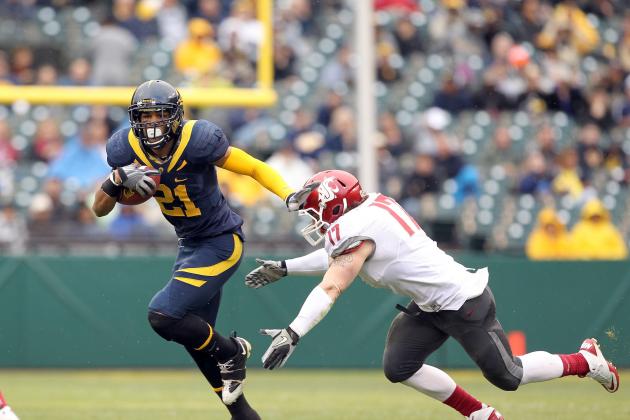 Ezra Shaw/Getty Images

1. Keenan Allen
As a sophomore in 2011, Allen established himself as one of the premier wide receivers in college football. The North Carolina native was ninth in the country with 1,343 receiving yards. His 98 receptions was also good for ninth nationally.
Allen, the younger half-brother of Cal quarterback Zach Maynard, will continue to be the go-to guy on offense for the Bears, despite the fact that he will miss spring practices recovering from ankle surgery. Expect another extraordinary season from Allen in preparation for his possible departure to the NFL draft after the season concludes.
2. Maurice Harris
Cal lost seniors Marvin Jones and Michael Calvin to graduation, meaning that there is work to be done to find a reliable secondary option at wide receiver opposite Allen.
Although there is a wealth of inexperience at the position right now, Maurice Harris, a redshirt freshman, looks to have the inside track to the second spot on the depth chart.
Harris, a cousin of both Allen and Maynard, was ranked as the 91st best prospect nationally in 2011 according to ESPN. He possesses tremendous hands and could be a nice possession option for Maynard.
Other candidates for this job come fall are fellow freshmen Cedric Dozier and Bryce Treggs.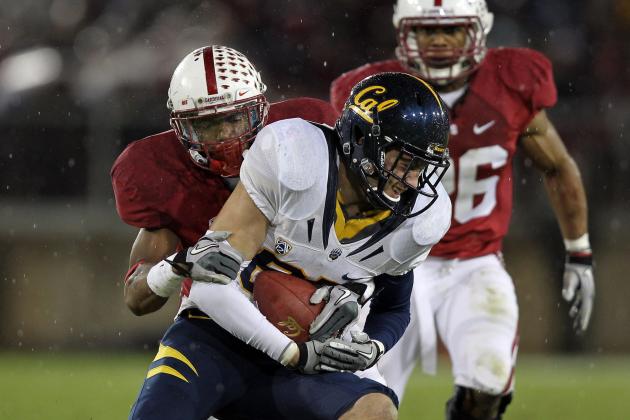 Ezra Shaw/Getty Images

1. Spencer Hagan
Hagan is the Golden Bears' top returning tight end, but that's not saying much considering the rising junior caught just 12 balls for 94 yards and a pair of touchdowns in 2011.
Hagan didn't get many opportunities to prove himself a year ago, but in 2012 he will be the main guy at tight end. Look for him to emerge as a solid receiving option to compliment top target, Keenan Allen.
2. Richard Rodgers
Rodgers redshirted in 2011 and will still maintain his freshman eligibility heading into 2012. At 6'4", 265 lbs, Rogers possesses ideal size for the tight end position.
A 3-star prospect out of high school, Rodgers is a gifted athlete who has a bright future once he fully develops. Also look for fellow freshman Jacob Wark to make a run at the backup tight end job.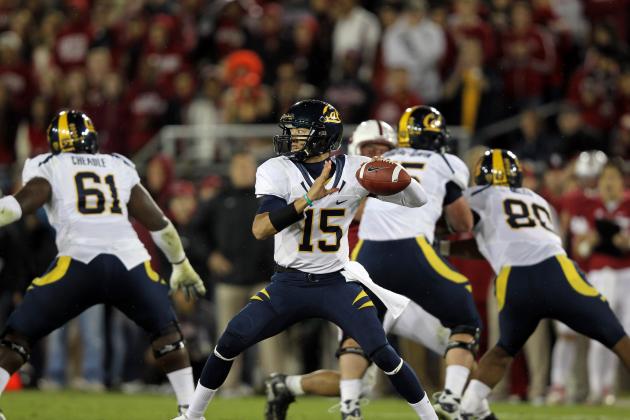 Ezra Shaw/Getty Images

1. Bill Tyndall
With Michael Schwartz graduating, the left tackle duties now rest squarely on the shoulders of Tyndall. The rising junior will do his best to shore up a shaky offensive line from a year ago.
2. Matt Williams
This spot is up for grabs, but the favorite might just be Williams. He was known for being quick and agile during his time in the junior college ranks and should be ready to go in 2012.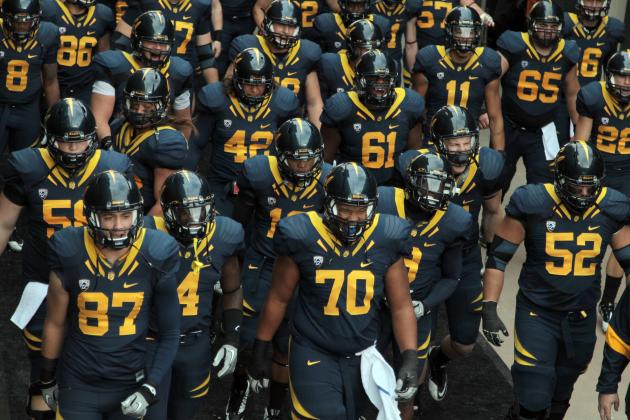 Ezra Shaw/Getty Images

1. Brian Schwenke
Schwenke was the starter at left guard a year ago ,and he is expected to hold that role again this season. Schwenke, a rising senior, has been playing along the offensive line since his freshman year, and he brings a wealth of experience to the table.
Schwenke has always had tremendous potential, and 2012 may be the year that the second-year starter brings it all together.
2. Chris Adcock
The backup left guard spot belongs to Adcock, a rising redshirt sophomore. Adcock was Cal's co-scout team player of the year on offense in 2010, and he should make an impact along an offensive line that struggled mightily at times in 2011.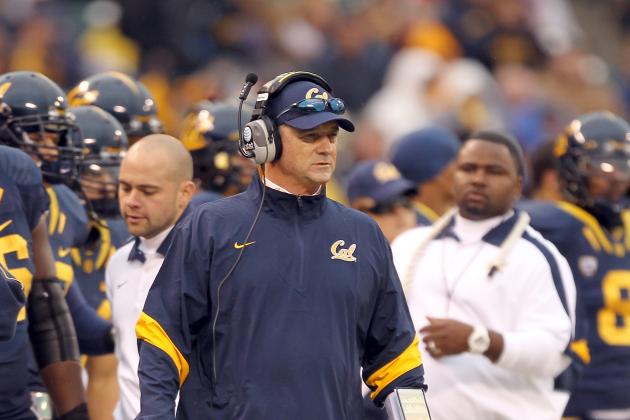 Ezra Shaw/Getty Images

1. Dominic Galas
Galas will once again be the center for Cal in 2012 after starting for the Golden Bears a year ago at the position. Tenacious in the trenches, Galas has a mean streak and isn't afraid to show it off.
The Bears are happy to have some experience back at a key position in 2012.
2. Mark Brazinski
Brazinski is the future of the center position in Berkeley once Galas graduates after 2012. Rated as a 4-star and the sixth-best center prospect in America according to Rivals.com, Brazinski will be eager to show off his potential.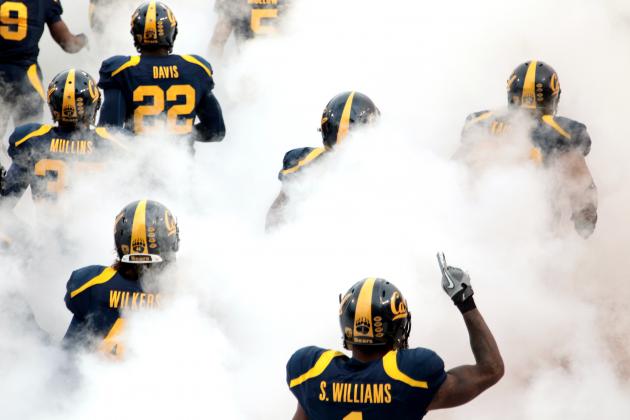 Ezra Shaw/Getty Images

1. Chris Adcock
Already listed as our projected backup left guard, Adcock may be forced into a starting role at right guard seeing as the top two players at this position in 2011, Justin Cheadle and Justin Gates, graduated.
As mentioned earlier, Adcock is talented and will chomping at the bit to prove his worth in 2012.
2. Alex Crosthwaite
Crosthwaite is big (6'5", 298 lbs) and could ultimately develop into a tackle. For now, the young lineman is Cal's best bet as a backup guard. Crosthwaite was a 4-star prospect in 2010, and he could make an impact as early as the fall.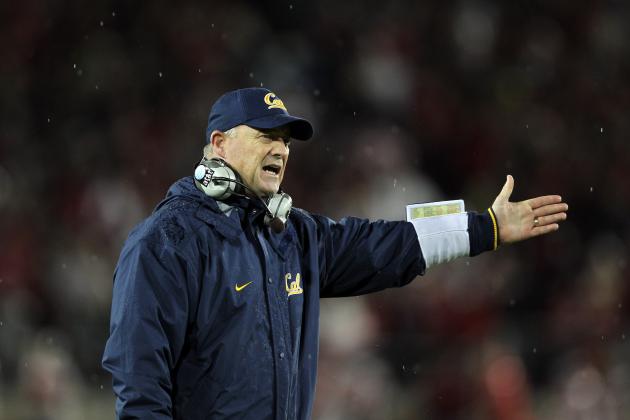 Ezra Shaw/Getty Images

1. Matt Summers-Gavin
Summers-Gavin may very well be Cal's top returning offensive lineman. The rising senior held his own at the right tackle spot in 2011, and more of the same is expected in 2012.
With signal caller Zach Maynard being a lefty, Summers-Gavin gets the all-important responsibility of protecting his blind side. Look for the veteran to anchor an otherwise inexperienced line in 2012.
2. Tyler Rigsbee
Rigsbee will once again be the backup in 2012 after serving the same role in 2011. The rising senior is a solid option should anything happen to Summers-Gavin. After fully recovering from reconstructive ACL surgery earlier in his career, Rigsbee should be ready to go come fall.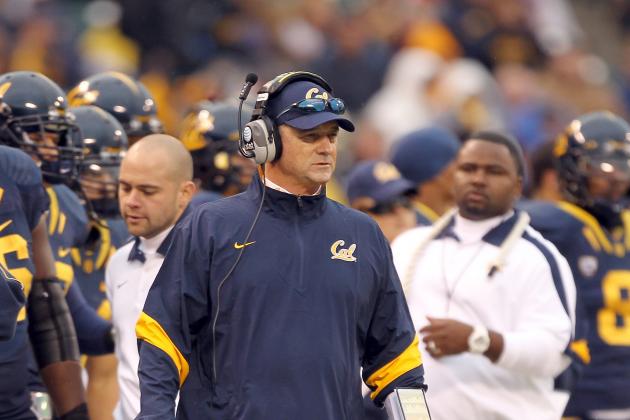 Ezra Shaw/Getty Images

1. Deandre Coleman
Coleman is a beast at 6'6", 206 lbs, but he uses his size well off the edge. He possesses tremendous strength as well, but must improve his conditioning.
Either way, Coleman is a very solid option to replace the graduated Ernest Owusu.
2. Keni Kaufusi
At 6'2", 280 lbs, Kaufusi can play both on the outside and in the interior of the defensive line. He was still nursing a shoulder injury a year ago, but now that he is back to full health he could make an impact for the Golden Bears.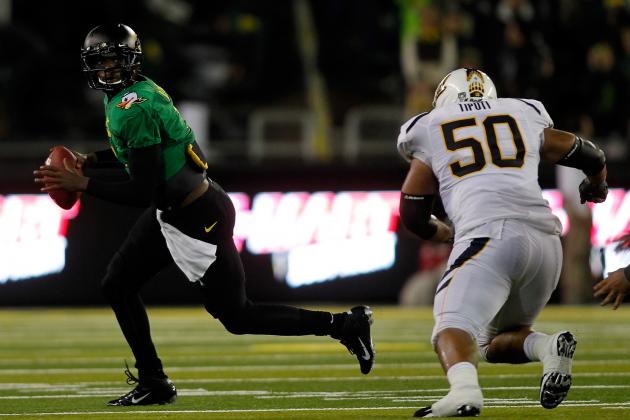 Jonathan Ferrey/Getty Images

1. Aaron Tipoti
The nose tackle is arguably the most important position in a 3-4 scheme, but luckily Cal has a pair of talented and experienced players, starting with rising senior Aaron Tipoti.
Tipoti has been hampered by injuries during the early part of his Cal career, but the Bears are hoping the veteran is finally healthy and can play a major role in 2012.
2. Kendrick Payne
Like Tipoti, Payne has plenty of experience at the nose tackle spot, having split time at that position each of the past two years.
Payne also suffered through injuries during his first couple years in Berkeley, but a lot will be expected of him come fall.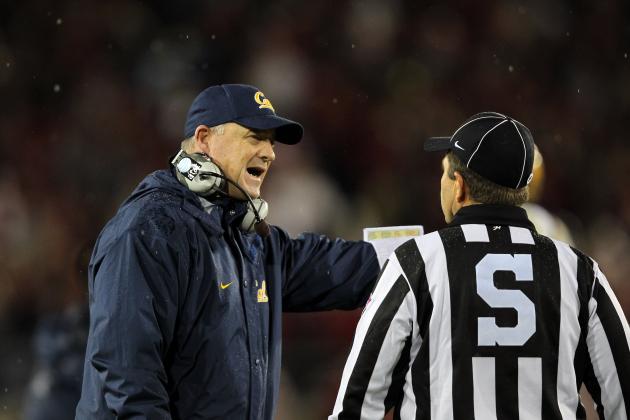 Ezra Shaw/Getty Images

1. Mustafa Jalil
Jalil will have the pressure of stepping into the shoes of the NFL-bound Trevor Guyton at the defensive end spot. Jalil has all the ability to do a fine job, though.
Although just a sophomore, Jalil is Cal's most reliable option at a key position in the 3-4 defense.
2. Gabe King
King is a gifted athlete, standing 6'5", 265 lbs. His burst off the edge may the best of any defensive lineman on Cal's roster. The Golden Bears must find a way to him on the field sooner rather than later. It wouldn't at all be a shock to see King firmly in the rotation come fall.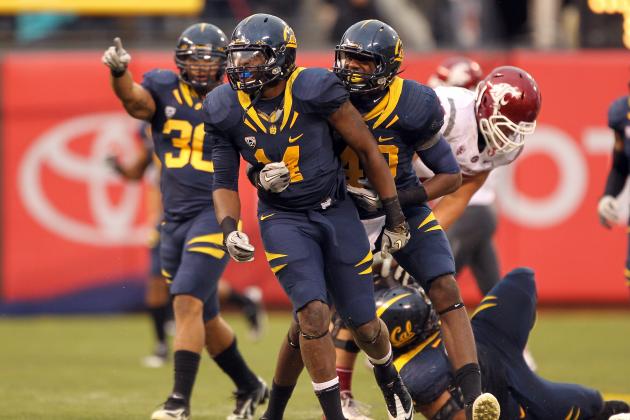 Ezra Shaw/Getty Images

1. Cecil Whiteside
Whiteside started during the later part of the year for the Golden Bears in 2011 after being academically ineligible the year prior.
Whiteside was an Army All-American in high school and really got a chance to prove himself last year opposite Pac-12 Defensive Player of the Year, Mychal Kendricks.
Look for Whiteside to continue his development as a sophomore and make a serious impact as Cal's starting outside linebacker.
2. Jason Gibson
The second outside linebacker spot will be an ongoing position battle all the way through until fall camp. For now, we'll give the nod to the speedy Gibson.
Pass rushing is a necessary skill for outside linebackers in a 3-4 system, and Gibson is Cal's best option when it comes to that.
Gibson is young so growing pains are to be expected, but there's no doubting the Gardena native's ability.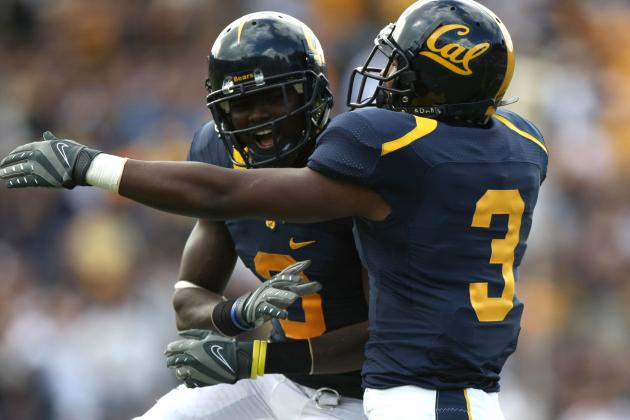 Jed Jacobsohn/Getty Images

1. David Wilkerson
Wilkerson received a lot of playing time last season, and that will only continue to increase into 2012. The rising junior is fast and possesses great instincts at the linebacker position.
Look for Wilkerson to solidify the linebacker position that must replace two key pieces in the aforementioned Kendricks and D.J Holt.
2. Robert Mullins
This spot could also end up going to Dan Camporeale after the rising junior demonstrated some promise towards the end of 2011. But Mullins, a rising senior, has better instincts, which ultimately sets him apart.
Again, this is a position battle that may not end until the season starts, so it's certainly something to keep close tabs on.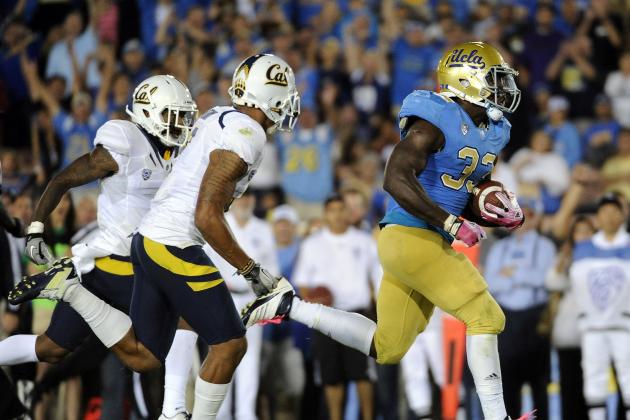 Harry How/Getty Images

1. Marc Anthony
Cornerback should prove to be a position of strength for Cal in 2012. Anthony is a rising senior who will be entering his third year as a starter for the Golden Bears.
The Pac-12 is known for producing some of the best wide receivers around, and it will be up to Anthony to make sure the secondary is solidified.
2. Steve Williams
Anthony's cornerback mate will be rising junior Steve Williams. Williams is blessed with top notch speed, which helps make up for his lack of size (5'10", 174 lbs).
Like Anthony, Williams will be entering his third year as a starter, and a lot is expected of the rising junior.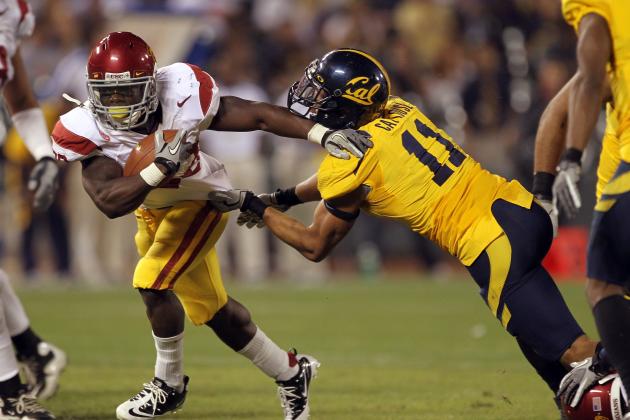 Ezra Shaw/Getty Images

1. Avery Sebastian
Sean Cattouse was a very steady option at this position a year ago, but he has since graduated, leaving room for Sebastian to step in.
Sebastian's main contributions in 2011 came on special teams, but he has the speed and awareness to step right in and be an impact player at a position that struggled at times a year ago.
2. Josh Hill
A converted cornerback, Hill appears to have finally found his niche at the safety position. The rising senior will provide experience and stability to a position in need of both.
Now that Hill's academic issues are in the rearview mirror, it's finally time for his true potential to be met. He could threaten for the starting role come fall with a solid spring.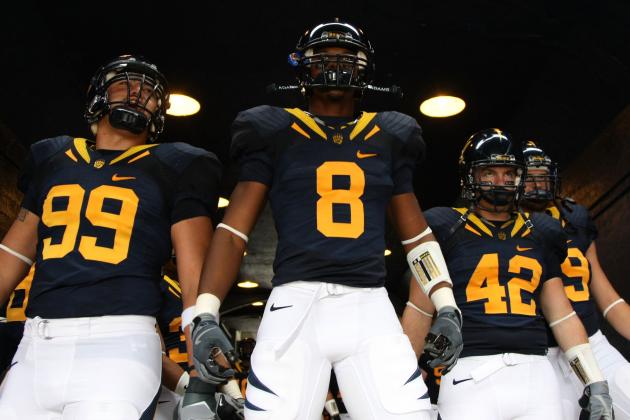 Jed Jacobsohn/Getty Images

1. Alex Logan
D.J. Campbell left a huge void at the strong safety position when he graduated, but Logan appears ready to step in and fill it.
At 6'2", 200 lbs, the rising junior possesses ideal size for the position. He has been primarily a special teams player while with the Golden Bears, but that will change come fall.
2. Avery Walls
Walls, an early enrollee a year ago, is one of the more intriguing prospects on Cal's roster. Rated as the 11th best safety prospect in the country, Walls has been heralded for his spectacular tackling ability.
Walls didn't get a chance to prove himself a year ago, but if he can get his instinctiveness on the same level as his tackling ability, we could see a star in the making.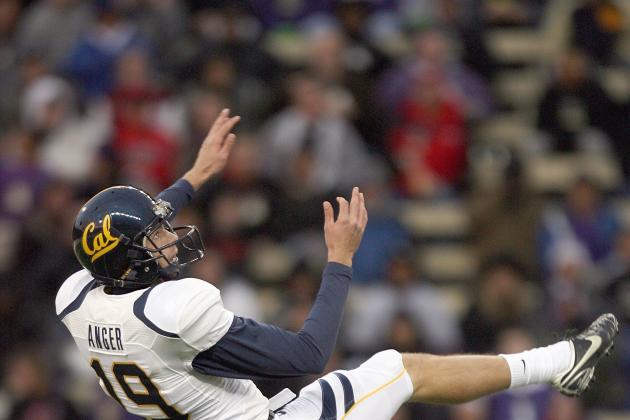 Otto Greule Jr/Getty Images

Kicker: Vincenzo D'Amato
D'Amato is the likeliest candidate to replace the graduated Giorgio Tavecchio. A rising senior, D'Amato actually split the placekicking duties with Tavecchio earlier in his career before primarily serving as the backup.
Not much is known about D'Amato up to this point, but he will have the opportunity to win the duties outright by the end of Spring.
Punter: Jed Barnett
Bryan Anger left Berkeley as one of the most prolific punters in Cal football history. Believe it or not, Barnett has all the tools to match and possibly exceed the production of Anger.
Barnett averaged over 50 yards per punt as a high school senior. His leg strength is his greatest gift, and he could also end up assuming the kickoff duties in the fall.
If D'Amato struggles at all during the preseason, don't at all be surprised to see Barnett handle both the kicking and punting duties.