Bye, Bye Denver Broncos? Why Tim Tebow Needs to Find a Team That Appreciates Him
March 12, 2012

Jim Rogash/Getty Images
The Denver Broncos organization has caused an uproar in the NFL again. This one wasn't Tim Tebow's fault.
No, it wasn't the outspoken Christian, Tim Tebow, who caused the latest media firestorm in the Mile High City this time, instead, it was owner Pat Bowlen, VP of Football Operations John Elway, and the rest of the Broncos front office.
They have been courting one of the best quarterbacks ever to play the game, Peyton Manning.
As much as he has been able, Tim Tebow hasn't been seeking out the limelight in the NFL. He has avid fans who have raised billboards calling for him to start over the anemic Kyle Orton, which have stirred up the media to provide constant coverage of his every move since last year's offseason.
At times last season, it was completely sickening the amount of coverage Tebow had around him, to the point where ESPN aired two separate one-hour long specials devoted to all things Tebow.
This time, though, it was Pat Bowlen, the Broncos owner, along with John Elway, who spearheaded the campaign to land one of football's biggest free agents of all time: Peyton Manning.
Manning has a long list of NFL passing records. His accuracy, his TD-to-INT ratio, his playoff achievements are in a league of their own. Surely, they don't even compare to any of the stats posted by Tim Tebow in the last two seasons.
Peyton Manning has four career perfect games, where he achieved a perfect passer rating. 
Peyton has 11 seasons in which he threw for more than 4,000 yards (an NFL record). He also is one shy of 400 regular-season passing touchdowns. Over his 13 seasons, that's an average of over 30 touchdowns per season.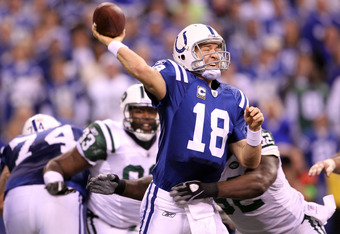 Andy Lyons/Getty Images
For the Broncos organization, they believe that Peyton Manning is the answer to get them back to the Super Bowl. Just like LeBron James' decision in the NBA, which united James, Dwyane Wade and Chris Bosh, the Broncos would likely have expectations to win at least the AFC in 2012 with their young and improving defense.
Having Peyton Manning is a game changer, and for Tim Tebow, that means changing locales.
Tebow has never really been able to get the resounding vote of confidence from the front office that he is their guy. When John Elway came into his position as VP, his GM Brian Xanders took a stance of distancing himself from any player coming out of the Josh McDaniels era, Tebow included.
After taking the Broncos from a terribly disappointing four-win season that secured them the No. 2 pick in the 2011 draft, Tebow won seven out of 11 games he started in 2011.
He also led the team in the playoffs to a first-round upset of the heavily favored Pittsburgh Steelers on the first play from scrimmage in overtime. Tebow hit Demaryius Thomas in stride en route to an 80-yard reception, propelling the Broncos into the AFC Divisional Playoffs.
Yet after Tebow's compelling season, John Elway and company listed him as the starter going into Training Camp, saying that he'd have to earn the starting spot in camp to be the full-time starter in the regular season.
This is typical when you bring in an outside guy to have your starter compete for a job, but not for a guy who brought the second-worst team in the league a year ago to a top playoff contender.
The Denver Broncos sorely under-appreciate Tim Tebow. 
They treat him as expendable. They treat him as if he needs them.
The Broncos have shown their true intentions that if another option became available, they would rather look elsewhere than move forward with him at the helm.
Even the New York Jets, who had a disappointing season with Mark Sanchez, didn't just stick behind their guy, they offered him a contract extension to remain a Jet for the next three seasons for $40.5 million.
Sanchez is likely to remain the starter in New York for the next two seasons, as most of the guaranteed money will be handed out in 2012 and 2013.
Nobody considers Sanchez an elite quarterback, but this move makes him the Jets' franchise quarterback for next season and beyond.
Instead of going that route, the Broncos have essentially given Tebow a slap in the face for all of his efforts last year.
What happens if Manning signs elsewhere?
Despite the Broncos organization beliefs that they are "95 percent confident" Manning will sign with the Broncos, two teams remain in the running to land Manning. The Miami Dolphins and the Arizona Cardinals still have a shot to lure Manning in their warm climate and indoor dome conditions, respectively.
The situation will look a lot like the Broncos' failed attempts to trade Kyle Orton last season: stuck with someone they don't believe in and having to save face before fans who are unsure of their baffling gaffes in free agency. 
The meek Tim Tebow is a better man than I am, but if I were in his shoes, I would request a trade out of this circus before things get really ugly.