NFL Draft 2012: How DeSean Jackson Changed Eagles' Draft Plans
March 12, 2012

Rob Carr/Getty Images
DeSean Jackson's future with the Philadelphia Eagles remains to be determined, but what has been determined is that his fate has a heavy impact on the Eagles' plans for the 2012 NFL draft.
With Jackson on the roster, it is clear that the Eagles' biggest needs are at linebacker and defensive tackle. That means that the front office will be looking at players like Luke Kuechly, Dont'a Hightower and Michael Brockers.
But without Jackson on the roster, the whole strategy changes.
All of a sudden, the Eagles have a gaping hole at wide receiver. Jeremy Maclin is good, but he can't do everything on his own. Jason Avant simply isn't a viable No. 2 option at receiver, and neither is Riley Cooper. The Eagles would have to find Jackson's replacement quickly, either via free agency or through the draft.
Free agency is an iffy option because of last year's spending spree. Also, the most successful franchises in the NFL have built their teams through the draft and not free agency.
Signing veterans off the market can be a good way to temporarily plug holes, but it's also key to remember that they may not perform as well in a new system as they did in their old one. Even if they're playing in essentially the same system but have a different supporting cast, it can greatly alter a player's performance.
The best long-term solutions are found in the annual draft, and that's why the Eagles would be best served finding Jackson's replacement in New York at the end of April.
Among those possible replacements are Notre Dame wide receiver Michael Floyd, Georgia Tech's Stephen Hill and Baylor's Kendall Wright. All of those receivers likely wouldn't make it to the second round.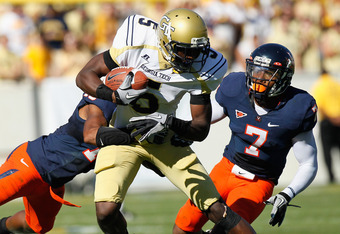 Kevin C. Cox/Getty Images
In the later rounds, the Eagles could opt to go with a receiver cut to a Jackson-esque mold like T.Y. Hilton or Jarius Wright. They might end up doing this even if they do decide to keep Jackson around, just for backup purposes.
What this really affects is the Eagles' strategy through the first two rounds. If Jackson is traded away, which position will be the biggest need—linebacker or wide receiver?
For fans who watched opposing running backs have their way with a soft run defense last year, the clear choice is linebacker. That belief is amplified when considering the Eagles put together a top-10 passing offense, even with all of Jackson's antics.
But in a league where great offense takes teams further than great defense, would it be smarter to load up with first-round talent at receiver?
The current state of the NFL rewards teams with an elite quarterback and great receivers. Each of the past three Super Bowl champions have followed this model, so it might not be as crazy as it seems to ignore the defense for a while longer and give the offense as much as it needs to be successful.
If Jackson is signed to a long-term contract, however, the Eagles don't need to make offensive commitments in the draft and can solve their problems at linebacker at defensive tackle. And in this draft, they should be able to do both.
Luke Kuechly seems to be the most likely to be taken by Philly in the first round, given that he is still on the board when the Eagles arrive with the 15th overall pick. If he is taken there, the Eagles can then invest one of their two second-round picks on a defensive tackle.
The talent pool at defensive tackle in this draft is exceptionally deep. The top-tier linemen appear to be Michael Brockers, Dontari Poe and Fletcher Cox. Then there's Kendall Reyes, Devon Still and Jerel Worthy. Odds are, one or two of those guys will still be available by the time the Eagles are set to use their second-round pick.
If, however, Andy Reid sticks by his linebacker-free early-round draft history, hope is not lost for the Eagles' front seven.
One of the aforementioned defensive tackles would likely be taken in the first round, and the Eagles will still have plenty of linebackers to choose from in the second. Some possible picks include Mychal Kendricks, Zach Brown and Lavonte David.
Don't forget about Vontaze Burfict, either. His draft stock has been plummeting this whole offseason, so he'll be taken in a much later round than his talent should be worth. If Burfict gets his mental issues under control, he will be an NFL star.
All of this speculation, however, is useless until we know what the Eagles' plans for Jackson are. If he stays, Philly is taking a risk on his attitude and keeping around one of the best receivers in the league.
If they trade him away they ditch the antics, but are left with more holes than a Super Bowl hopeful should have.
There is still a month until the NFL draft, and the Eagles will surely take their time with this decision. In the meantime, please distract yourselves by reading all of the articles claiming Robert Griffin III will make the Washington Redskins contenders.
Laugh at them if you like, but it is something to consider.