New York Knicks: Carmelo Anthony Needs a Reality Check
March 12, 2012

Ronald Martinez/Getty Images
Carmelo Anthony, the man with the perpetual smile, is rapidly playing his way out of the hearts of Knicks fans everywhere, a reality he has not yet acknowledged.
The Knicks lost their fifth straight against the 76ers on Sunday and have dropped to 2-7 since Anthony's return from a groin injury. They've also entered an unnecessary race for the eighth and final Eastern Conference playoff spot.
The root of the issue?
Anthony.
Even though he kept the ball moving more than usual against Philadelphia, New York's offense is undeniably out of sync when he is on the court. He has a penchant for holding onto the ball too long, and his shot-selection continues to be questionable.
But we've known this. Even before Knicks dealt for Anthony last year, it's been universally known that he is at home in isolation. That being said, it is also universal knowledge that Mike D'Antoni's system runs itself, making even the most one-trick ponied of superstars look like future Hall of Famers.
Not only has Anthony yet to embrace it, but he seems actively determined to defy it. He has lost his explosiveness, isn't running the floor effectively and continues to hoist up nearly 20 shots per game despite shooting a career-worst 40.1 percent from the field.
Where's the sense of urgency? Where's the chip that was on Anthony's shoulder after he was criticized for the way he handled things in Denver? Where is the top-tier athlete we saw in the postseason last year?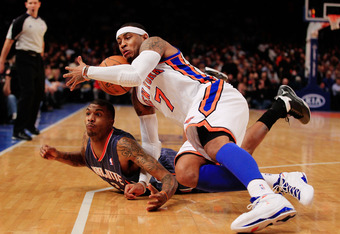 Chris Trotman/Getty Images
After going under the knife twice over the offseason and having more than his fair share of injury problems this season, New York and its fans would be willing to overlook some of his shortcomings. But a lack of effort is not one of them.
The team as a whole seems to lack effort and the will to win on the court, but Anthony is the biggest culprit. He has remained stagnant in his willingness to keep the ball moving, doesn't seem to possess any sense of urgency and while his injuries were unfortunate, improved conditioning and preparation would have went a long way in their prevention.
And where has it gotten him? On the bench, in the fourth quarter, while the Knicks' second unit propels the team to respectability late in games.
From CBSSports.com:
"These guys were fighting, they had us back," D'Antoni said. "I just didn't feel like it was fair to them to take them out and just try something else. I did it in Dallas, too. If guys are going to fight that hard and bring you back, I'm going to give them a chance to finish it off."
D'Antoni's decision to play most of his second unit down the stretch may not have been taken personally by Amar'e Stoudemire or Anthony, but Stoudemire at least continues to be vocal, questioning his teammates. Where is Anthony?
D'Antoni made it a point to mention that the second unit was "fighting" and whether an underlying meaning was intended or not, Anthony has to take something away from that.
Even if the Knicks were winning, Anthony is bound to have off nights in terms of production. However, with regard to commitment, effort and will, falling short is simply unacceptable.
Stoudemire and the rest of the team are not free from imperfection when it comes to a lack of will, but it is not unjust to attribute a large part of their struggles to Anthony. He's been the biggest culprit.
That's also what happens when an organization mortgages their future to bring you into the fold.
Lately, the Knicks have fallen behind big, only to come raging back in a final, unsuccessful attempt to snag a victory. Anthony has helped the team play their way into those large deficits but can be found on the bench as they claw their way back.
On Sunday, the message became clear early on that there would be no miraculous surge. The team as a whole had no sense of urgency or understanding of how important the game actually was.
"It just didn't resonate with them," D'Antoni said.
For Anthony, though, it never has.