4 Moves That Will Bring the Miami Heat a Title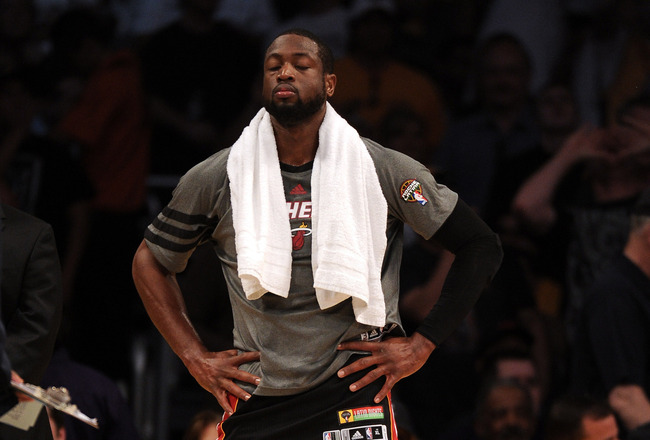 Harry How/Getty Images
Trade deadline: imminent. Speculation: inevitable.
It's that time of year, like Christmas for rumor-mongers, when seemingly every team is clamoring to make one more move—and every fan and journalist's imagination is running wild with the possibilities.
For the most part, it's natural to assume that teams are actively looking to get that edge that puts them over the top. Sometimes, however, a team is over as it is, which does nothing to prevent speculation as to what kind of chess move they might pull off at any moment, however superfluous. The Miami Heat are one of those teams.
I've been tasked with naming some trade scenarios that would ensure the Heat win a championship this year. Here are four, from the best and most advisable to the most remote...I make no guarantees as to their current existence in the rumor mill.
1. No Move at All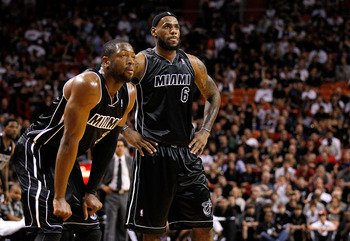 Mike Ehrmann/Getty Images
Coming in at numero uno, we have the status quo.
The Heat are built for no less than a championship, and this has been the case since the Three Banditos signed on the dotted line. Let's not forget that the idea was, and still is, to be an overwhelming force.
Remember the look on their faces during the introduction party? That's the look of three guys getting ready to stomp on some bugs. All they were missing was the maniacal laugh.
This roster is already designed to convincingly and unceremoniously bury the opposition on a nightly basis, and at the moment, they are looking every bit the part. This team has been the favorite to win it all for going on two years now, and they are in no need whatsoever of a change now.
This entire discussion about filling holes at center and deepening the bench is mostly done out of habit; it's second nature for fans and journalists alike to observe flaws and comment on how to fix them. The built-in logic of roster holes—i.e., that they are capable of lessening a team's ability to win—isn't made for oddities like Miami, where talent overload cures all ills.
You don't need to do open-heart surgery on a paper cut, and likewise, the Heat don't need to make any roster changes to eliminate their already microscopic odds of not winning the next few finals.
2. Shore Up the Pivot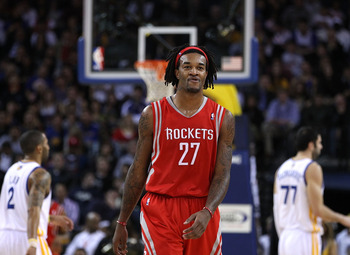 Look, he already has the "I'm too cool" face down...
Ezra Shaw/Getty Images
OK, fine, suppose it's just not easy enough for the Heat as it is. Suppose they still want to shore up the roster before they take their inevitable—some might say depressingly so—championship run this spring. Where would they start?
The pivot, of course, always the pivot. There's any number of cheap-enough, half-servicable bigs out there who are in no way untouchable come Thursday. Perhaps Miami could package a couple of expiring contracts in exchange for one of them.
Send Juwan Howard, Dexter Pittman and other expiring deals and a boatload of draft picks to the Rockets for Jordan Hill. If they're going to pull the trigger, they might as well make it useful. Plus, Pittman has some upside as a scoring wide-body, so Houston could use him down the road.
I know everybody is thinking Chris Kaman, but I dare anyone to find a trade package the Heat could put together that wouldn't get vetoed by the NBA.
3. Give Up on Mike Miller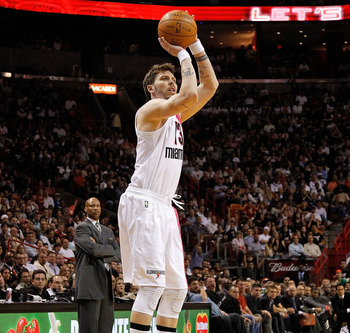 Mike Ehrmann/Getty Images
As of this writing, Mike Miller's doubters are still largely correct. Aside from having perfectly OK percentages from the floor, he has shot relatively little and done pretty much nothing else. Perhaps this relegation to three-point specialist is starting to catch up to him, to the point he's losing the ability to play around the basket.
Miller has three combined free throw attempts. Total. This season. I could have sworn I've seen Miller get to the basket before, but apparently he doesn't visit often anymore. This team system isn't at all built to bring the best out of him, and enough scouts must know this to keep his trade value decent.
So who do they get back? A real three-point specialist. Where's Anthony Morrow when you need him? How about Martell Webster? Doesn't really matter. The point is to unload Miller's stagnating and soon-to-be decreasing skill set for a change while they can still get something worthwhile.
And since his current impact on the team is somewhat minimal, he should come off as easily as a two-day-old Band-Aid.
4. Get Some LeBron Insurance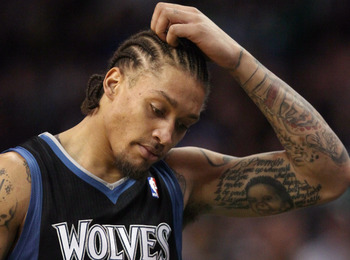 Elsa/Getty Images
And now for the final imaginable reason not to stand pat this trade deadline...
Insurance in case the unthinkable happens...if LeBron James has another 11th-hour seizure in the finals. In this writer's humble opinion, that's the kind of "miracle on hardwood" that just doesn't happen twice—let alone consecutively—so this one is pure fancy.
One answer to this ridiculous contingency—and I know I'm going to catch hell in the comment section for this—could be re-acquiring Michael Beasley somehow from Minnesota. Call him a headcase all you want, the guy can light it up. And speaking of headcases on title contenders...Dennis Rodman and Metta World Peace spring to mind instantly; they did rather well, didn't they?
If LeBron goes into "pass or die" mode and leaves the scoring to any and everybody else, it would help if D-Wade wasn't the only high-level scorer left on the wing—and no, despite his convincing impression, Chris Bosh is not a wing player.
So...say James Jones, Juwan Howard (and as much icing as is required) for Beasley and whoever else the Wolves care to unload. Now the Heat have four, count 'em, four upper-crust scorers—two of which are All-Galaxy—plus Battier, Haslem and the shooting squad. That way LeBron can take the entire second half off if he wants.
Because that's fair...kind of like mounting a bazooka on the side of a tank...in a fist fight.
Keep Reading

Miami Heat: Like this team?