NCAA Bracket 2012: Power Ranking the 15 Best Players in the East Region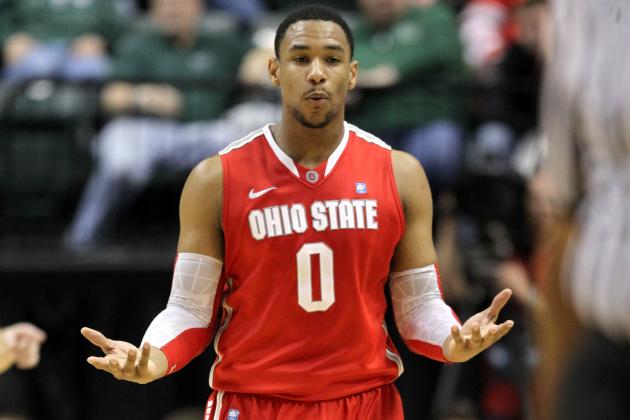 Andy Lyons/Getty Images

With the 2012 NCAA tournament field set, it's time to examine some of the regions and their players more closely.
The East Region is absolutely loaded with talent—that corner of the bracket features Syracuse and Ohio State as well as a few other teams with elite players.
One such player is Jared Sullinger—a preseason All-American. Sullinger had a very solid sophomore season, but is he the East Region's best player?
See where Sullinger stands among the top 15 players in the East Region.
For your printable bracket for the 2012 NCAA tournament, click here.
Begin Slideshow

»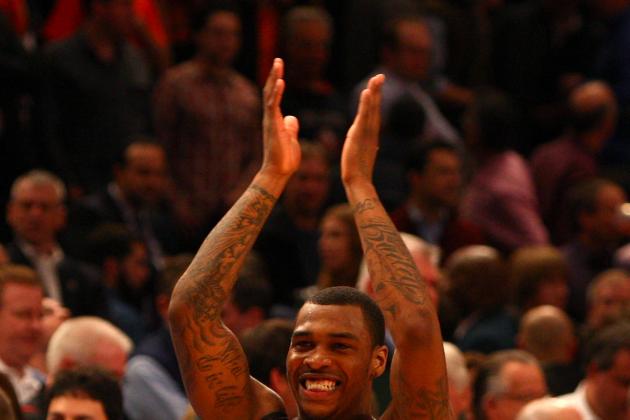 Mike Lawrie/Getty Images

1. Sean Kilpatrick, Cincinnati
2. Rodney McGruder, Kansas State
3. Aaron Craft, Ohio State
4. Darryl Bryant, West Virginia
5. Robert Sacre, Gonzaga
6. Matt Dickey, UNC-Asheville
7. Brandon Triche, Syracuse
8. Fab Melo, Syracuse
9. Elias Harris, Gonzaga
10. Keith Wright, Harvard
11. Myck Kabongo, Texas
12. Erik Etherly, Loyola Md.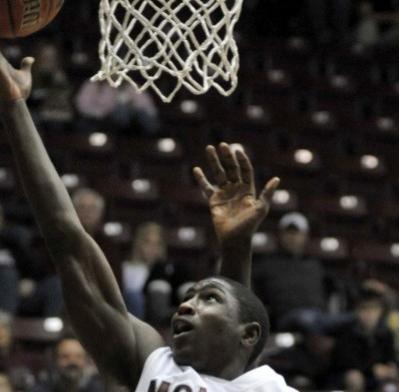 Photo Credit: Missoulian
With Damian Lillard playing for conference foe Weber State, Will Cherry of Montana didn't receive much—if any—national recognition.
However, you'll want to know who Cherry is before his Grizzlies tip off against Wisconsin.
The junior guard leads his team with 16 points per game on 45.4 percent field goal shooting and 37.3 percent three-point shooting. He also ranks second on the team with 3.4 dimes per game.
Capable of pouring in buckets, Cherry has eclipsed the 20-point mark 10 times this year.
While he is very talented on the offensive end, he is just as formidable defensively. In fact, he won the Big Sky Defensive Player of the Year award after averaging 2.6 steals per game in 2011-12.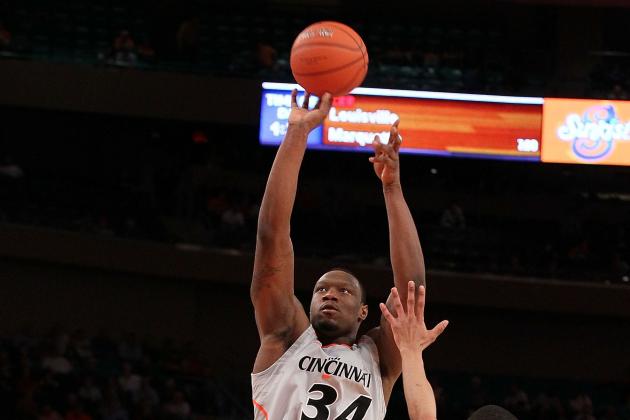 Jim McIsaac/Getty Images

Though he occasionally disappears from games, Yancy Gates is one of the best players in the East Region.
He averages 12.4 points and 9.2 rebounds per game, and at 6'9" and 260 pounds, he can bang with anyone on the block. As a result, he has recorded 10 double-doubles this year.
Gates is a bit of a wild card, but if he shows up, there are few more formidable bigs in the East.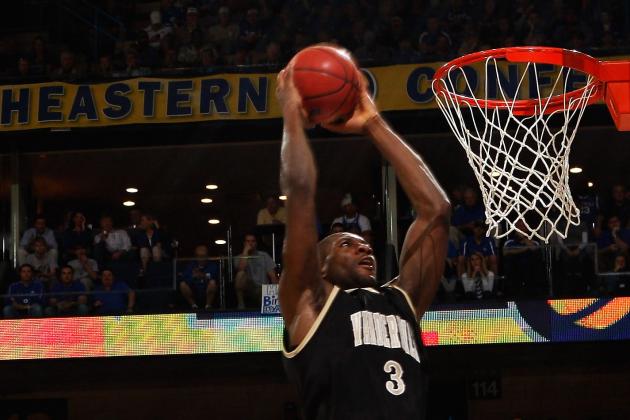 Chris Graythen/Getty Images

Hampered by a knee injury early in the season, Festus Ezeli hasn't been as formidable as he was a season ago. The senior averaged just 9.7 points, 5.5 rebounds and two blocks per game.
However, he's still a game-changer when he's on the floor. There's not a better post defender in the East Region.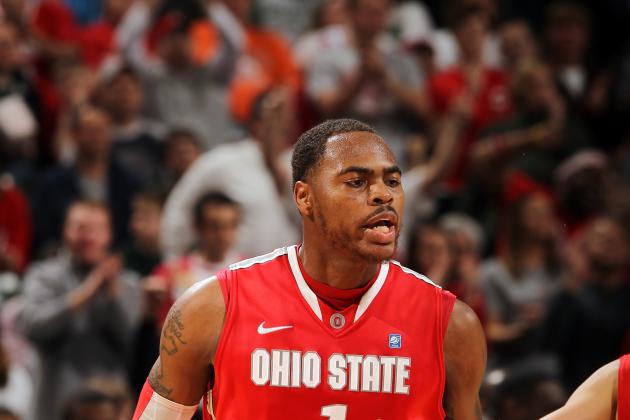 Jonathan Daniel/Getty Images

Deshaun Thomas burst onto the national scene this year, more than doubling his freshman scoring average. The sophomore averaged 15.5 points on 53.7 percent shooting to go with five boards per game.
In the three games Ohio State played without Jared Sullinger, Thomas adopted his fellow sophomore's scoring role. The Buckeyes only needed 11 points from Thomas in an easy 64-35 win over Texas-Pan American, but the 6'7" forward poured in 19 against Kansas and 30 against South Carolina.
Thomas, who has been in double figures in all but four games, topped 20 points on seven occasions.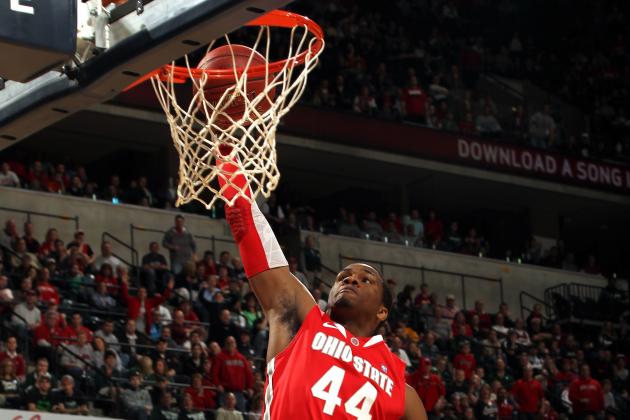 Jonathan Daniel/Getty Images

Though William Buford has had a solid senior campaign, he has been a bit more inconsistent than anyone would have expected.
The 6'6" wing averaged a career-high 14.8 points per game, but his shooting was more erratic. He converted 43 percent of his field goals and 36.4 percent of his threes, compared to 46.2 percent and 44.2 percent as a junior.
Regardless, he's still one of the better players in the East Region.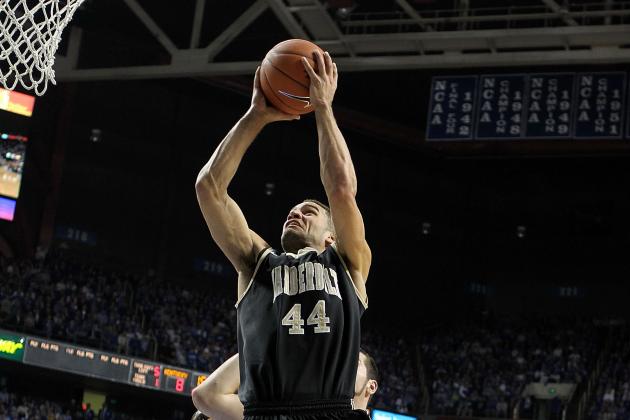 Andy Lyons/Getty Images

Jeffery Taylor is a well-rounded small forward who can shoot, rebound and defend. The senior, who was named first-team All-SEC and Defensive Team All-SEC, averaged 16.3 points, 5.7 rebounds and 1.3 steals per game in the regular season.
Though he struggles from the charity stripe, Taylor is one of the more reliable shooters in the East Region shooting 50 percent from the floor and 43 percent from deep.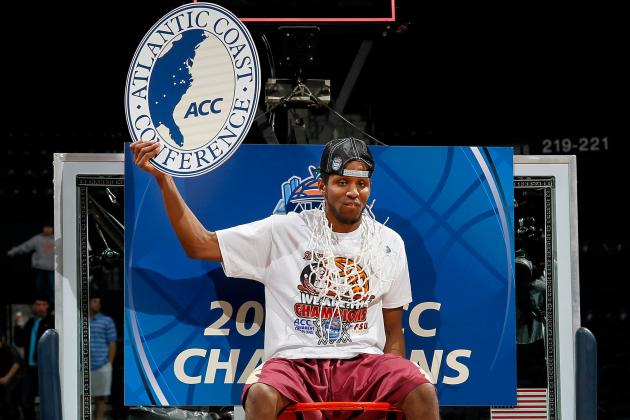 Kevin C. Cox/Getty Images

In the NCAA tournament, clutch players are invaluable.
Michael Snaer has emerged as one of the game's most reliable players in late-game situations. First, he buried a buzzer-beating three to upset Duke. Then, he beat Virginia Tech by nailing another trey with 2.6 seconds left.
While he is a clutch player, Snaer also delivers throughout the game's entirety averaging 14.4 points, 3.9 rebounds and 1.2 steals per game.
The ACC tournament MVP has played his best basketball over the past seven games. Since losing to Duke on Feb. 23, Snaer has averaged 18.2 points.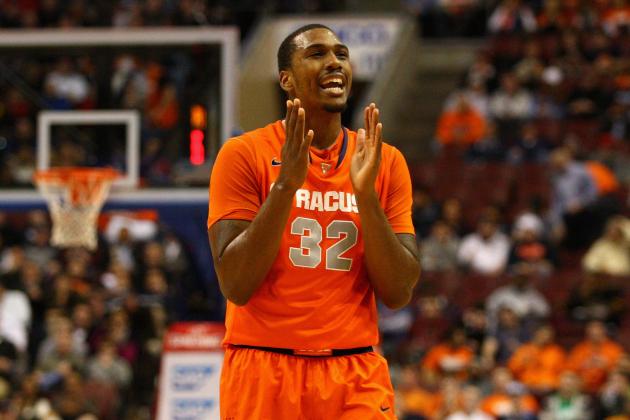 Chris Chambers/Getty Images

Overall, Kris Joseph has been the most reliable player for one of the nation's elite teams. The senior averaged 13.8 points, 4.9 rebounds and 1.4 steals per game while scoring under 10 points just six times all season.
Though Syracuse usually wins via a balanced offensive attack, Joseph has had five outings of 20-plus points.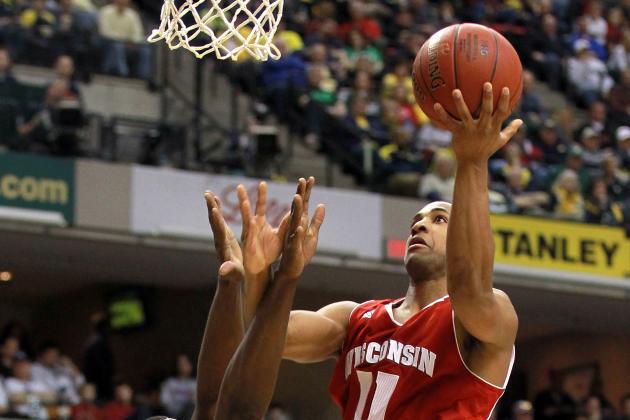 Andy Lyons/Getty Images

After a phenomenal junior season put him on the map, Jordan Taylor had a disappointing senior year. Still, the point guard averaged 14.7 points and four assists per game.
What Taylor lacks statistically this season, however, he makes up for it with a high basketball IQ and a superior ability to run a team.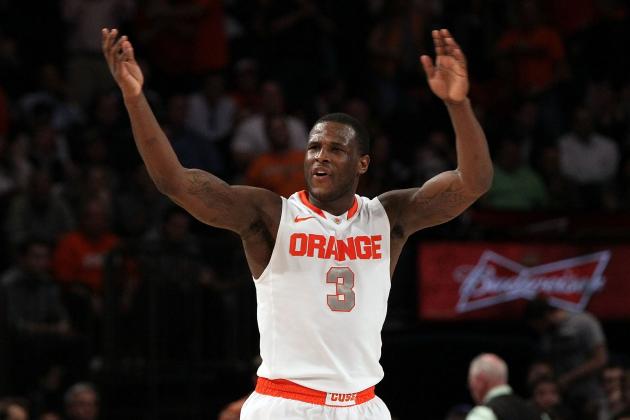 Jim McIsaac/Getty Images

Few players can light up the scoreboard better than Dion Waiters.
Though Waiters wasn't Syracuse's most consistent player this year, he was certainly the team's most potent scorer. Just ask Mick Cronin whose Cincinnati Bearcats somehow outlasted Waiters' 28 points in the Big East semifinals.
Waiters averaged 12.6 points per game on 48.1 percent field goal shooting and 36.5 percent three-point shooting. Don't let the seemingly low-scoring average fool you—Jim Boeheim's team is extremely balanced offensively, so Waiters can't always pour in points.
The sophomore eclipsed the 20-point mark three times this season, but don't be surprised if he doubles that total during the NCAA tournament.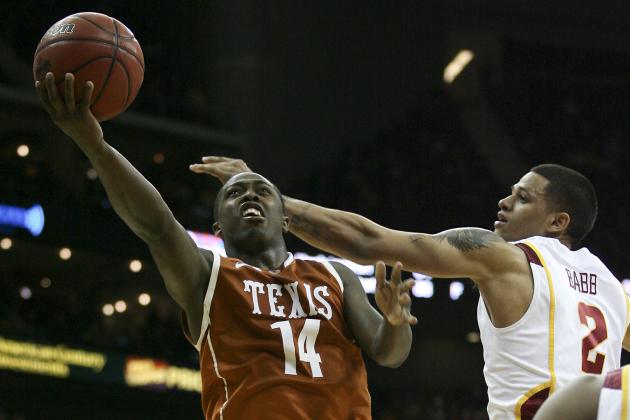 Ed Zurga/Getty Images

J'Covan Brown's 20.1 points per game led all East Region scorers. The junior has also topped 25 points on six occasions.
While his scoring numbers are impressive, they are somewhat misleading.
Brown is certainly one of the best players in the East Region, but he shoots just 41.7 percent from the floor and turns the ball over 2.6 times per game.
Still, there are few players in the country who have meant more to their team than Brown has to Texas—one of the nation's most inexperienced squads.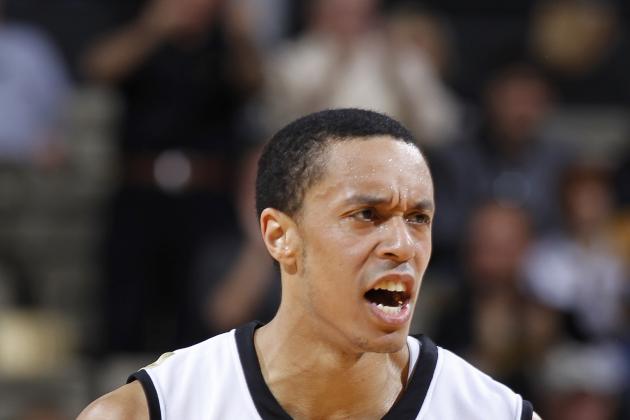 Joe Robbins/Getty Images

John Jenkins is a nightmare for opposing defenders.
He relentlessly runs off screens for the 33.6 minutes per game he plays, and he can get shots off with seemingly no room to breathe.
A first-team All-SEC performer, Jenkins averaged 20 points per game on 48.5 percent field goal shooting and 45.3 percent three-point shooting. He connected on 126 treys this year and buried five or more on nine occasions.
If his hand is hot, defenses won't be able to stop him, and Vanderbilt should advance.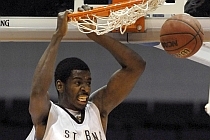 Photo Credit: Pack Pride
If you haven't heard of Saint Bonaventure or Andrew Nicholson, you're like most people in this country. However, you are still missing out.
Nicholson is a future NBA draft pick—he's currently projected to go No. 37 overall—but for now, he's the guy who averaged 23.3 points, 10 rebounds and 5.3 blocks in the A-10 tournament to help his Bonnies reach the Big Dance.
In other words, Drexel and every other tournament snub hates him.
On the season, Nicholson, a 6'9" forward with a smooth stroke and range extending beyond the arc, averaged 18.2 points, 8.3 boards and 1.8 blocks.
Andy Lyons/Getty Images

Though Jared Sullinger's sophomore campaign didn't live up to the hype, Ohio State's forward still had a very solid season.
Sullinger averaged 17.5 points and 9.3 rebounds per game while shooting 54.8 percent from the floor.
Over the last five games, however, Sullinger has played more like we expected in the preseason scoring 21.6 points and grabbing 11 boards during that stretch.
If he can maintain his high level of play, he'll be one of the tournament's best players.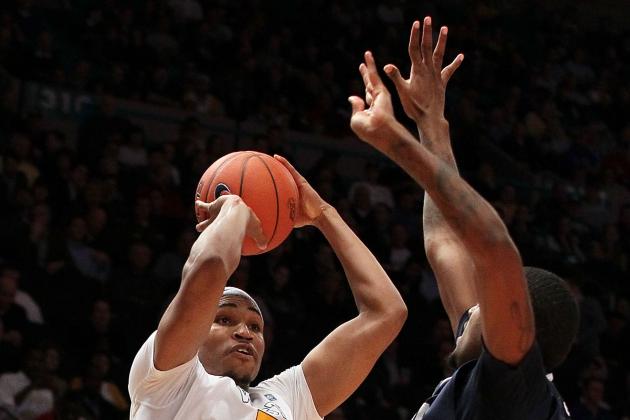 Jim McIsaac/Getty Images

Kevin Jones had the best season of his four-year career and one of the most dominant campaigns in the country.
In 38.3 minutes per game, the senior averaged 20.1 points and 11.1 rebounds per game, ranking third in the country with 21 double-doubles. Jones, who topped 25 points eight times, had a nine-game streak of 20-plus points. He also grabbed 15 or more rebounds four times.
West Virginia will only go as far as Jones takes them, and the senior is more than capable of leading the Mountaineers to a few upsets.