Memphis Grizzlies: 5 Player Notes from 3-Game Road Trip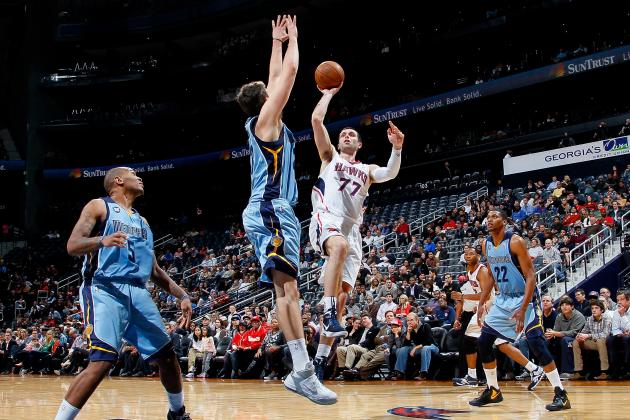 Kevin C. Cox/Getty Images

The Memphis Grizzlies came away with a good measure of success in their three-game road trip. They won two of three games, boosting their melancholy road record to 9-11 and giving their fans something to cheer about.
Sunday's 94-91 victory against the Denver Nuggets was the Grizzlies' second road win against a winning team. O.J. Mayo came up big to lead the scoring effort on a night when Rudy Gay and Marc Gasol were off their game.
Gay and Gasol had their magic in other road games this weekend.
Read along to see which Grizzlies players caught people's eyes the most during the road trip.
Begin Slideshow

»
Kevin C. Cox/Getty Images

O.J. Mayo likely had trade suitors swooning during Sunday's game. Mayo led the Grizzlies with 22 points and eight assists while shooting 9-of-14 from the field.
In the last 15 minutes, Mayo came up with big plays to keep the Grizzlies ahead. He hit a three-pointer late in the third quarter to end a 9-0 Nuggets run that had cut the Grizzlies' lead to one. With less than three minutes left, Mayo hit a jumper to put the Grizzlies ahead by five.
He was one of three Grizzlies reserves with nine or more points.
That he came up with a big scoring night for the Grizzlies while Marreese Speights, Marc Gasol and Rudy Gay each shot 40 percent or worse from the field was crucial.
Mayo must have interested teams jealous, as he's scored 15 or more points in four of the last five games.
Rudy Gay didn't have a happy weekend. After leading the blowout victory against the Golden State Warriors by matching his season high with 26 points, the road trip went downhill for Gay.
The loss to the Phoenix Suns was a forgettable night for Gay as he shot 7-of-20 from the field for 19 points. After shooting 5-of-12 in the first half, Gay needed a good second half to prevent the Suns from sweeping the two meetings in Phoenix. But Gay couldn't come through, shooting 2-of-8 in the third and fourth quarters.
Gay's shooting touch didn't return in Denver. He shot 3-of-13 for seven points in one of his most ineffectual games of the season.
Hopefully, Gay can recover his aim by Tuesday when the Grizzlies face the Los Angeles Lakers.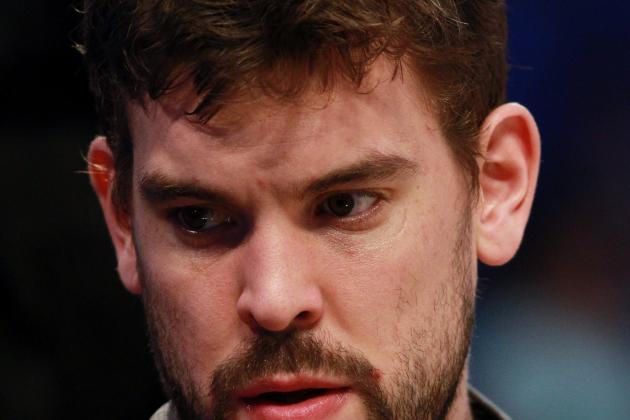 Ronald Martinez/Getty Images

Marc Gasol looked good for the first game-and-a-half on the road trip, but fell off after that. He came up big in the win against Golden State, posting 17 points and 12 rebounds.
Saturday saw Gasol start well, but finish poorly against the Suns. He hit on 5-of-9 field-goal attempts in the first half, then he shot only 2-of-6 from the field in the second. Twenty-one points might seem like a nice figure, but the way he finished wasn't pretty.
On Sunday, Gasol crashed. He put up only seven points on 2-of-7 shooting, while contributing four rebounds, a block and a steal.
Fortunately, Hamed Haddadi was able to relieve Gasol so that the Spaniard could rest up for the battle with the Lakers on Tuesday. One wouldn't have wanted Gasol to be gassed out by a disappointing performance.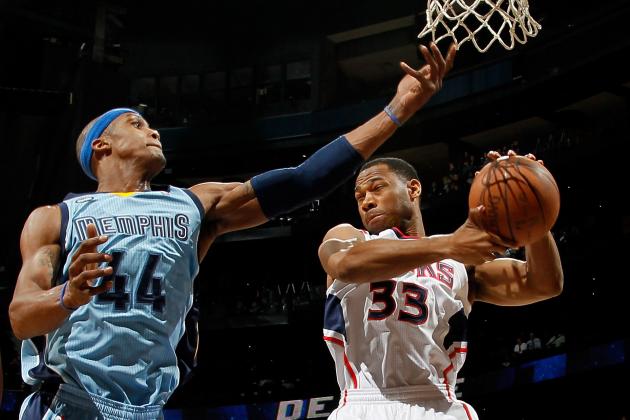 Kevin C. Cox/Getty Images

Dante Cunningham had three impressive performances on the road trip. Against the Warriors, Cunningham made the most of his sparse minutes, putting up six points and three rebounds in 10 minutes.
On Saturday, Cunningham did a nice job spelling Marreese Speights. Cunningham scored six points and pulled down five rebounds in 18 minutes.
Cunningham was outstanding in the win on Sunday. He posted 12 points, eight rebounds and two blocks in 28 minutes. He also hit two free throws to make it a two-possession game with 2:32 left.
His contributions during the road trip should be enough to convince Lionel Hollins that he deserves a significant role when Zach Randolph comes back.
Hamed Haddadi, who plays just more than six minutes per game, isn't that significant in the minds of many fans.
However, Haddadi had a nice game against the Nuggets on Sunday. While Gasol struggled, Haddadi was able to give quality minutes to help the winning cause.
The Iranian seven-footer played a season-high 13 minutes, scoring six points and adding two rebounds and two blocks. He pulled off a superb block on a layup attempt by Nene in the third quarter. The play helped the Grizzlies gain momentum to build a 10-point lead.
Not often do teams get the kind of energy from that far down the bench, but Haddadi provided it in a tough road match.