March Madness 2012: 10 Players Who Must Improve Their Draft Stock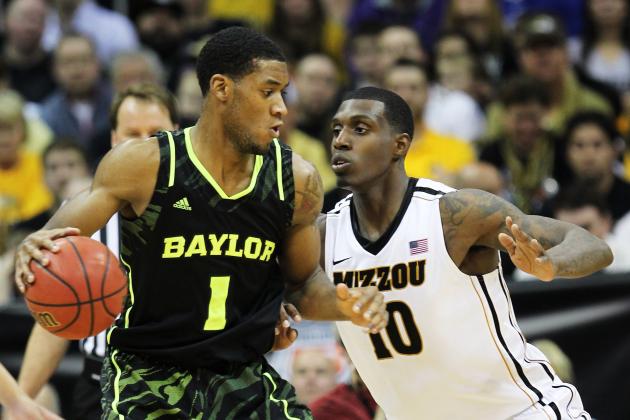 Jamie Squire/Getty Images

The NCAA tournament can skyrocket a player into stardom. Players on well-known teams can solidify themselves as NBA-material, and lesser-known players can make a name for themselves.
Stephen Curry, Gordon Hayward, Brandon Knight, Kemba Walker and Derrick Williams can attribute their high selection to an excellent NCAA tournament. All of these players improved their draft stock with outstanding performances in March.
There is no bigger stage in college basketball than the Big Dance. These ten players need great NCAA tournament performances to either solidify or boost their draft stock.
Begin Slideshow

»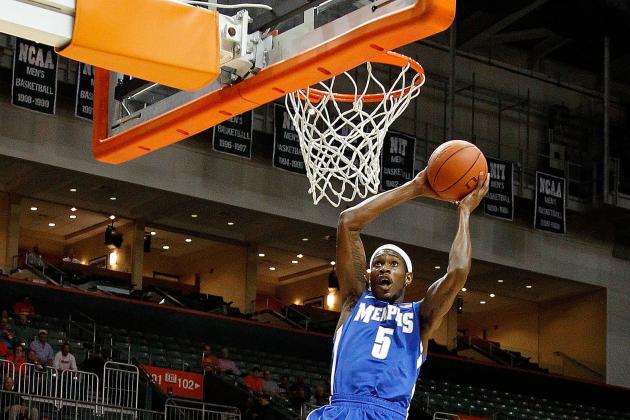 Mike Ehrmann/Getty Images

Will Barton has a pretty complete game for a 6'6" sophomore. He averages 18.1 points per game and shoots over 51 percent from the field. Memphis hasn't lived up to their lofty expectations from the beginning of the year, but don''t blame Barton.
Memphis was placed pretty low as an eight seed, and they will play Saint Louis in their first game. Saint Louis plays a slow, half-court game, a stark contrast to Memphis' up-tempo style.
Barton can show NBA scouts his versatility and explosiveness in the NCAA tournament. No player for the Billikens can match Barton's athleticism. If he can dominate the game, his draft stock will rise.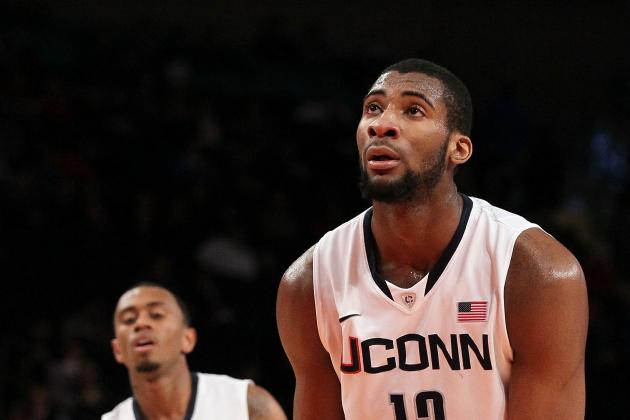 Jim McIsaac/Getty Images

For a team that finished 10th in their conference and received a nine seed in the NCAA tournament, the Connecticut Huskies have talent. The defending national champions have had a tumultuous year to date to say the least.
Andre Drummond is a key cog in the Huskies' play style, and his inconsistency has scouts questioning whether or not he's just another DeAndre Jordan.
Drummond has the size (6'10", 270) to dominate the collegiate game. And he's shown he can... sometimes. Against Syracuse on Feb. 25, Drummond went for 17 points, 14 boards and three blocks.
But Drummond disappears in other games. He has failed to reach double digits points 15 times this year, a surprising statistic for a projected top five draft pick.
He'll have the chance to prove he can play among elite NBA talent in the NCAA tournament. A game against Kentucky gives Drummond the stage. He just needs to go out and perform.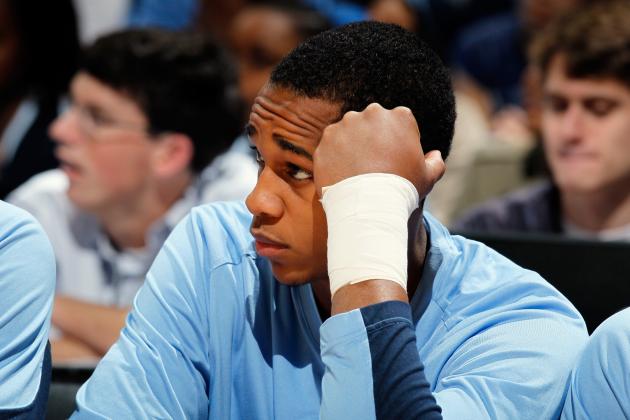 Kevin C. Cox/Getty Images

John Henson needs to prove to NBA scouts that he has the toughness to play through an injury. When he injured his left wrist in the ACC tournament, North Carolina looked like a completely different team.
Henson's defense is integral to the success of North Carolina in the NCAA tournament. His team needs him to fight through the injury, and so does his draft stock.
If he can come out and play without any sign of favoring his wrist, Henson's draft stock will remain in the upper echelon for this class. But if the injury lingers, scouts may see him as a riskier option than before.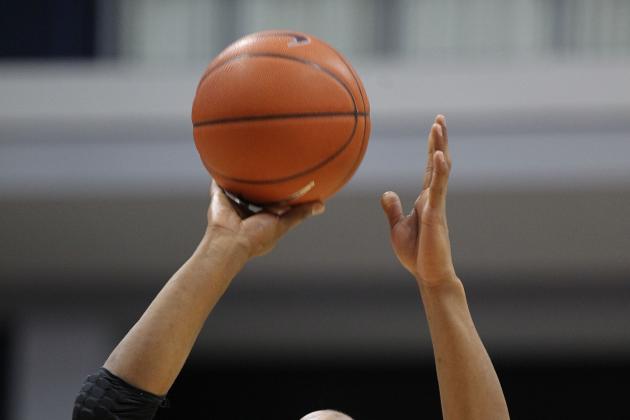 Andy Lyons/Getty Images

Xavier has plummeted down the rankings this year, and so has Tu Holloway's draft stock.
Once seen as a potential first round pick, he is now in the late second round range and could go undrafted. Holloway lacks the size (6'0") to be a physical point guard in the NBA, and his shot is far from consistent (41.9 percent).
Xavier drew Notre Dame in the first round of the NCAA tournament and has the chance to play Duke in the second round. Holloway is the best player for the former top-10 Xavier squad, and he's got the chance to restore his draft stock.
It will take some sharp shooting and better decision-making at the point, but Holloway could put Xavier in the Sweet Sixteen and put his stock back in the first round.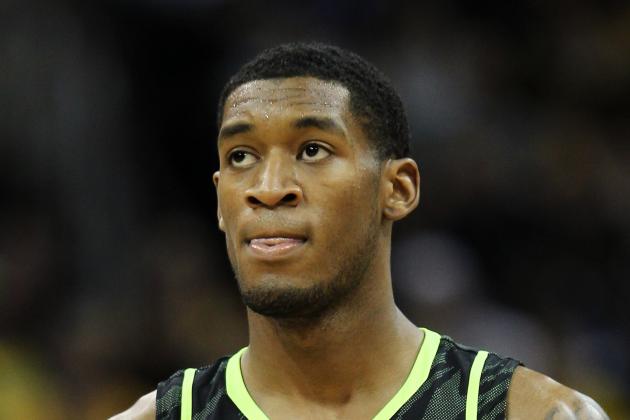 Jamie Squire/Getty Images

Perry Jones III came back for his sophomore season to improve his shot selection and assertiveness on offense. His athleticism is through the roof and he has great size for a small forward in the NBA.
But in his sophomore year, Jones III has played less (33.9 minutes per game to 30.8), shot worse from the field (54.9 percent to 50.3) and still has a negative assist-to-turnover ratio (0.76).
His draft stock has fallen since then due to ineffectiveness in big games and questions about his intensity in those games.
That being said, Jones III displayed his dominance this year in the Big 12 tournament. In three games, he averaged over 21 points per game and went 24-of-42 from the field (57.1 percent) to go along with 29 boards (9.6 per).
If Jones III can build on his Big 12 tournament performance, he'll shoot back into the top 5 for the NBA draft. He was there at the start of the year, and could be there at the end with a big NCAA tournament performance.
Eric Francis/Getty Images

Doug McDermott is one of the best college basketball players in the nation. His statistics speak for themselves: 23.2 points per game, 8.2 rebounds per game, 61.0 percent shooting from the field, 49.5 percent from beyond the arc.
He's just a sophomore, but McDermott has the chance to improve his stock like Gordon Hayward did in 2010. Hayward was on the radar of most scouts but didn't solidify himself as a first round pick until his great performance in the NCAA tournament.
McDermott will have the chance to play against his former high school teammate, Harrison Barnes, in the second round of the tourney.
His draft stock will rise with each tournament win.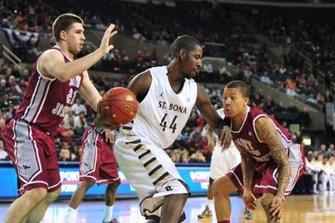 Image via gobonnies.com
St. Bonaventure is about as off-the-radar as you can get. An NCAA tournament bid changes that.
The Bonnies burst a bubble with their win over Xavier in the Atlantic 10 tournament championship, fueled by Andrew Nicholson's 23.3 points per game.
Nicholson can do it all. Against Xavier in the A-10 championship, he dropped 26 points, 14 rebounds and eight blocks.
He's a great shooter and could catapult himself into the NBA draft lottery with 26/14/8 performances in the NCAA tournament. St. Bonaventure's first game is against Florida State, a hot team that is known for defense.
Nicholson needs a great game for the Bonnies to have any chance in the first round.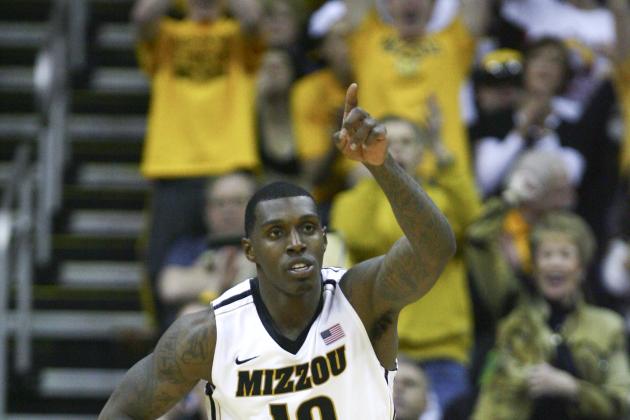 Ed Zurga/Getty Images

Ricardo Ratliffe may not get drafted. He's 23 years old and has no perimeter game and isn't imposing size-wise.
But his uncanny touch around the rim is one of the best in the business. His 69.3 percent shooting from the field is second in the nation. It's not always pretty, but Ratliffe gets the job done.
He'll be facing size throughout the NCAA tournament and NBA scouts will be looking to see how well he performs against such stiff competition. Ratliffe has the chance to show he can match up with any other big man in the college game.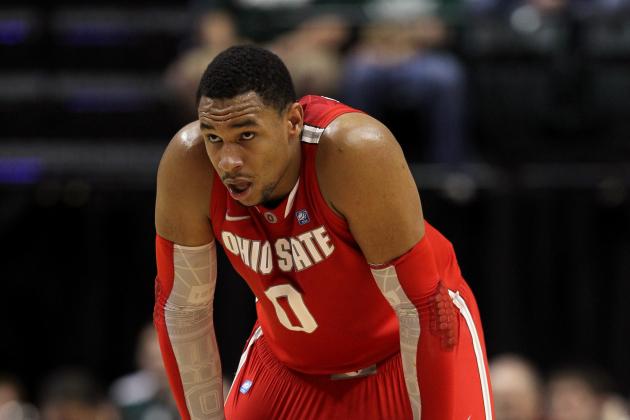 Andy Lyons/Getty Images

Jared Sullinger is a rich man's Ricardo Ratliffe. He's a better scorer, bigger, younger, smarter and a better rebounder.
What Sullinger lacks is explosiveness. He doesn't play above the rim like many power forwards in the NBA and he's not exactly tall at 6'9". But Sullinger is a winner. He came back to Ohio State because he wanted to win and he has a great chance this year.
In the second round, Sullinger and Ohio State could face Kevin Jones (West Virginia) or Robert Sacre (Gonzaga). Both are taller than Sullinger, but playing them gives him the chance to prove he can score against bigger opponents.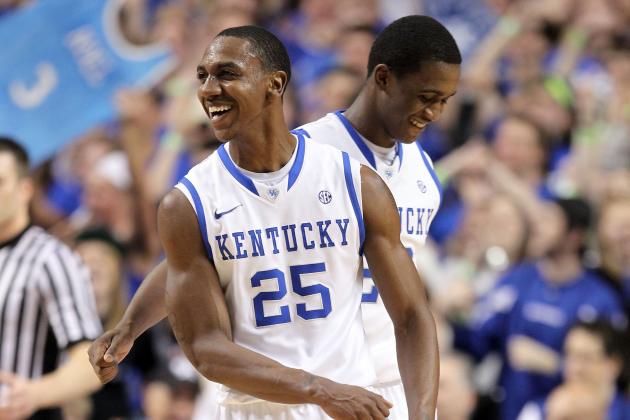 Andy Lyons/Getty Images

The enigma of the Kentucky offense all year has been Marquis Teague. Some games, Teague will get to the rim like Derrick Rose. In other games, Teague will leave you scratching your head because he made a poor decision.
In a very weak point guard class, Teague could easily leap to the head of the point guard class with a phenomenal NCAA tournament. Games against Connecticut, Baylor and Duke are all possible before Kentucky reaches the Final Four.
Teague's play is key for Kentucky to win, and his draft stock will be heavily affected by the way he plays on the biggest and brightest stage of the college basketball season.