2012 NFL Mock Draft: Full 1st Round with NFL Player Comparisons
March 12, 2012
Ronald Martinez/Getty Images
With the huge news over the weekend of the Washington Redskins trading up to the No. 2 overall pick in the 2012 NFL draft, it's all but certain that Andrew Luck will be selected first and Robert Griffin III will end up with the Redskins. 
We may have the first two picks set in stone, but what about the rest of the field?
Here is my most recent mock draft, with NFL player comparisons.
1. Indianapolis Colts: Andrew Luck
There's no surprise here. The Indianapolis Colts parted ways with Peyton Manning this past week, as they plan on drafting Stanford's Andrew Luck.
NFL Comparison: Peyton Manning
2. Washington Redskins: Robert Griffin III
The Washington Redskins need a quarterback badly, so whomever the Colts pick first—and it's certain that it will be Luck—they'll gladly take whoever is left over.
NFL Comparison: Cam Newton / Philip Rivers
3. Minnesota Vikings: Matt Kalil
The Minnesota Vikings need an offensive tackle for the future, and USC's Matt Kalil is one of the most promising we have seen in a while.
Kalil should be able to be Christian Ponder's blind-side protector for quite some time.
NFL Comparison: Joe Thomas
4. Cleveland Browns: Trent Richardson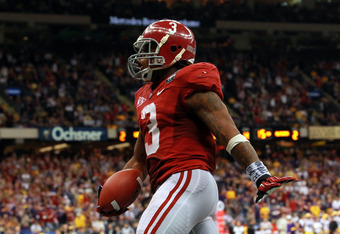 Ronald Martinez/Getty Images
Now that the Cleveland Browns are officially out of the RG3 sweepstakes, I see them still going offense with this pick and ultimately replacing Peyton Hillis with Alabama's Trent Richardson.
NFL Comparison: Adrian Peterson
5. Tampa Bay Buccaneers: Morris Claiborne
There's no secret that Ronde Barber is over the hill and quite possibly may be done with the Tampa Bay Buccaneers.
With that being said, the Bucs will be drafting the 2012 NFL draft class' top cornerback in LSU's Morris Claiborne. 
NFL Comparison: Brandon Flowers
6. St. Louis Rams: Justin Blackmon
Whether or not if the St. Louis Rams were at No. 2 overall or No. 6, they would have still been slotted in as drafting wide receiver Justin Blackmon. 
Sam Bradford desperately needs a wide receiver, and Blackmon can fill that void. 
NFL Comparison: Andre Johnson
7. Jacksonville Jaguars: Quinton Coples
The Jacksonville Jaguars need to find some defensive firepower if they want to be successful in the future, and that leads me to believe that Quinton Coples will be their first-round selection.
Coples is a dynamic pass-rusher who should have a pretty successful career in the NFL at getting after the quarterback.
NFL Comparison: Julius Peppers
8. Miami Dolphins: Riley Reiff
With the eighth overall pick, the Miami Dolphins could make a risky selection and draft a quarterback, but I'd much rather see them play it safe and take a right tackle for the future in Riley Reiff. 
NFL Comparison: Sebastian Vollmer
9. Carolina Panthers: Dontari Poe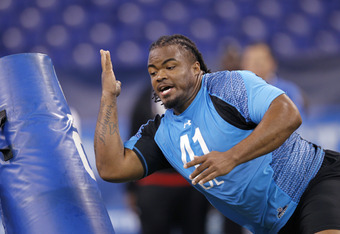 Joe Robbins/Getty Images
After Dontari Poe's extremely successful showing at the NFL Scouting Combine, I have no choice but to make him a top-10 pick.
With that being said, Poe is exactly what the Carolina Panthers need.
NFL Comparison: Vince Wilfork
10. Buffalo Bills: Michael Floyd
Ryan Fitzpatrick desperately needs someone to throw to aside from Stevie Johnson.
With that being said, I believe that the Buffalo Bills will take the second-best wide receiver in this year's draft—Michael Floyd.
NFL Comparison: Vincent Jackson
11. Kansas City Chiefs: David DeCastro
David DeCastro is a once-in-a-decade offensive guard, and the Kansas City Chiefs will have no choice but to draft him.
He is simply that talented.
NFL Comparison: Logan Mankins
12. Seattle Seahawks: Ryan Tannehill 
The Seattle Seahawks need a quarterback, and Ryan Tannehill seems about right to me.
Tannehill is pretty athletic for a quarterback—he's a converted wide receiver—and he should take a few seasons to fully develop into an NFL passer. 
NFL Comparison: Matt Cassell
13. Arizona Cardinals: Jonathan Martin
If the Arizona Cardinals plan on landing quarterback Peyton Manning, then why not equip him with the second-best offensive tackle that the NFL draft has to offer?
Martin seems like a wise decision to me.
NFL Comparison: Matt Light
14. Dallas Cowboys: Dre Kirkpatrick
The Dallas Cowboys need help at cornerback in a big way, and that leads me to believe that they'll be selecting the best available cornerback—which happens to be Dre Kirkpatrick. 
NFL Comparison: Darrelle Revis
15. Philadelphia Eagles: Luke Kuechly
I think we all know how badly the Philadelphia Eagles need an inside linebacker, and they're going to have to address that this offseason.
With that being said, Boston College's Luke Kuechly is the best fit and should be a tackling machine at the NFL level. 
NFL Comparison: Jerod Mayo
16. New York Jets: Mark Barron
One area that the New York Jets really need to address is the safety position.
Alabama's Mark Barron is extremely talented and is the best available safety. He should do just fine in Rex Ryan's defense.
NFL Comparison: Ryan Clark
17.  Cincinnati Bengals: Janoris Jenkins
With Dre Kirkpatrick off of the board, the Cincinnati Bengals will have no problem taking Janoris Jenkins, as they need cornerback help in a big way. 
NFL Comparison: Aqib Talib
18. San Diego Chargers: Devon Still
Devon Still has the size and ability to be an incredibly disruptive force at the NFL level—that is something that could lead the San Diego Chargers to snagging him up for their defensive attack. 
NFL Comparison: Kevin Williams
19. Chicago Bears: Michael Brockers
I believe that the Chicago Bears will be adding wide receivers via free agency, not through the draft.
With that being said, Michael Brockers is the player that offers the most value and should fit in just fine in Chicago's defensive system.
NFL Comparison: Jared Odrick
20. Tennessee Titans: Whitney Mercilus
The Tennessee Titans need help in their pass-rush in a huge way. 
The loss of Jason Babin was not fixed, but they could do so by adding Whitney Mercilus. 
NFL Comparison: Jason Babin
21. Cincinnati Bengals: Lamar Miller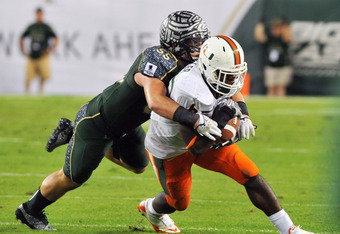 Al Messerschmidt/Getty Images
The Cincinnati Bengals will probably be parting ways with Cedric Benson this offseason, and I believe that they'll add a veteran presence and also draft a running back in the first round.
With that being said, Miami's Lamar Miller is the best available for that need. 
NFL Comparison: LeSean McCoy
22. Cleveland Browns: Kendall Wright
The Cleveland Browns may have missed out on RG3, but they'll take his No. 1 wide receiver in Kendall Wright out of Baylor. 
NFL Comparison: Steve Smith
23. Detroit Lions: Peter Konz
The Detroit Lions need some help in their interior offensive line, and they need to find a way to keep Matthew Stafford healthy.
With that being said, Wisconsin's Peter Konz is the best available center in the 2012 draft class. 
NFL Comparison: Nick Mangold
24. Pittsburgh Steelers: Courtney Upshaw
Courtney Upshaw did not have the greatest showing at the combine, and I see him falling to the Pittsburgh Steelers—they'll gladly take him.
NFL Comparison: Lawrence Timmons
25. Denver Broncos: Stephen Hill
Georgia Tech's Stephen Hill really turned some heads at the scouting combine last month and should peak his way into the first round.
If Tim Tebow is going to be their quarterback of the future, then you need to give him some talent. Why not bring in a guy who played in the triple option at GT? Makes perfect sense.
NFL Comparison: Mike Wallace
26. Houston Texans: Alshon Jeffery
Let's picture this scenario: Alshon Jeffery starting opposite of Andre Johnson with Matt Schaub at quarterback along with Arian Foster and an elite defense.
Sounds good to me, right? 
NFL Comparison: Dwayne Bowe
27. New England Patriots: Nick Perry
USC's Nick Perry is exactly what the New England Patriots need defensively.
He can play in the 3-4 or the 4-3 and can line up as a defensive end or an outside linebacker.
NFL Comparison: Jason Pierre-Paul
28. Green Bay Packers: Melvin Ingram
The Green Bay Packers have some holes to fill, but adding some depth to their pass-rush wouldn't be all that bad of an idea.
South Carolina's Melvin Ingram is a pretty talented prospect who should develop into a pretty productive pass-rusher. 
NFL Comparison: Elvis Dumervill
29. Baltimore Ravens: Mike Adams
The Baltimore Ravens need a ton of help on their offensive line.
Baltimore needs to keep Joe Flacco upright, so they need a guy like Ohio State's Mike Adams. 
NFL Comparison: Marcus McNeil
30. San Francisco 49ers: Coby Fleener
The San Francisco 49ers are going to be utilizing two tight ends in 2012, much like the New England Patriots.
Fleener and Jim Harbaugh both have the Stanford connection, so why not bring him aboard? I mean, he knows him well enough. 
NFL Comparison: Rob Gronkowski
31. New England Patriots: Dont'a Hightower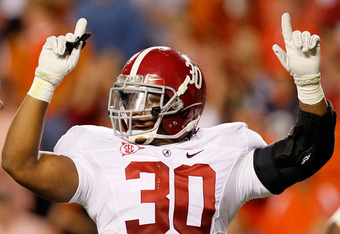 Kevin C. Cox/Getty Images
Let's picture this for a second. The New England Patriots' starting linebackers for years to come: Jerod Mayo, Brandon Spikes and Dont'a Higtower? I love it.
And I guarantee to you that Bill Belichick will love the idea of adding a guy as talented as Alabama's Dont'a Hightower. 
NFL Comparison: David Harris
32. New York Giants: David Wilson
With the recent release of Brandon Jacobs, I would assume that the New York Giants will have to add a running back somehow this offseason.
With that being said, Virginia Tech's David Wilson is quite the dynamic back that should flourish at the NFL level. 
NFL Comparison: Knowshon Moreno 
Be sure to check out Tony Santorsa's blog: PatriotsPlus.