Detroit Lions: No-Show in Manning Frenzy Shows How Far This Franchise Has Come
March 12, 2012

When Jim Irsay, owner of the Indianapolis Colts, made it official last week and released Peyton Manning, more than a handful of NFL teams immediately clamored to see what kind of deal they could throw together to attract the future Hall of Famer.
The front-runners seem to be the Denver Broncos and Arizona Cardinals. Manning's already traveled to the Mile High City to visit John Elway and the desert to see Ken Whisenhunt. Other teams must now play the waiting game to see if Manning will give them a chance, too.
One team not interested one iota in Manning is the Detroit Lions. Not just the team, either. Detroit media and fans have no interest in Manning coming to town.
That is quite a statement if you think about it. It is a testament to how far the Lions have come in three short years. There was a time when every fan in Detroit prayed to the football gods for a quarterback like Manning to land on their team.
If one was available, signing him would've been the talk of the town. Unfortunately, a quarterback of Manning's stature would never have signed with Detroit.
You can't blame fans for wishing, though. The Lions were without a franchise quarterback since Greg Landry left in 1978—no, Scott Mitchell does not count.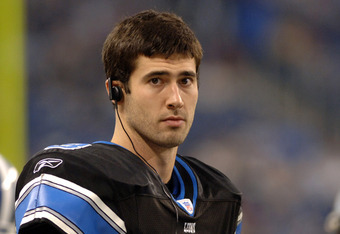 A. Messerschmidt/Getty Images
Since then, the Lions have been a comedy of errors. They have gone through quarterbacks like Jim Schwartz goes through headsets.
They've drafted busts (Eric Hipple, Chuck Long, Andre Ware and Joey Harrington) and they've signed second-tier journeymen (Eric Kramer, Dave Krieg, Gus Frerotte and John Kitna) that were busts.
It did not matter who was behind center for Detroit, the result was the same: losing and mediocrity.
Then 2009 came along and the Lions' luck finally changed. They drafted their franchise quarterback in Matthew Stafford.
He's lived up to his top billing. He's a legitimate franchise quarterback and, barring injury, has the ability to lead the Lions to the Super Bowl.
The 2011 season—his third year in the NFL but his first full season played—was a historic one. He became the second-youngest quarterback to pass for 5,000 yards and won the NFL's Most Improved Player Award.
Stafford is the reason that no one in Detroit cares if Manning is available.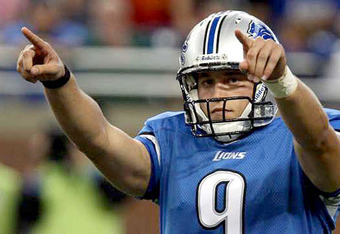 For once the Lions are in a position envied by many other NFL teams. I know that sounds absurd, but it is true. Detroit has a franchise quarterback and many teams do not.
Just look at Denver. Last season, Tim Tebow became a sensation and led them on a miraculous run to the playoffs. What does Denver do to reward his play? They jump head first into the Manning sweepstakes.
No one knows how Manning will come back from multiple neck surgeries. Will he be 70 percent? Maybe 80 percent?
Yet Denver values him far more than Tebow, and they are not alone in their assessment. It proves that a true franchise quarterback is the most valuable commodity in the NFL.
That is because quarterbacks like Manning and Stafford don't come around too often. They are drafted in the first round with high hopes, but not many of them live up to those expectations.
Detroit fans need to remember that. Regardless of the Lion's salary cap issues, fans should have some perspective and stop all the worrying.
The Lions have a franchise quarterback. To win in the NFL, that is half the battle.
As long as Stafford is in town, the Lions will not be involved in quarterback sweepstakes like Manning's. They are right where they want to be, and that is someplace they have never been before.