Free Agency
NFL Trade Speculation: 5 Players Most Likely to Be Shipped
Where will Freeney play in 2012?
Jed Jacobsohn/Getty Images
March 11, 2012
Throughout the NFL, there are teams that are looking to get value out of their veterans before they either cut them or just after they franchise them. The following are the best candidates to be traded this offseason, whether before the draft or after.
DE Dwight Freeney, Indianapolis Colts
Top Suitors: Tampa Bay Buccaneers, Jacksonville Jaguars
Why He Would Be Traded
Freeney has a massive contract, and the Colts are at a point where they are trying to re-vamp their team and re-build for future draftee Andrew Luck. Freeney is still a great pass-rusher, and a team like the Jaguars or the Buccaneers have enough room under the cap to bring him in.
WR DeSean Jackson, Philadelphia Eagles
Top Suitors: Jacksonville Jaguars, New England Patriots
Why He Would Be Traded:
The Eagles are starting to get tired of his attitude and could use a bigger receiver. The Jaguars don't have anyone outside of the unspectacular combo of Brian Robiskie, Mike Thomas and Chastin West. The Patriots could be a good fit for Jackson with their multitude of picks.
WR Mike Wallace, Pittsburgh Steelers

Top Suitors: New England Patriots, San Francisco 49ers
Why He Would Be Traded
Wallace is a restricted free agent and should get a first-round tender. It would make sense for a team like the 49ers or the Patriots to improve their passing game with their late first-round pick by bringing in Wallace. The 49ers would make the most sense since the Steelers aren't even in the same conference.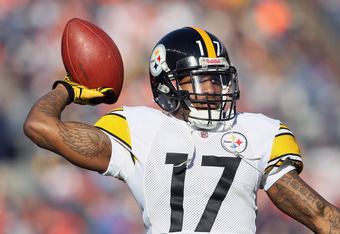 Wallace could be running trick plays for another team in 2012
Jeff Gross/Getty Images
CB Asante Samuel, Philadelphia Eagles
Top Suitors: Tampa Bay Buccaneers
Why He Would Be Traded
With the Eagles having three great corners, it makes sense for them to trade away the third best one. Samuel would be a great fit for the new scheme Schiano runs and should be a leader for the young corners on the team in Aqib Talib and Myron Lewis.
QB Tim Tebow, Denver Broncos
Top Suitors: Jacksonville Jaguars
Why He Would Be Traded
If the Broncos end up bringing in Peyton Manning, then the big question is what do they do with Tim Tebow? Tebow is known as a very good leader and a hard worker, but he needs the right coach who is worried about working with him. A straight-up trade for Blaine Gabbert would make sense for both sides as Gabbert could learn from Manning and be the pocket passer Elway likes.
Like the new article format? Send us feedback!