NFL Rumors: Latest Buzz Surrounding Free Agent Josh Morgan
March 12, 2012

Ezra Shaw/Getty Images
The San Francisco 49ers are planning on making a strong push to re-sign wide receiver Josh Morgan once the free agency period starts on March 13, according to the Sacramento Bee.
Morgan (26) missed 11 games for the 49ers in 2011 after he broke his lower leg on a 19-yard catch late in the game against the Tampa Bay Buccaneers. Whether or not Morgan should've been playing at the time was a controversial topic, as the 49ers were already beating the Buccaneers 41-3 at the time of the incident.
Even though many expect Morgan to return to the 49ers, Morgan seems content on testing the market and seeing what types of offers are on the table before re-signing.
Morgan has yet to have a breakout year during his four-year career (698 yards receiving in 2010 was a career high), but the 49ers would very much like to have him back for a few reasons.
First of all, he's a big and physical wide receiver who has shown the ability to catch passes from all over the field. He can go over the top and burn defenses with the deep ball, as well as go over the middle on slant routes.
A wide receiver who is capable and willing to do both of these is certainly coveted around the NFL.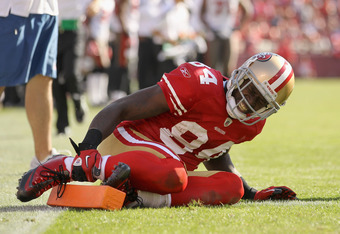 Ezra Shaw/Getty Images
Second of all, the 49ers wide receiver corps is currently the weakest link of the team. They had one wide receiver who had at least 250 yards receiving in 2011 (Michael Crabtree had 874), and there is some doubt on whether or not Crabtree is a true No. 1 wide receiver.
Subtracting Morgan, who was considered to be the No. 2 receiver before his injury in 2011, from an already-thin wide receiving corps would be counterproductive for the 49ers.
Lastly, Morgan has a rapport with quarterback Alex Smith, whose contract situation in 2012 and beyond is also in question. However, Smith believes that a "deal will get done."
Morgan was the top wide receiver in attendance to "Camp Alex," which was the offseason workouts that Smith held during the NFL lockout last season. Due to Crabtree's absence, Morgan was able to spend a lot of quality time with Smith as the top wide receiver in camp.
The 49ers have made their stance clear: they want Morgan back. The ball is now in his court on whether he wants to return to San Francisco.