New Jersey Nets: Dwight Howard Speculation and Nets' Backup Plan
March 12, 2012

Mike Ehrmann/Getty Images
The New Jersey Nets have just a few days to acquire Dwight Howard from the Orlando Magic before the March 15 NBA trade deadline, but if they are unable to work out a deal, their Russian billionaire owner Mikhail Prokhorov has a backup plan.
While sources have listed the Nets as Howard's likeliest destination, it all depends on whether Orlando decides to trade the big man.  
Orlando Sentinel writer Josh Robbins writes that Magic Chief Executive Officer Alex Martins is still undecided on whether Orlando will move Howard by the March 15 deadline.
"We're not at the point where we're ready to answer that question yet. Sometime in the next four days we will be, but we're not at the point where we're ready to answer that question yet."
Aside from Orlando's standpoint, Howard hasn't publicly commented recently on his preference either. D12 could possibly be planning to remain with the Magic through this season and then cash in this summer via free agency.
While the Nets would definitely make a strong push for Howard in free agency, there's always the risk for New Jersey that other suitors present more intriguing offers to the All-Star and he ends up elsewhere.
Robbins writes that Mark Cuban and the Dallas Mavericks like the idea of adding both Howard and Nets point guard Deron Williams to a squad that already includes former MVP Dirk Nowitzki.
Then again, if Howard does want to join the Nets in Brooklyn, he would be doing them a favor by waiting until free agency—that way the Nets save both their draft picks and players such as Brook Lopez and MarShon Brooks.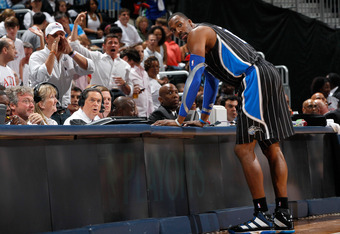 Kevin C. Cox/Getty Images
But as Fred Kerber of the New York Post writes, GM Billy King and the Nets have a backup plan in case they don't land D12.
"It's about trying to add to this team. We'll look at other things that I was already talking about doing with other teams. Had some things on the table that I'm exploring that will maybe create more cap space for us in the future, maybe bring some more players or some key pieces as we go forward."
There hasn't been much noise regarding New Jersey's "backup plan," but Michael Beasley's name has been linked to the Nets in recent weeks.
Per Fred Kerber of the New York Post:
Minnesota's Michael Beasley has been mentioned and the Nets have spoken with the Timberwolves. Beasley is a young talent, has a $6.2 million expiring contract and is represented by Jeff Schwartz, who is also Deron Williams' agent. So an initial courtesy call may have turned into interest.
As of now it looks like the Magic may hold onto Howard for the remainder of the season, in hopes of luring him back to Orlando.
Of course, the Magic are well aware that the Nets and other teams will be pushing hard to acquire D12.
Heading to the Nets makes sense for Howard, as the move to Brooklyn would allow Howard to expand his brand in a global market and play for a contender.
Coupling Howard and Williams together, along with Lopez, Brooks and Kris Humphries, would make the Nets an immediate contender—Yahoo! Sports' Joe Dorish feels the same way.
If all goes well for the Nets, they'll be sporting two All-Stars, with a strong supporting cast, in a brand new arena and market in '12-'13.