Tim Tebow Trade Rumors: Debunking All the Nonsense
March 12, 2012

Jason Merritt/Getty Images
We knew that the Peyton Manning story was going to grow legs of its own and barricade itself atop the never ending 24-hour sports news cycle.
What most of us didn't know is that it was going to force us to hear more about Tim Tebow.
It is the perfect storm of news stories. Combine a future Hall of Fame quarterback hitting the free-agent market with a young player that captivated an unsuspecting audience just a couple short months ago, and you have a situation that would make George Clooney wary.
The Rumors
Fox Sports cites a source close to the situation in coming to a conclusion that Tebow would be traded if the Broncos were able to land Peyton Manning.  
The report claims the Jacksonville Jaguars are lining themselves up to acquire the unconventional quarterback.
Why would the Jacksonville Jaguars make the decision to acquire Tebow? Don't they already have a marginal starting quarterback. This would be nothing more than a ploy to put butts in the seats by Shahid Khan, the Jaguars eccentric new owner.
Pro Football Talk takes it one step further.
Tebow is rattled by Manning's visit with the Broncos and refused to speak with the media as originally promised. It's hard to blame Tebow for that.
Rattled? That is an extremely interesting use of the word. This is a quarterback that faced the wrath of the Broncos fanbase until he proved that he could get it done in the regular season. He isn't the type that would seem to get "rattled."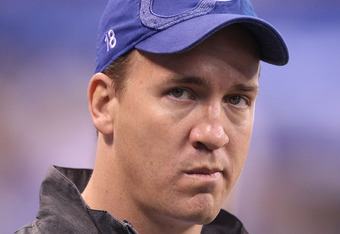 Andy Lyons/Getty Images
ESPN suggests that Tebow might ask to be traded if the Broncos are able to acquire Manning. Now, this seems to make a little more sense. He isn't going to want to return to a franchise that doesn't want him. Denver has made their pursuit of Manning public, which indicates that they don't view No. 15 as their quarterback of the future.
No sense in Tebow holding on in Denver when they are not sold on him. 
The Manning Factor
Let's presuppose that Peyton Manning does sign with the Denver Broncos. Does this mean that they are forced to trade Tebow? Despite recent reports suggesting such, I just don't see it. Manning might have two good years left in that right arm, not much more.
Wouldn't it make more sense for the Broncos to have Tebow learn from Manning as his backup? He would also act as a really nice insurance policy.
Of course, there is always that tricky caveat to these type of situations. This all becomes moot if the Broncos end up losing out on Manning. If that happens, they are going to be in an extremely unenviable position after showing a tremendous lack of confidence in Tebow.
This means that Denver would still be on the hook to have to acquire another quarterback, a less player. Matt Flynn, Alex Smith and Kevin Kolb come to mind. That definitely isn't an ideal situation for the Broncos
Tebow's Worth
What could the Broncos get for Tebow? There are probably only a handful of teams that view him as a starting quarterback in the NFL, if that.
You are probably looking at a mid-round pick, nothing more. Teams like the New York Jets, Jacksonville Jaguars, San Francisco 49ers and Cleveland Browns may decide he is worth a fourth- or fifth-round pick.
The Broncos would be throwing in the proverbial towel and announcing they made a huge mistake in selecting Tebow in the first round just two years go.
I don't think they are willing to do this.
The Savior Factor
What Tebow did for the Broncos last season was nothing short of amazing. He took over a team at mid-stream that was in disarray and led them to the playoffs. In the process, Tebow consistently showed what type of football player he is, a winner.
Half of the Broncos fans would be praising the decision to get rid of Tebow, while the other half would be about ready to jump ship. This would crack the fabric of the fanbase, something I am pretty sure that Elway doesn't want to do at this point.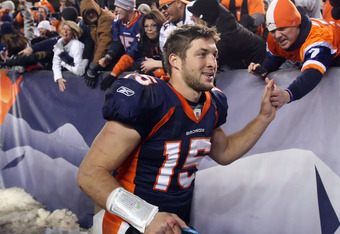 Jeff Gross/Getty Images
Conclusion
It is nearly impossible to predict how this fluid situation is going to play out. On one hand, it makes sense for the Broncos to go after Manning. On the other hand, they already have a quarterback that led the franchise to the postseason last year.
One thing is for sure. The Broncos have not handled this situation great and the media continues to float rumors that really don't have any substance to them.
Why don't we wait to see if Manning goes to Denver, then jump on the Tebow situation?