2012 NCAA Tournament Predictions: Ohio State Will Cruise to Final Four
March 11, 2012

Andy Lyons/Getty Images
Ohio State isn't getting a ton of media love, but the Buckeyes are in prime position to make a run at the national title.
While everyone drools over Kentucky and North Carolina, Thad Matta's crew is flying under the radar. However, they might have the best shot at claiming college basketball's throne.
The Buckeyes possess every ingredient a championship team needs. A quality coach? Check.  Experienced guards? Yup. A reliable big man? Oh, hell yeah.
As long as All-American forward Jared Sullinger is healthy, the Buckeyes are as dangerous as any team in the country. Sullinger is a monster in the paint, averaging 17.5 points and 9.3 rebounds per game. He posted 14 double-doubles this season, including a ridiculous 22-point, 18-rebound performance against Northwestern just two weeks ago.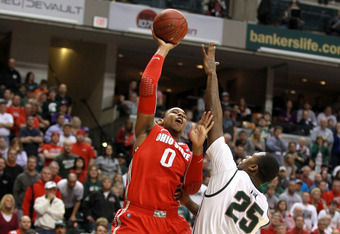 Andy Lyons/Getty Images
He's an efficient scorer (54.8 percent field-goal shooting) and can take over a game whenever he wants. Until the Buckeyes get to a potential Final Four matchup with Kansas or North Carolina, they will have a decisive advantage in the paint over every team they face.
While Sullinger is the star, though, he certainly isn't the only quality scorer in Columbus. Deshaun Thomas and William Buford are both scoring over 14 points a game, providing Ohio State with a balanced offensive attack.
The Buckeyes also have Aaron Craft, who's as good as any point guard in the nation.
In the tournament, perimeter defense is a valuable commodity, and Craft might be the best defensive guard in the country. The sophomore makes life a living hell for opposing guards on a regular basis, snagging 2.4 steals per game.
The list of Ohio State's encouraging assets doesn't end there, either. The tournament selection committee smiled down on the Buckeyes, gifting them with a relatively easy path to the Final Four.
Syracuse, the No. 1 seed in the East region, has been unimpressive lately. The third seed in the East, Florida State, has no shot of handling Sullinger inside. And while I like fifth-seeded Vanderbilt, the Buckeyes are simply the better team.
The Buckeyes are far from perfect, but they've got everything a championship hopeful needs. Don't be surprised if they easily cruise to the Final Four before cutting down the nets on college basketball's biggest stage.