Nebraska Football 2012: Predicting the Pre-Spring 2-Deep Depth Chart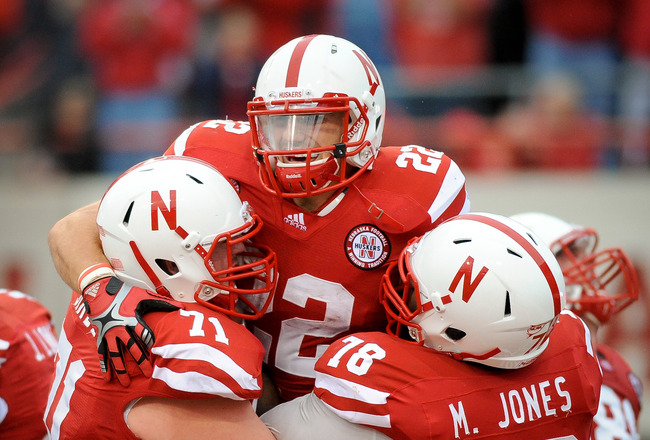 Eric Francis/Getty Images
Spring football is more than just a tool to help fans survive between January and August. It is a time when questions that arose for each team, either from graduation or lack of performance, to being finding answers. Nebraska is no different, and trying to figure out what the two-deep depth chart will look like helps to bring into focus what Nebraska's answers to those unanswered questions will be next fall.
The actual two-deeps will likely be held as state secrets by Bo Pelini and the Nebraska coaching staff, but we can have at least an educated guess as to what it will look like. So here is that educated guess, and we'll find out in a few weeks how educated it was indeed.
Quarterback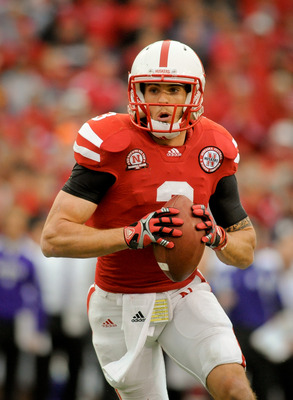 Eric Francis/Getty Images
Starter: Taylor Martinez
Backup: Brion Carnes
Reserves: Tommy Armstrong, Ron Kellogg III, Bronson Marsh
Martinez and Carnes will lead the Red and White squads, but fans will be waiting with baited breath to see what freshman phenom Armstrong can do.
Running Back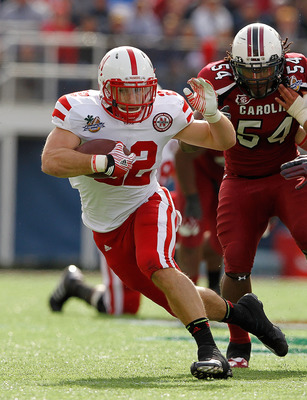 Mike Ehrmann/Getty Images
Starter: Rex Burkhead
Backup: Aaron Green, Ameer Abdullah
Reserves: Imani Cross, Zach Taylor
Burkhead's status is a given, but it will be interesting to see how the coaching staff decide to split the work between Green and Abdullah. Cross is a change-of-pace back that will be fun to see in comparison to Burkhead's backups.
Fullback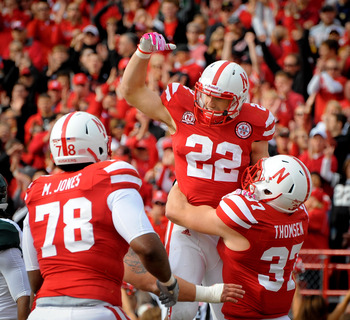 Eric Francis/Getty Images
Starter: C.J. Zimmerer
Backup: Mike Marrow
Reserves: Andy Janovic, Carson Collins
Although all the buzz is around Marrow, look for the coaches to continue trusting the experience of Zimmerer at the start of the season.
Wide Receiver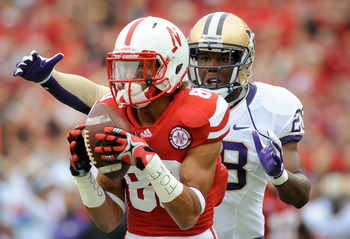 Eric Francis/Getty Images
Starters: Kenny Bell, Tim Marlowe
Backups: Quincy Enunwa, Jamal Turner
Reserves: Jordan Westerkamp, Steven Osborne, Taariq Allen
Will Turner be able to get out of the doghouse and earn his place back as the playmaker he was at the start of 2011? Will freshman Westerkamp and redshirt freshman Allen be able to make a contribution in 2012? Can anyone catch the ball consistently? Those are the kinds of questions Nebraska fans will be looking to answer in the spring.
Tight End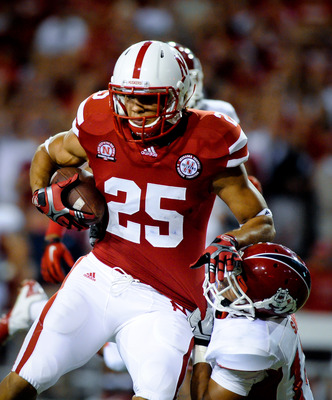 Eric Francis/Getty Images
Starter: Kyler Reed
Backup: Ben Cotton
Reserves: Jake Long, Sam Cotton
One of the unanswered questions of 2011 is why Nebraska was unable to utilize the specific skills and matchup challenges Reed possessed and offered opposing defenses. With a year under his belt, will offensive coordinator Tim Beck be able to get more production from Reed and the other tight ends?
Offensive Line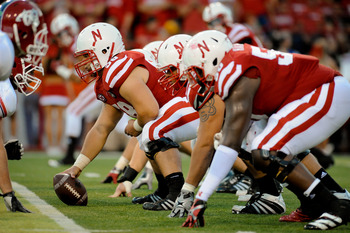 Eric Francis/Getty Images
Starters: Jeremiah Sirles, Andrew Rodriguez, Ryan Reeves, Brent Qvale, Tyler Moore
Backups: Zach Sterup, Seung Hoon Choi, Ryan Klatcho, Cole Pensick, Spencer Long
Reserves: Nick Ash, Jake Cotton, Chris Long, Givens Price, Mike Moudy
The biggest question to be answered on the offensive line for Nebraska in the spring is who will step in as the starting center. Don't be surprised if Reeves' talent wins out over Pensick's experience in the system to win the job.
Defensive Line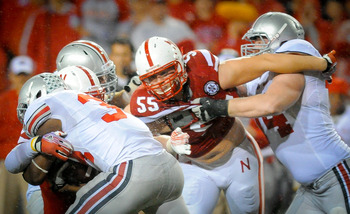 Eric Francis/Getty Images
Starters: Cameron Meredith, Jason Ankrah, Baker Steinkuhler, Thaddeus Randle
Backups: Joseph Carter, Eric Martin, Chase Rome, Todd Peat Jr.
Reserves: Tobi Okuyemi, Donovan Vestal, Jay Guy, Kevin Williams
Nebraska has a lot of depth to develop on the defensive line, making the depth chart in the spring a fluid document. Freshmen Aaron Curry and Vincent Valentine may challenge for playing time if some of the previous players in the program are unable to step in and contribute.
Linebacker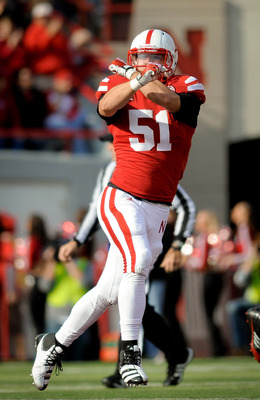 Eric Francis/Getty Images
Starters: Will Compton, Alonzo Whaley, David Santos
Backups: Zaire Anderson, Sean Fisher, Graham Stoddard
Reserves: Trevor Roach, Michael Rose, Jared Afalava
Replacing Lavonte David will be Nebraska's biggest challenge going into 2012, as his unique collection of speed and playmaking made up for a lot of other deficits on the squad. Look for Compton to lead the crew, with the rest of the spots being open for competition amongst the remainder of the squad.
Secondary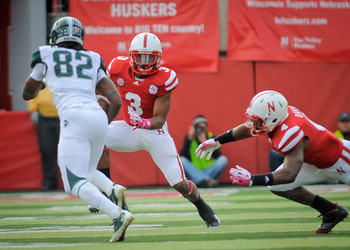 Eric Francis/Getty Images
Starters: Daimion Stafford, Corey Cooper, Andrew Green, Mohammed Seisay
Backups: Courtney Osborne, P.J. Smith, Ciante Evans, Josh Mitchell
Reserves: Harvey Jackson, Dijon Washington, Stanley Jean-Baptiste, Braylon Heard
A depreciation in the secondary might have been the biggest surprise (and not in a good way) in 2011. Stafford was the only consistent performer over the season, although Green seemed to secure his starting spot by the end of the season.
Special Teams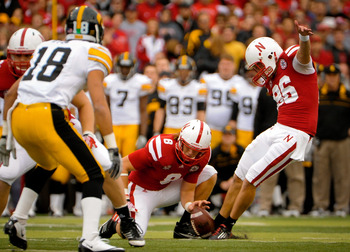 Eric Francis/Getty Images
Placekicker: Brett Maher
Punter: Brett Maher
Returner: Ameer Abdullah, Jamal Turner
Maher has secured his spot as both the starting punter and placekicker. Abdullah electrified fans at the start of the season, but inconsistent ball handling relegated him to the sidelines as the season wore on. Look for him to get the first chance to win the job back.
If you would like to contact me directly to schedule an interview, ask a question or to get my recipe for a killer peach cobbler, you can send an e-mail to patrickrunge@gmail.com. (DISCLAIMER: Peach cobbler recipe might not be all that killer.)
Or, you could always...follow @patrickrunge
Keep Reading

Nebraska Huskers Football: Like this team?