NBA Trade Deadline 2012: 5 Bottom-Feeders That Must Deal for Draft Picks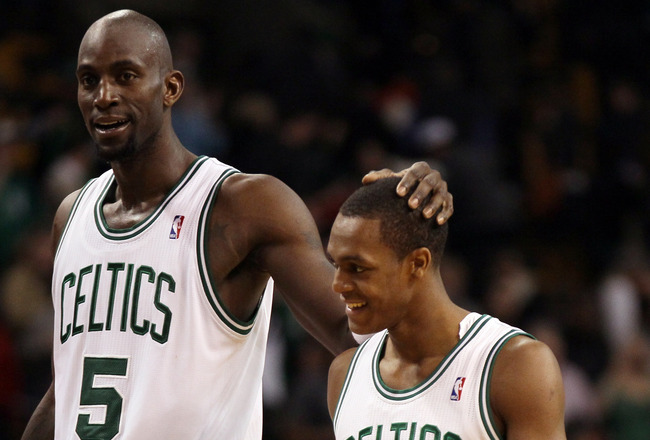 Elsa/Getty Images
The top teams in the league are clear: the Heat, the Thunder, the Bulls, and the Spurs will be fighting for supremacy come April. Plenty of other teams will be fighting for placement in the playoffs. . .Denver, Minnesota, New York, Houston...
But that leaves a few teams out. These teams don't know whether they need to stand pat with what they have or completely start over. They have no direction and no idea where they will be in a few years.
Many of them could do well with a high draft pick or a few extra ones in this upcoming draft and drafts to come. These are the teams that have trade-able assets and that need to make deals to build a more secure future.
This upcoming draft is the best place to start, as there are many strong candidates to build a team around.
1. Charlotte Bobcats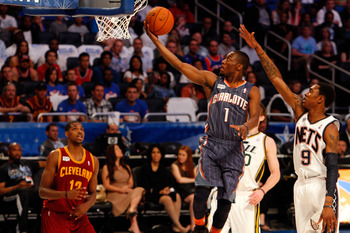 Ronald Martinez/Getty Images
It's obvious that the Bobcats are the worst team in the entire NBA. If you threw these guys into the upcoming NCAA Tournament bracket. . .it's hard to say whether or not they'd even be able to win a game against some of the top ranked college teams.
The Kentucky's and Duke's of the college landscape appear much more capable than this professional team.
Michael Jordan is a champion but he needs to turn into a championship-caliber owner and deal some of the assets this team has for high draft picks. They already have the best chance of getting the top pick in the upcoming draft; a pick most think will be used on Kentucky's freshman sensation Anthony Davis. Already boasting a couple of quality project players in Bismack Biyombo, Kemba Walker and Gerald Henderson, the Bobcats are in need of some solid frontcourt players.
The Bobcats could trade a combination of D.J. Augustin and Boris Diaw to a team in need of more help. The Utah Jazz have a few picks in the first round and could use a better point guard. The Jazz are plum with talent in the frontcourt and should look to make deals in this frontcourt-heavy draft.
The combo of D.J., Diaw, and some other considerations could do the trick and help them receive either one of the Jazz's picks. With this deal, the Bobcats could find themselves a couple of quality bigs in this year's draft. Davis with the first pick and either Jared Sullinger or Tyler Zeller later on.
They need to start somewhere, right?
2. Washington Wizards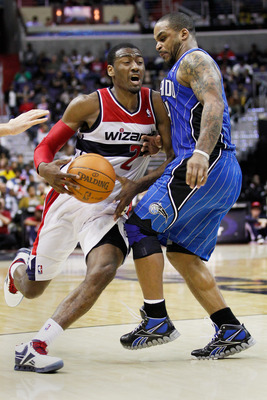 Rob Carr/Getty Images
The Washington Wizards need to clean house and completely start over.
A couple of picks this year could help them wonderfully. John Wall has yet to live up to his high expectations (he's been solid, but not what we expected) and the team have an abundance of immaturity and selfish attitudes on the roster.
While there doesn't seem to be much of a market for Andray Blatche, I'm sure there are plenty of teams out there that would take on JaVale McGee and his nightly contributions to ESPN's Not Top 10 plays.
The Wizards should secure a high pick this year and draft Andre Drummond or Harrison Barnes, but they could do well to find more this year since they have a few players that could be traded for a pick. McGee and Nick Young are two of those players.
A couple of players later on in the lottery and first round could also help them out. Brad Beal and Michael Kidd-Gilchrist could do wonders for them. A trade with Milwaukee could get them some solid picks in that part of the draft.
Or a trade to move into the later first round. Anything could help the Wizards who are in desperate need of an identity.
3. Boston Celtics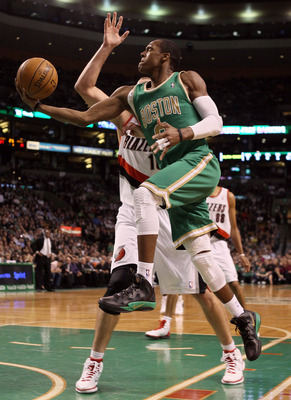 Elsa/Getty Images
While the Celtics aren't technically "bottom-feeders", don't plan on them contending in the next few years.
The Boston Celtics are a year away from full-on rebuilding mode. That makes them bottom feeders in my mind. And in order to rebuild, they will need some solid draft picks in the upcoming drafts.
As of now, they are projected as the 16th pick. They should try to swing higher up and swap picks with somebody a bit higher.
If they are thinking to trade away Rondo (which would be horrible), they could send him to one of the teams with a couple of draft picks. Utah is the first one that comes to mind. I'm not sure how Rondo would feel playing for SLC, but the Celtics could get a couple of good pieces back in Devin Harris and someone else.
The Celtics need an infusion of youth if they want to be relevant in a few years. This draft is the perfect place to start.
4. Orlando Magic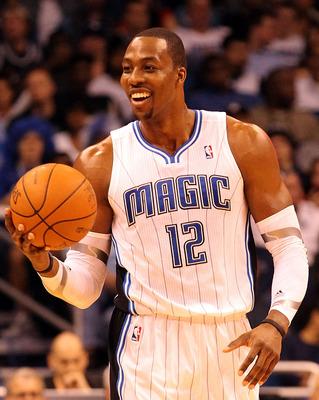 Sam Greenwood/Getty Images
The Dwight Howard story hasn't reached an end yet, unfortunately. And I don't think it will be over any time soon. The chances that Howard is traded before the trade deadline are low, so count on him looking for work elsewhere in the summer time.
Like I mentioned in the Celtics slide, the Magic, as well, aren't bottom feeders. But they need help. And they need that help fast. They probably will not convince Dwight to say, so they need to start preparing for the time when they are "post-Dwight." Utah and Cleveland are already dealing with their "post-superstar" years.
If the Magic were smart, they'd trade him while they still can get back something in return. Otherwise, he'll leave them with nothing in the summer. A few draft picks could do this team well.
If they can pull off a Nets trade for Brook Lopez and the Nets' first round pick and a few other spare parts, we could see Thomas Robinson playing in Magic-blue next season. Or even Anthony Davis. I believe both will be superstars in the league some day.
Only time will well.
5. Golden State Warriors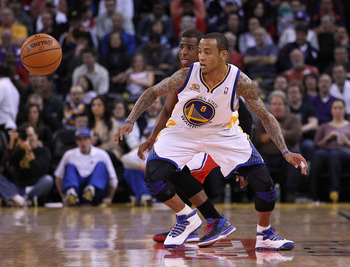 Ezra Shaw/Getty Images
The Warriors don't even have a first round pick in this upcoming draft. Their pick is currently owned by the Utah Jazz via the Deron Williams trade.
That could change in a few days, as the Warriors are one of the teams rumored to be scrambling furiously on the Dwight Howard trade market. While I don't see them obtaining Dwight, I still see them as the most likely team to pull off a deadline deal.
If they can pull off a major trade, they could find themselves with an actual draft pick this summer. And they are in sore need of a solid center/power forward. This draft is ripe with them. The Warriors have plenty of young guards with Steph Curry, Klay Thompson and Monta Ellis.
Either way, the Warriors have too much talent for them to be as bad as they are. A move needs to be made.
Conclusion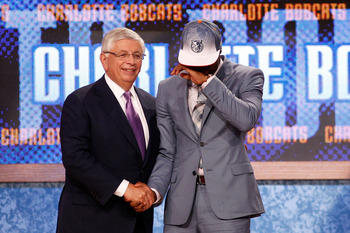 Mike Stobe/Getty Images
We are drawing nearer and nearer to the trade deadline and the water is starting to boil. As stoked as we all are to see what happens, I have a feeling it's all hype. It doesn't seem like much will conspire before Thursday.
But I've been known to be wrong before.
And I wonder if Kemba Walker is crying in that picture because he's happy or because he just got drafted by the Charlotte Bobcats. Hard to tell.
Keep Reading

Boston Celtics: Like this team?