NFL Free Agent Rumors: Looking At Sunday's Hottest News and Rumors
March 11, 2012

Joey Foley/Getty Images
As sure as the sun sets and rises, we are going to hear a lot of free-agent rumors circulating around the NFL up until the start of the new league year on Tuesday.
Some of these rumors are going to be squashed immediately after they are thrown out, while others may hold some substantial ground.
This article is going to give you a primer of sorts in regards to free agency and Sunday's rumors surrounding it.
In the second leg of a three-city tour, Peyton Manning visited with the Arizona Cardinals on Sunday. Reports indicate that the meeting went good, whatever that means. Larry Fitzgerald greeted Manning at the Cardinals' facility in Arizona.
The former Indianapolis Colts quarterback plans on meeting with the Miami Dolphins next. He wants to make a decision before free agency starts on Tuesday, which seems a bit unlikely at this point. While the Seattle Seahawks and Kansas City Chiefs have shown interest, they have not heard back from the future Hall of Fame quarterback.
Jim Trotter over at CNNSI indicated late Saturday night that there was a mystery team thinking about getting involved in the Manning situation.
Update: Bud Adams wants Manning in Tennessee.
After what was reported to be a great workout session for the New Orleans Saints last week, Randy Moss is going to be visiting with the San Francisco 49ers tomorrow.This makes sense for a few different reasons.
First, the 49ers are in desperate need of help at wide receiver after a poor postseason performance by their lackluster group.
Second, it would seem that Moss wants to join a team that has a chance to contend for a Super Bowl in 2012. Considering that San Francisco was an overtime loss from going to the ultimate game, they fit into that category.
Vincent Jackson
After trading up to acquire the rights to select Robert Griffin III, the Washington Redskins are apparently turning their attention to Vincent Jackson. A source close to the franchise believes that the talented receiver is their top free agent target right now.  
Dan Graziano over at ESPN had the following to say about the fluid situation.
Coach Mike Shanahan wants to go out and get a No. 1 wide receiver -- someone like Vincent Jackson of the Chargers.
Reports also indicate that the Chicago Bears, San Francisco 49ers, Buffalo Bills, Tampa Bay Buccaneers, Minnesota Vikings and St. Louis Rams could be in on Jackson.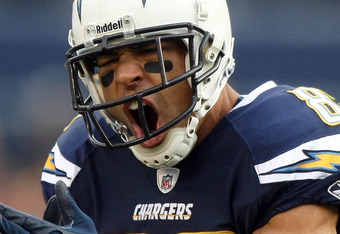 Donald Miralle/Getty Images
Cleveland Browns
Various information has come out today that the Browns might be looking to trade down from the No. 4 spot in April's draft. This is an interesting development considering they were looking to trade up just a couple days ago.
It does make sense because the Browns needs are on the offensive side of the ball and they wouldn't get tremendous value with this pick. It also leads some to believe that Ryan Tannehill could be a target at quarterback later in the first round.
DeSean Jackson
Jeff McLane over at the Philadelphia Inquirer believes that there remains a a possibility of the Eagles trading their enigmatic wide receiver. Jackson, who received the franchise tag, is set to make $9.4 million in 2012 if he signs the tender. All indications are that he will indeed sign it and hasn't put up a big ado about it.
This doesn't mean that Jackson will not be traded. The Eagles are in need of upgrades at multiple positions throughout the roster, which could be negatively affected is Jackson is set to count nearly $10 million against the cap in 2012.
McLane points to the San Francisco 49ers, Baltimore Ravens, Chicago Bears and New England Patriots as options.
Rob Carr/Getty Images
Other Quick Shots
 Brandon Jacobs would like to join the New York Jets.
Broncos will trade Tim Tebow if they get Peyton Manning.
Numerous teams to inquire about Pierre Garcon.
Follow me on Twitter @VincentFrankNFL