BYU vs. Iona: Game Time, TV Schedule, Spread Info and Predictions
March 11, 2012

Ethan Miller/Getty Images
It's going to be a play-in game of epic proportions, as the Brigham Young Cougars meet up with the Iona Gaels for the chance to get into the official 2012 March Madness bracket and face the Marquette Golden Eagles in the first round.
Before either team can think about the Golden Eagles, though, they have to start worrying about each other.
BYU comes into this game third in the West Coast standings at 25-8. They boast one of the nation's better offenses—ranked 13th with 78.2 points per game and ranked sixth with 17 assists per game.
It's not as if the Gaels are slouches themselves on offense, though. In fact, they are they nation's best offensive team, averaging 83.3 points and 19.3 assists per game. They come into this game ranked No.1 in the MAAC at 25-7 overall.
It's going to be a game that features a ton of offense, so buckle up.
Where: University of Dayton Arena, Dayton, Ohio
When: Tuesday March, 13 at 9 p.m. EST

Watch: truetv

Listen: KSL Newsradio 102.7 FM, 1160 AM BYU; icgales.com Iona
Betting Line: Check bovada.lv closer to game time.
Key Injuries:
BYU: Forward Charles Abouo day-to-day (hand), forward Stephen Rogers out indefinitely (knee).
Iona: No injures to report.
Injury information courtesy of USA Today
What's At Stake?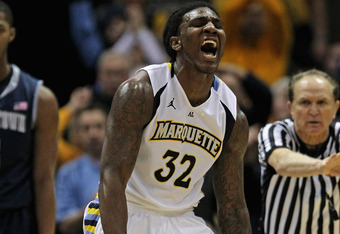 Jonathan Daniel/Getty Images
This game means everything for both teams. Everything they've worked for is on the line. The winner gets the opportunity to go dancing for real in the West bracket. The loser goes home with a missed opportunity. Somebody gets to move on and play Marquette.
What They're Saying?
heraldextra.com describes the Cougars' chances of getting in as "uncertain at best," but cited a 20-plus-win season as a good reason that they got in.

As you can imagine, there's not a ton of press out there about Iona, but if they win a few games, all of that can change. The Associated Press did come out and call the Gaels grabbing an at-large bid perhaps one of the biggest surprises in the field, though.
Most Important Player to Watch?
Iona senior forward Mike Glover is the must-watch player of this game. Not only will this be his last chance to play for his school, but it could be his last competitive basketball game at a high level.
He's got to leave it all on the court. He's a huge part of the team—averaging 18.5 points, nine rebounds and an assist per game—and his performance will dictate whether or not the Gaels win or lose.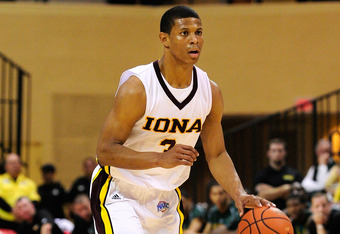 Sam Greenwood/Getty Images
Key Matchup
Offensive basketball is highly dependent on a good passer, so I'll be keeping my eye on the two big assist-men for both teams.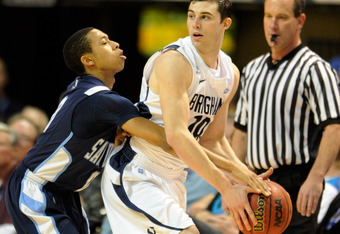 Ethan Miller/Getty Images
BYU's Matt Carlino is averaging 4.7 assists per game to go along with his 12.7 points, and Iona's senior guard Scott Machado is putting up an incredible 9.9 assists per game to go with 13.6 points.
These two players are going to play a huge role in this game and I'll be interested to see who can make the most happen offensively.
Prediction:
I expect a ton of offense in this game. In the end, Iona's will be better, thus giving them the win. 
Iona 84, BYU 81