Lakers Rumors: LA Must Pursue Shannon Brown to Avoid Post-Kobe Era Collapse
March 11, 2012

Mike Ehrmann/Getty Images
Kobe Bryant is arguably one of the greatest players in Los Angeles Lakers history. It is a debate that will never be completely settled, but once Bryant finally hang up the jersey for good, his name will undoubtedly enter that discussion. His ranking among the all-time greats will also be an entertaining discussion especially as Bryant continues to move up the list of top scorers in league history.
Shannon Brown, a former Lakers player, would be a smart choice to bring back in to town in order to learn under Bryant and become an all-star shooting guard.
Bryant is currently 33 years old, and it is safe to say he has somewhere around five solid seasons left in the NBA. It is also safe to say he will play out the rest of his career in Los Angeles.
However, once Kobe calls it a career, the Los Angeles Lakers will have a difficult, if not impossible, time replacing him.
Players with Bryant's skill and competitiveness only come around once in a generation. The best option for the Lakers organization would be to develop a bright young star to become a reliable shooting guard over the next several seasons.
The Lakers will need to attempt to fill the hole left by Bryant, and continue to dress a team with championship aspirations. Realistically, they will not replace him in the next decade, and must develop a solid top-to-bottom squad, along with an effective bench, in order to remain a title contender.
Brown has shown promise during his short career, and at only 26 years old, he still potentially has many good years ahead of him.
If the Lakers were to bring him back to Hollywood, he would have a chance to reunite with his teammates and learn further under Bryant. Will he immediately fill the shoes left by Bryant? Not a chance; probably not even close. However, he would learn to play and grow in to what will be a complete system once Kobe finally packs it in.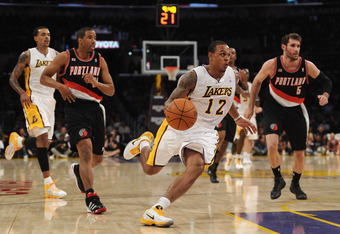 Harry How/Getty Images
The post-Bryant era will reveal a much different Lakers side than fans have become accustomed to. It will not nearly revolve as much around one player, but instead will be a balance of young rising stars and Lakers veterans. In five years time, Brown will be one of those veterans.
Many of the premier shooting guards in the NBA are getting up there in age and will likely remain with their current teams for the latter years of their careers.

The Lakers should not simply try to sign an All-Star shooting guard the moment that Bryant calls it quits. It is much more crucial that they bring in someone with decent talent and allow him to grow within the system and learn from Kobe over the next several years.
Brown's short stint so far with the Phoenix Suns has not been all that great, but that is mostly due in part to the inconsistency of the Suns and their inability to play well as a team. If the Lakers were to bring Brown back, he would be able to continue the impressive play he showcased last season. Giving him consistent minutes and a solid supporting cast will allow him to grow in to his new role.
Ultimately, replacing Bryant will not be easy, and may cause the Lakers to drop in to mediocrity for a few years. If they are able to start building a competitive team around Andrew Bynum and begin adding pieces, a player like Brown will provide a stable option at shooting guard when the inevitable day comes.