March Madness 2012: Essential Guide to This Year's Tournament and Bracket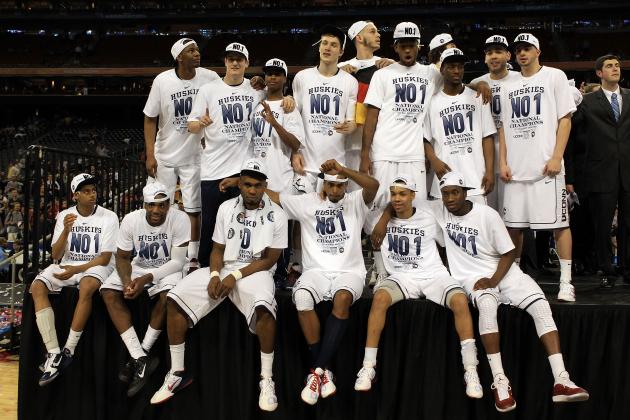 Streeter Lecka/Getty Images

March Madness has officially begun, as the brackets for this year's NCAA Tournament have just been released.
Sure, the games don't get underway until Tuesday, when the first two play-in games get underway, but that gives sports fans across the country the chance to analyze, break down, and re-analyze every single one of the 32 games that make up the best two days in sports.
Frankly, with so many games, teams and players to keep an eye on, it can all be enough to drive a person insane. How do you even know where to begin when filling out your bracket?
Fear not, that's why I'm here, bringing you the ultimate guide to all things madness-related. We're giving you a comprehensive guide to the insanity of the next three weeks, from title contenders to underdogs to teams cruising for an upset. By the time we're done, you'll have the necessary knowledge to sound like an expert and take home the bragging rights from your office pool.
Begin Slideshow

»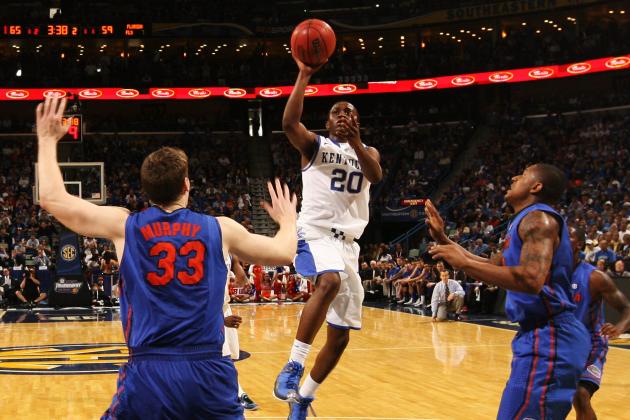 Chris Graythen/Getty Images

Kentucky: The Wildcats are once again title favorites, with the kind of talent on the roster that most coaches can only dream of. From forwards Anthony Davis and Terrence Jones to guards Doron Lamb and Darius Miller, John Calipari's team can beat you in any number of ways. They've struggled to live up to the hype in recent seasons, but will this year's Cats be the ones to get Coach Cal over the hump?
Syracuse: Led by a balanced, talented roster paced by Kris Joseph, the Orange are deep, talented, versatile, and able to beat just about anyone. They went 30-2 in the toughest league in the country, the Big East, and have the size and athleticism that keeps opposing coaches up at night.
North Carolina: The Tar Heels have battled some inconsistency this season, but don't rule them out of grabbing the title this season. Led by big man Tyler Zeller and Mr. Everything Harrison Barnes, the Heels have one of the most talented rosters in the country. If forward John Henson is healthy enough to play, they're a virtual Final Four lock.
Missouri: The Tigers are arguably basketball's biggest surprise of the year, but they're legit. They've thrived under first year coach Frank Haith, playing a high-octane style of play that gives opponents fits. Slick point guard Phil Pressley leads a cast of sharpshooters spearheaded by Marcus Denmon and Kim English, while Ricardo Ratcliffe gives them a presence inside. If their three-pointers are falling, the Tigers are incredibly tough to beat. Is it a reverse jinx picking Mizzou for this spot instead of Kansas? Perhaps, but the Tigers have the talent to make a run.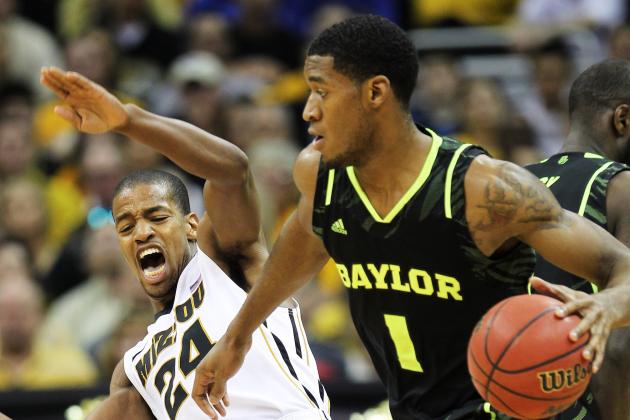 Jamie Squire/Getty Images

Baylor: The Bears are one of the most talented teams in the country this season, behind forward Perry Jones III and guard Quincy Acy. They have depth, and when they're focused, they're extremely tough to beat. They had a serious funk in midseason, but now that they're playing well again they can hang with anyone. Keep an eye on them, as they're a possible Final Four team.
Duke: I know, I know, the Blue Devils are a perennial Final Four contender. But they're slightly under-the-radar thanks to a team that has struggled with its scoring at times. Led by freshman Austin Rivers, though, Coach K's squad has the talent to make a deep run, and won't back down from a fight. If Rivers gets hot, this team is going to be a very tough out.
Ohio State: The Buckeyes have struggled with their consistency this season, particularly with forward Jared Sullinger battling injury throughout the season. But there's no denying the talent of their starting-five, led by Sullinger and guards Aaron Craft and William Buford. There's not a ton of depth in Columbus, but with the talent in their rotation, Thad Matta's squad is a legitimate Final Four contender.
Louisville: This is entirely dependent on which Louisville team shows up. If its the team from the regular season who struggled to find offensive consistency behind streaky point guard Peyton Siva, the Cardinals are sunk. But, if they show the same explosiveness they had in the Big East tournament, going on a UConn-esque tear as the fourth seed, they're a real Final Four threat.
Kansas: Sure, they've struggled as a high seed under Bill Self, who has a compulsive inability to beat mid-majors. But the Jayhawks have been beating good teams all season, and the trio of forwards Jeff Withey and Thomas Robinson and guard Tyshawn Taylor won't let this team go quietly. If they stay focused, their soft bracket could see them back in the Final Four for the first time since they won the whole thing.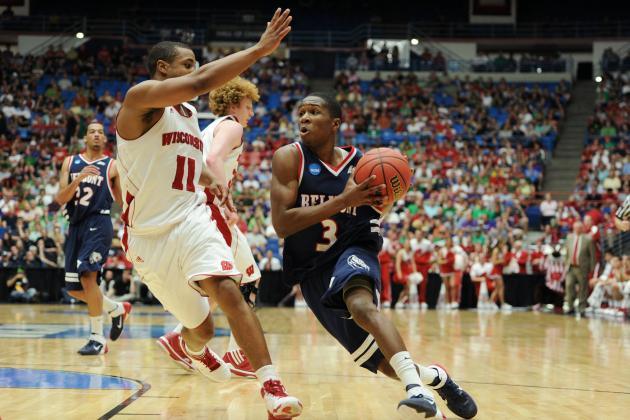 Harry How/Getty Images

Belmont: The high-octane Bruins got their dream matchup in the round of 64, pitting their explosive offense against the plodding Georgetown Hoyas in a 3-14 matchup. With young, athletic players like Kerron Johnson, Ian Clark and Drew Hanlen running the show, Belmont has six players averaging 8.5 ppg or more. They have Cinderella written all over them, especially with their experience against power conference schools.
Long Beach State: The 49ers have one of the sharper mid-major resumes, and own road wins over the likes of Xavier and Pittsburgh. They can score, they can rebound, they can play defense, and with a matchup with uninspiring New Mexico in round 1, look for this 12-seed to go on quite a run in March. Senior guard Casper Ware and senior forward T.J. Robinson give them a devastating inside-out punch, and they'll be a very tough out.
Harvard: Poor Vanderbilt. The Commodores are a 5-seed once again, and they're facing a brutal test in the Crimson this year. Harvard were ranked in the top 25 for much of the season, and Tommy Amaker's team is better than many of the lower power conference schools in the dance. Kyle Casey and Keith Wright give them a formidable duo in the paint, and if Harvard get going, they'll cause some trouble in the Madness.
Iona: The Gaels may be a subject of some controversy amongst the talking heads, but they have the offense to make them this season's VCU. Led by forward Mike Glover, guard Lamont Jones and versatile guard Scott Machado, Iona have the highest-scoring offense in the sport. They shoot extremely well, can score on anyone, and have serious potential to make a very deep run. Don't sleep on this Cinderella squad.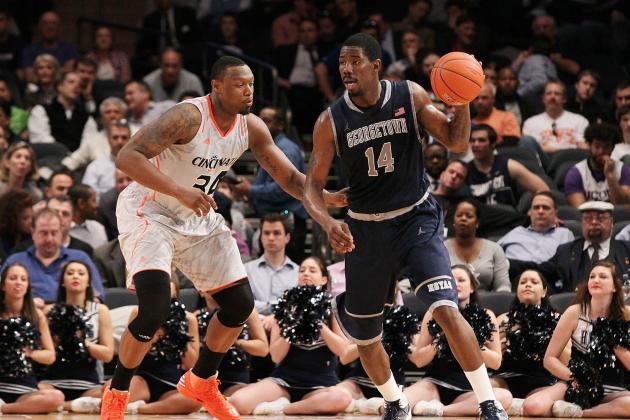 Jim McIsaac/Getty Images

Georgetown: The Hoyas might be highly ranked, but they're a grind-it-out offensive team who can struggle to score points at times. They face a high-octane Belmont team in the Round of 64, and will struggle against the Bruins' star guards in the matchup. Sure, they could slow them down, but proceed with extreme caution with this team. They have first-round exit written all over them.
Notre Dame: Irish coach Mike Brey should be commended for doing a stellar job getting Notre Dame into the tournament after losing star forward Tim Abromatis early in the season, but the run ends early again for this plucky team. They rely incredibly heavily on the three, and we know Mike Brey avoids tactical adjustments the way Vince Wilfork avoids WeightWatchers. Against a Xavier team showing signs of life after the UC brawl in December, you can almost bank on the Irish heading home early once again here.
Marquette: When the Golden Eagles are on, they're tough to beat. But, as we saw in the Big East tournament, they get into trouble if their stars, Darius Johnson-Odom and Jae Chrowder find themselves in foul trouble. With a matchup with the play-in winner, this team will get into a serious shootout with Iona, and I'm not sure they have what it takes to beat them. Even if they do take out the Gaels or BYU, Marquette feels like a team heading for an early-round exit.
Vanderbilt: Remember when I said I felt bad for the Commodores? I meant it. Kevin Stallings' team always seems to get hosed by the selection committee, and this year is no exception. They have the talent to make a deep run, but that clash with Harvard could prove extremely damaging to their hopes of making a deep run. Can they put their ghosts in their past, or will another brutal first-round clash kill them once again? Buyer beware of the SEC champs.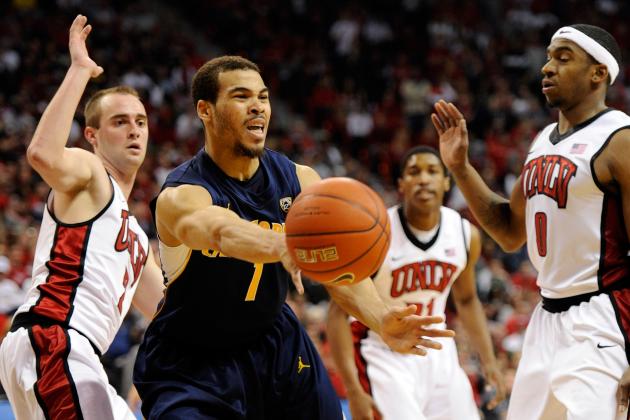 Ethan Miller/Getty Images

South Florida: Sure, getting into the Madness for the first time in 20 years is a great story, but the fact is, the Bulls don't belong. Their resume wasn't great, and their nonconference struggles should have killed their bid. Here's hoping Temple or Cal dispatch them quickly. This team had no business getting in over the likes of Washington or Drexel.
BYU: I thought mid-majors with mediocre profiles were supposed to go to the NIT. So why is BYU, a team who finished a solid third in the WCC a part of the Madness? With losses to Loyola Marymount and Utah State on their resume, the Cougars should be spending this March at Madison Square Garden, not in Dayton for a play-in Game.
Cal: Arguably the strangest selection of the bunch, the Golden Bears' inclusion baffles me. They didn't win their conference tournament, they didn't win the Pac-12 regular season title, and they literally have no wins over decent teams. They showed an inability to beat the decent teams on their resume, and typically, it wasn't close. Sure, they only have nine losses, but with a schedule this soft in and out of conference play, how did they make it in again?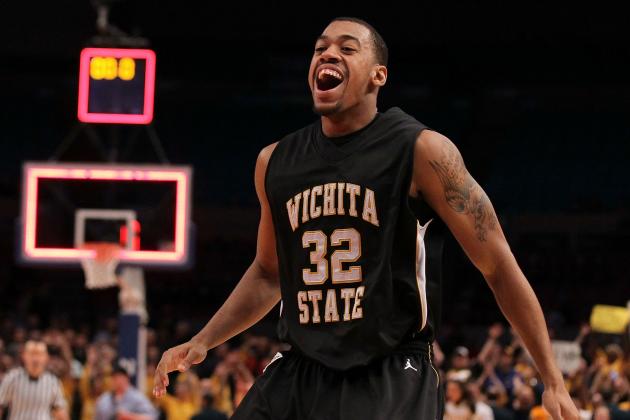 Jim McIsaac/Getty Images

Wichita State: The Shockers have flown under the radar literally all season long, but that's going to change in March. Led by guards Jarrett Stultz and Greg Ragland, the sharpshooting Missouri Valley champs can keep up with anyone with their three-point prowess. They can score, and their defense makes them the kind of team no one wants to face in March. Too bad most people won't see them coming.
Creighton: The Blue Jays were once the hottest commodity in mid-major land, but a midseason cold streak changed all that. Now, the high-octane Jays (ranked seventh overall in scoring) and prodigious leader Dylan McDermott are looking to make some noise. With that kind of offense, the eighth seed in the Midwest could definitely score an upset over a UNC team who might overlook them in anticipation of a deep run. Don't make the same mistake; this team is for real.
Xavier: The Musketeers fell off the radar in midseason, after a vicious brawl against UC saw their personality and toughness drained from their play. However, with guards Tu Holloway and Mark Lyons finding signs of life in recent weeks in a run to the Atlantic 10 finals, you cannot sleep on this team going into March. If they've found that swagger, they'll be a very tough out.
St. Mary's: Always the bridesmaid to Gonzaga, the Gaels finally had their big day this season, beating the Zags and taking the WCC title. Guard Matthew Delladova is a budding star, and forward Rob Jones gives them the kind of size and skill you need to succeed in March. Don't sleep on the Gaels making a deep run come March.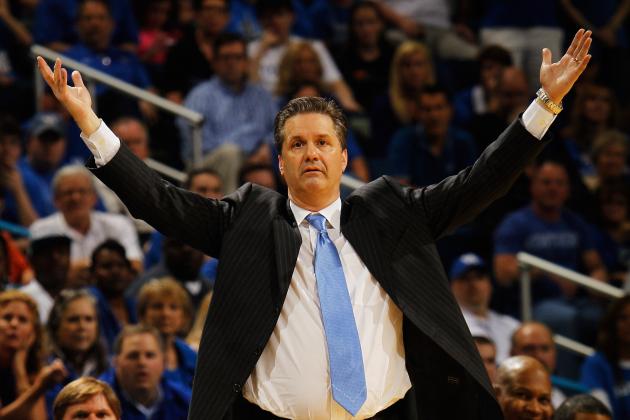 Chris Graythen/Getty Images

John Calipari and the Big One: John Calipari has won pretty much everything in his coaching career--except a national title. Most infamously, his uber-talented Kentucky squads have crashed and burned well short of the title tilt in recent seasons, despite consistently high rankings. Is this the year he finally gets over the hump with another supremely talented (but extremely shallow and young) Wildcat team, or will the "so close, so far" routine continue?
Mich vs. Ohio State: Let's just say this potential Final Four matchup is the pipe dream of both sides of this ancient rivalry. Both sides would love to meet the other in New Orleans, and each win they get would up the rumblings that it's a possibility.
Kansas vs. Missouri: The Border War didn't get it's third act in the Big 12 tournament, but now it could happen on the biggest stage in the sport: the national title game. It's going to take some luck and some big wins for it to happen, but could you imagine if it happens? That would be must-see-T.V.
Vanderbilt's Upset Syndrome: Four of the last five seasons, Vanderbilt has made it into the Madness. Four of the last five seasons, the Commodores have crashed out early. Will Kevin Stallings' team survive the round of 64 this season, or will the first game of the tournament prove to be their undoing once again?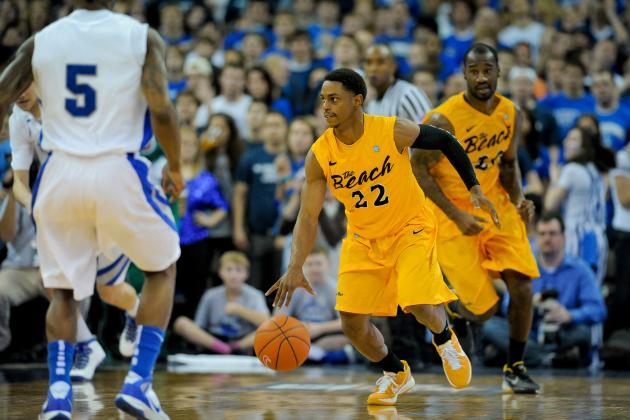 Eric Francis/Getty Images

Andrew Nicholson, St. Bonaventure: The Bonnies are back in the Madness for one reason and one reason only: their sublime forward. Nicholson's slashing and shooting helped carry the Bonnies to an improbable A-10 title, and he averaged 18.2 points and 8.3 rebounds this season, and has the kind of skills to make a serious impact in March.
Kerron Johnson, Belmont: This 6'2" guard is the dynamo that makes the Bruins' high-octane offense run so efficiently. Averaging 14.1 points, 3.1 rebounds and 5.2 assists per game, he can do a bit of everything. If he gets hot in March, there's no telling how far the running, gunning Bruins can go this season.
Nate Wolters, South Dakota State: The Jackrabbits' star player has been flying under the radar all season, but the sharpshooting guard figures to be quite the pest this March. Averaging 21.3 points, 5.2 rebounds and 6 assist per game, Wolters has all the makings of a Madness hero. If teams don't respect him, don't be surprised to see him carry the Jackrabbits to a win in the tournament's opening weekend.
Casper Ware, Long Beach State: The 49ers senior guard is the dynamic playmaker in their offense, capable of creating shots and carrying this team to a win or two. Averaging 17.4 points, 2.4 rebounds, and 3.3 assists per game, his scoring punch will make him a must-stop for anyone Long Beach faces going forward. Expect to hear his name quite a bit during the tournament's opening weekend.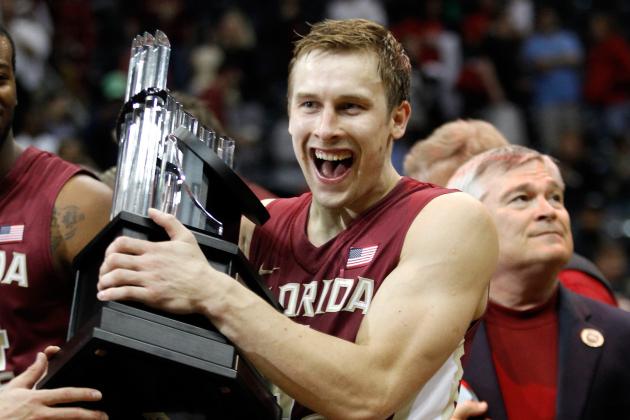 Streeter Lecka/Getty Images

Kentucky: Sure, the Wildcats are talented, but they only go two deep (and John Calipari doesn't really like to use his bench much, for whatever reason), are incredibly young (there aren't really any upperclassmen who play regular minutes), and have a history of underachieving in March. They should make it to the tournament's second weekend, but anything more than that is probably pushing it a little bit.
Georgetown: We've already gone over why Georgetown is a serious upset candidate; even if they survive the round of 64, they don't exactly have a history of March success. The Hoyas have struggled in the Madness under John Thompson III, and there's not much about this year's squad that indicates this year will be any different. Steer clear of the Hoyas.
Marquette: Maybe I've caught them on bad nights, but when I've seen the Golden Eagles, they've hardly inspired confidence. They turn the ball over pretty regularly, courtesy of point guard Junior Cadougan. They don't rebound well, and if their shot isn't falling and they're turning the ball over, they're in deep trouble,
Florida State: Here's the thing about Florida State: they play stifling defense, but their offense comes in spurts. At times, it's downright lethal, at others, they can't make a shot to save their life. That inconsistency is the kind of thing that can kill a team, and they're probably slightly overseeded at a three. If they find a high scoring team, I don't know that they have the talent to keep up.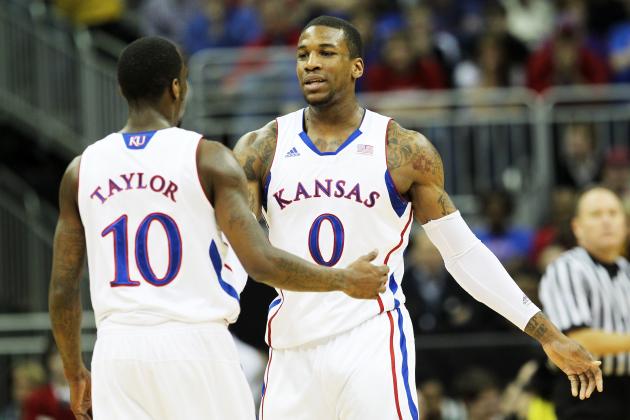 Jamie Squire/Getty Images

Duke: The Blue Devils get hot, and get lucky when Kentucky crash out in the Sweet 16 against Indiana. With their toughest test out of the way, there's not much here to slow Duke from another Final Four.
Murray State: The mid-major representative in the Final Four, the Racers have the scoring punch to make serious noise. They win shootouts over Iona and Mizzou to set up their clash with Michigan State in the Elite Eight. After a brutal clash, Murray State complete their run with a berth in New Orleans.
Ohio State: The Buckeyes find their groove again, boosted by a bracket where few teams can keep up with them. Their highly-anticipated clash with Syracuse lives up to the hype, but in the end, the scoring touch of Jared Sullinger proves too much for the Orange to handle, sending Thad Matta's team to the Final Four.
Kansas: The Jayhawks are aided by a fairly soft bracket in the midwest, and the bonus of playing in Omaha and St. Louis. They ride the pro-Kansas crowd into an Elite Eight clash with North Carolina, and Thomas Robinson outduels Tyler Zeller for the trip to New Orleans.