Ranking the 2012 NFL Draft's Top 10 Guards
March 16, 2012

Christian Petersen/Getty Images
They still don't get a lot of credit from the mainstream media, but NFL guards are starting to get more attention—and money—from clubs looking to upgrade their offensive line. 
Teams looking for young interior line talent are in luck. The 2012 NFL Draft has ten guards—or tackles that can project to guard—that could start on day one. 
1 (TIE). David DeCastro, Stanford
When talking about true guards, DeCastro is easily the cream of the 2012 crop. He never seems to be out of position and rarely misses an assignment. If he is able to add some strength, especially in his lower body, he could be the best guard in the league. 
Projection: 1st Round
1 (TIE). Riley Reiff, Iowa
Like Robert Gallery, another former Iowa 1st Round tackle, Reiff's best position might be inside. NFL teams are starting to look at Reiff as a guard, although we still feel that he can play both left and right tackle in the league. Moving inside to guard would protect Reiff from the speed rushers that have proven to be his nemesis at times.
Projection: 1st Round
3. Cordy Glenn, Georgia
Like Reiff, Glenn can play tackle at the NFL level, although, ultimately, his best position might be at guard. Glenn is very athletic, but seems to struggle at times when playing in space. If Glenn can develop his technique, he has the size, strength and athleticism to be a dominant blocker inside.
Projection: 1st Round
4. Kelechi Osemele, Iowa State
Continuing with the trend, Osemele is a college left tackle that certainly will not play there in the NFL. When healthy—both games that we scouted from the Iowa State press box featured Osemele favoring his ankle—he is a massive force that can quickly overwhelm smaller defenders. He does not move like he weighs 340+ pounds and will not be a liability inside against the pass rush.
Projection: 1st-2nd Round
5. Kevin Zeitler, Wisconsin
Zeitler is a fantastic run blocker that provides some positional versatility due to his center skills. He isn't the quickest guy, so there will be times where interior rushers get the better of him. Zeitler is decent on pulls and effective on the second level. He will be a 10+ year starter in the NFL, but might not ever be considered "elite."
Projection: 1st-2nd Round
6. Mitchell Schwartz, Cal
Schwartz is a very cerebral blocker with the ability to play outside and inside at the next level. We like him best on the interior where his struggles against speed rushers will be minimized. He should have the ability to be effective pulling and sealing blockers at the second level.
Projection: 2nd-3rd Round
7. Amini Silatolu, Midwestern State
I've seen less pancakes at IHOP then I did when watching Silatolu on tape. He is an absolutely dominating run blocker. However, like South Carolina DE/OLB Melvin Ingram, his aggressiveness did work against him at times, resulting in some off-balance plays. The transition from left tackle to guard should be a smooth one for Silatolu.
Projection: 2nd-3rd Round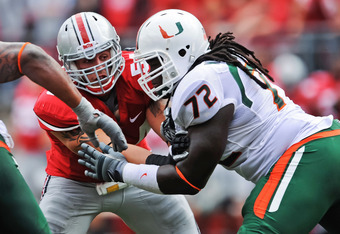 Jamie Sabau/Getty Images
8. Brandon Washington, Miami
Washington's athleticism has been able to cover up a lot of errors in his technique at the college level. He tends to narrow his base, bend at the waist and lose his balance when sliding—his footwork in general could use a boost—all three will get him knocked to the ground in the NFL. Washington has a high ceiling due to his movement skills, but there is some bust potential.
Projection: 2nd-3rd Round
9. Brandon Brooks, Miami (OH)
I've only seen Brooks play on film twice, but it was enough to know that he was an enormous NFL Combine snub. He moved very well for such a big prospect (6'5" / 346) at his pro day, running a 4.98 while posting a 32" vertical leap. It might take a year, but Brooks has the physical tools to develop into a Pro Bowl blocker.
Projection: 3rd-4th Round
10. Jeff Allen, Illinois
After watching Allen from the Illinois press box and talking with him after the Northwestern game, I was very impressed. Allen looked very smooth in pass protection while proving to not be a liability in the run game. A passing team looking for someone that can handle quick inside rushers should take a hard look at Allen.
Projection: 3rd-4th Round