2012 NFL Draft: Predicting the 5 Most Likely Reaches of the 1st Round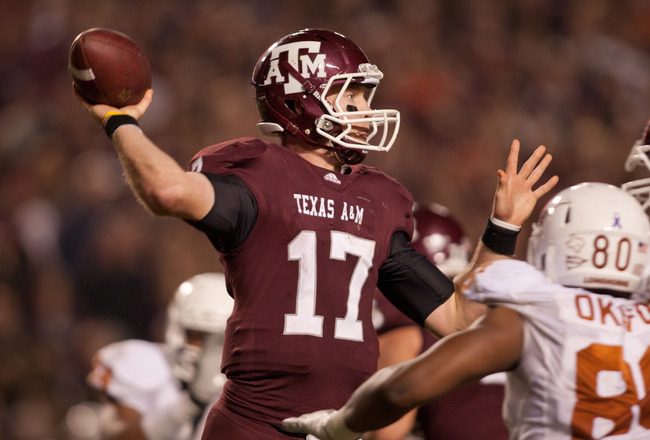 Darren Carroll/Getty Images
During each NFL draft, the Mel Kiper's and Mike Mayock's of the world will declare a few picks "reaches."
Sometimes the NFL team eventually looks really smart—think Logan Mankins and Duane Brown. Other times, the pundits are right on—think Aaron Maybin, Donte Whitner, JP Losman and John McCargo, just to name a few from our friends in Buffalo.
Here are five prospects that will probably be considered reaches by many observers come draft day.
Ryan Tannehill (QB, Texas A&M)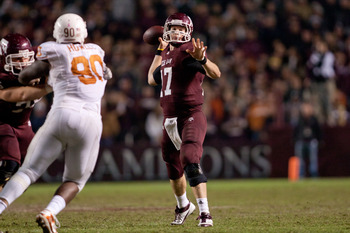 Darren Carroll/Getty Images
I'm a big fan of Ryan Tannehill; I think he'll be one of the top 12 quarterbacks in the league within the next three to five years.
That said, he isn't ready to start. Whenever a team—be it the Browns, Dolphins, Seahawks or Bills—takes a non-starter in the top half of the first round, it is going to be considered a reach.
If one of the aforementioned teams is able to wait until late in the first round and trade up for Tannehill, the value would be much better. However, the chances of that happening look slimmer with each passing day.
Dontari Poe (DL, Memphis)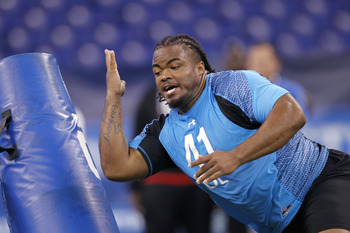 Joe Robbins/Getty Images
Poe absolutely blew up the combine—men that big are not supposed to move as well as Poe does. In Indianapolis, Poe looked like a top-five pick. On tape, he looks more like a late first-rounder.
Where there is massive potential, there is also potential for a "reach." A guy with Poe's tools isn't going to last long into the first round, even with his relative lack of production in college.
Similarly, DT Michael Brockers of LSU might be taken higher than he should. Brockers has a Pro Bowl body and unlimited potential, but doesn't really show up on tape consistently.
Nick Perry (DE, USC)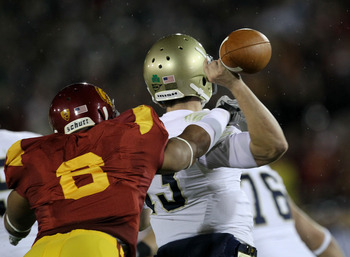 Stephen Dunn/Getty Images
Speed kills, except when it doesn't. Past drafts are littered with speedy edge-rushers whose skills didn't translate to the next level.
That hasn't stopped teams from reaching for pass-rush talent. Sometimes teams hit the jackpot with guys like Jason Pierre-Paul and Aldon Smith. Other times Vernon Gholston or Aaron Maybin show up instead.
Nick Perry is certainly a talented player. That said, if a team picks him in the top 15, they are certainly taking a risk. South Carolina's Melvin Ingram could certainly be placed in this category as well.
Stephen Hill (WR, Georgia Tech)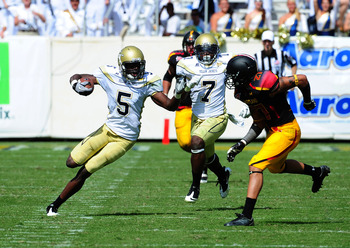 Scott Cunningham/Getty Images
There is no question that Hill had an incredible combine. His size and speed were so impressive, Hill is now being talked about as a potential first-round pick.
If Hill ends up being selected in the first round, it will be the classic reach. Demaryius Thomas, also out of Georgia Tech's triple option offense, was a reach for the Broncos a few years ago. Thomas has worked out to some extent, but hasn't been the consistent performer NFL teams expect their top picks to be.
There is no question a team will roll the dice on Hill early. Whether Hill can develop the hands and route-running ability needed to be a consistent contributor remains to be seen.
Coby Fleener (TE, Stanford)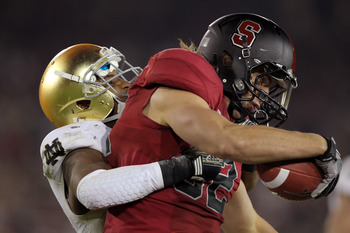 Ezra Shaw/Getty Images
I love Coby Fleener—he is my No. 1 ranked tight end. Tight ends such as Rob Gronkowski, Jimmy Graham, Aaron Hernandez and Vernon Davis are tearing up the NFL.
That said, taking any of this year's crop of tight ends might be considered a reach. Fleener and Clemson's Dwayne Allen are fine prospects. They are athletic, run decent routes and can even throw a block or two. However, none show the capability of taking over a game at the next level.
If an NFL team is looking to bolster the offense with a versatile weapon, they may reach for Fleener at the end of Round 1.
Keep Reading