Toronto Maple Leafs: What's the Goalie Situation for Next Year?
March 11, 2012

Let's say you've got two goalies that are out of the top 25 in the NHL for almost every single significant goaltender stat category and your team is on track to miss the playoffs for a franchise record seventh season in a row. What do you do? 
It's a tough situation, isn't it? Neither James Reimer nor Jonas Gustavsson has truly taken a stranglehold of the starting goalie slot for the Maple Leafs, though Gustavsson has been the better goalie this year.
There's no way that Toronto Maple Leafs GM Brian Burke will start next season with the same two goalies. 
Well, to be more accurate, there's no way he should. 
And since he has lost quite a bit of clout as far as Leafs Nation is concerned with his mishandling of Ron Wilson and his controversial decision to stand pat at this year's trade deadline, he likely knows that his handling of the goaltending position is crucial to maintaining his job security. 
He's also not going to get rid of both of them. 
If he does that, he's essentially admitting that his choice of personnel for the goaltending position was entirely wrong. You might point out that Reimer was drafted by John Ferguson Jr., but it was under Burke's reign that Reimer was called up from the minors and deemed to be a starting goaltender, even though there was reason for it at the time. 
After standing by Wilson way past his due date, would Burke do the same with his goalies? Probably not. 
One of these guys is gone after this year. So who's it going to be? 
Reimer is the younger of the two goalies and proved last year that he has the raw ability to stand on his head and bail this team out. His contract is also much more manageable since he's signed to $1.8 million a year until the end of the 2013-2014 season, when he becomes a restricted free agent. If he can play like he did last year, that's a pretty sweet deal. 
However, he simply hasn't been the same since returning from injury. He doesn't come out to challenge shooters as much as he did before and his body language during games shows that he's really suffering from confidence issues. 
Gustavsson has the better stats of the two goalies, with more wins and shutouts, a higher save percentage and a lower goals against average. He's also looked steadier. 
Unfortunately, steadier is a relative term. Gustavsson has proven himself to be tentative and confused when he has to play the puck behind his crease and also is guilty of letting in soft goals. He's also an unrestricted free agent after this year and will likely demand a higher salary than Reimer. 
Burke can either let Gustavsson walk or move Reimer to another team, but the decision depends on who he can obtain for the other goalie slot and whether that new person would be handed the starting role. 
Evgeni Nabokov, Tomas Vokoun, Josh Harding and Ray Emery will all be available in July. Nabokov and Vokoun will demand starter's minutes while a timeshare would have to happen at least to begin with if Harding or Emery are signed.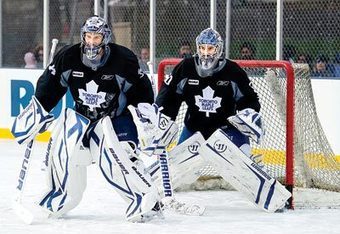 Burke can also try to pry a goalie from another team via the trade route, but who'll be available won't be clear until the end of the season for some teams and until the end of the playoffs for others. 
For example, Damien Cox of the Toronto Star floated the possibility of picking up Jaroslav Halak from the St. Louis Blues last night on Twitter, but the Blues would be stupid to break up the goaltending duo that has brought them to the top of the Western Conference standings. That could change depending on what happens for them in the playoffs.
This isn't a situation that'll have a resolution for a while, but it's something that'll be on the minds of Leafs fans as this losing stretch continues.
Anthony Antonacci is a freelance journalist and published author from Toronto, Ontario. He has been a Featured Columnist for Bleacher Report since November 2011 and enjoys talking sports as much as he enjoys writing about them. If you've got something to say, be sure to leave a comment below or follow him on Twitter to join in the conversation.