NCAA Tournament Bracket 2012 Projections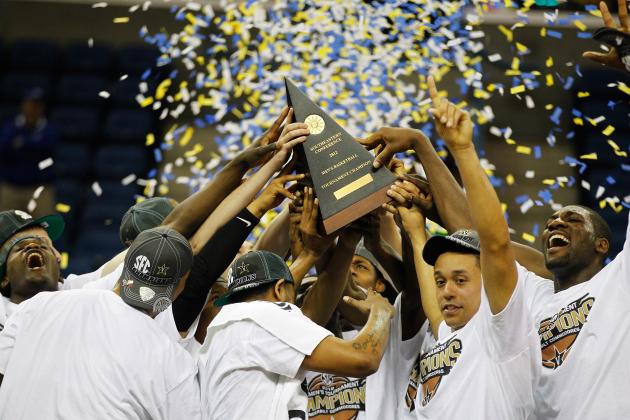 Chris Graythen/Getty Images
Despite losing the SEC Championship to Vanderbilt, Kentucky is still the No. 1 overall seed
This is a projected NCAA Tournament bracket, released prior to the official bracket announcements on Sunday, March 11 at 6:00 PM ET.
Top Seeds
1. Kentucky (Midwest Region, St. Louis): The overall number one seed, even after a loss to Vanderbilt in the SEC Championship game. The Wildcats' undefeated SEC regular season, combined with wins over Kansas, North Carolina and Louisville, helped ensure they would not fall from the spot despite the loss on Sunday.
2. Syracuse (East Region, Boston): The Orange held on to the second overall seed despite its loss to Cincinnati in the Big East Tournament semifinal. A 17-1 mark in the Big East and five wins over Top 25 teams highlights Syracuse's outstanding regular season.
3. Ohio State/Michigan State winner (South Region, Atlanta): The Big Ten co-champions have virtually identical numbers heading into their Big Ten Championship matchup. Each team has 10 wins over Top 50 teams, nine road/neutral wins and split during the regular season thanks to wins on the other's home court. The winner of the third meeting deserves the edge in seeding.
4. Kansas (West Region, Phoenix): Thanks to North Carolina's loss to Florida State in the ACC Final, Kansas slides back up to the final No. 1 seed after losing to Baylor in the Big 12 semifinal. Kansas had an outstanding regular season, winning the Big 12 outright—by two games over Missouri—and beating Ohio State, Georgetown, Baylor (twice) and splitting with Missouri.
Begin Slideshow

»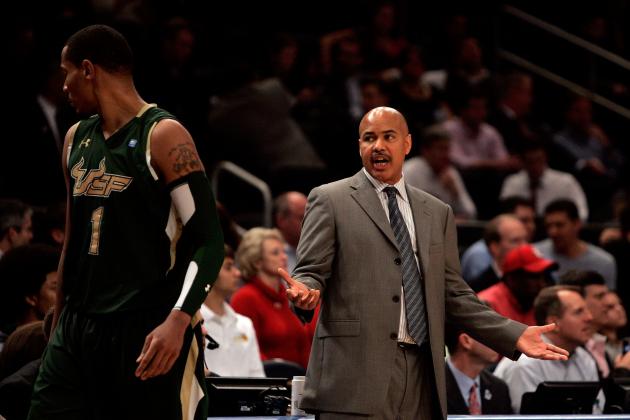 Mike Lawrie/Getty Images

These are the projected opening-round matchups, to be played Tuesday and Wednesday in Dayton, Ohio. The first two matchups are among 16 seeds. The second two are among the final four teams to receive at-large bids.
16f vs. 16c: Western Kentucky (15-18) vs. Lamar (20-11)
Western Kentucky, the only team to enter the tournament below .500, is the No. 68-seeded team in this field. Pat Knight's Lamar team, winners of the Southland Conference Tournament, is the No. 65 team with an RPI of 114 and its best win coming over a Tennessee Tech team with an RPI of 137.
16e vs. 16d: Mississippi Valley St. (21-12) vs. Vermont (23-11)
The Delta Devils of MVSU earned a well-deserved tourney bid after going 17-1 in the SWAC regular season. They are the No. 67-seeded team with an RPI of 143, the second-lowest of any team in the field. Vermont, winners of the America East conference, is the No. 66 team with the third-lowest RPI in the field, at No. 135.
12f vs. 12c: Drexel (27-6) vs. BYU (23-8)
After St. Bonaventure knocked off Xavier to snag the Atlantic 10's automatic bid, BYU fell to the fourth-to-last at-large team in the field. The Cougars earned a bid thanks to their quality overall and conference records (12-4 in WCC) as well as an 11-5 mark in road/neutral games.
Drexel, just barely held on to its spot in the tourney after another team (mentioned later) lost theirs thanks to St. Bonaventure. The Dragons—the CAA regular-season champions—are worthy of the opportunity thanks to their 27 wins, 14 road/neutral wins, and a 19-game winning streak prior to losing to VCU in the CAA championship.
12e vs. 12d: South Florida (19-13) vs. Oral Roberts (27-6)
USF benefited more than anyone from what happened in the Big East Tournament. While Louisville beat Cincinnati to win the title, USF defeated both teams just within the last two weeks. Their win at Louisville on Feb. 29 was one of the best of any of the bubble teams, and was just enough to put them over the hump and into the Field of 68.
A 12-6 Big East record certainly helped USF, but the two quality late-season wins made it worthy of the opportunity to play in the tourney.
Oral Roberts is probably the most surprising of any team in the First Four, but it really shouldn't be. While the Summit League doesn't have the sex appeal of the CAA or Horizon Leagues, it was the No. 16 rated conference in the country this year, just one spot behind the CAA. ORU went 17-1 in the conference, losing only to automatic-qualifier South Dakota State in the league's regular season.
ORU's key win was at Xavier back in December, which looks even better after Xavier's run in the A-10 Tournament. A 2-2 record vs. the top 50 along with a 12-6 road/neutral record made the Eagles' profile more respectable and cleaner than many of the other bubble teams.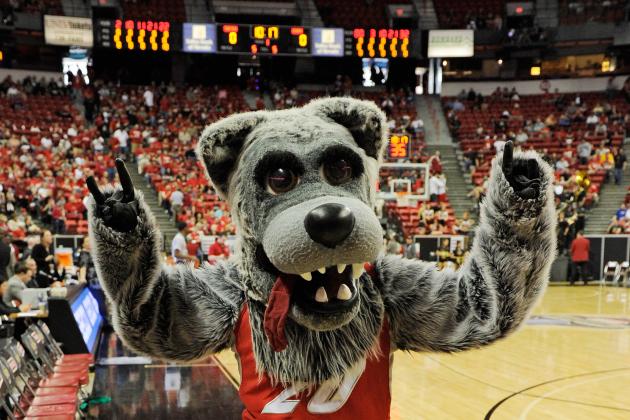 Ethan Miller/Getty Images
After winning the MWC Tournament over San Diego St., New Mexico earned a No. 4 seed in the Midwest Region, and a potential Sweet 16 matchup with top-seeded Kentucky
At Louisville, KY, Thu/Sat
No. 1 Kentucky (32-2) vs. No. 16 Lamar/W. Kentucky
No. 8 Purdue (21-12) vs. No. 9 Virginia (22-9)
At Portland, OR, Thu/Sat
No. 5 Cincinnati (24-10) vs. No. 12 Southern Miss (23-8)
No. 4 New Mexico (27-6) vs. No. 13 St. Bonaventure (20-11)
At Nashville, TN, Fri/Sun
No. 6 Wichita State (26-5) vs. No. 11 Xavier (21-12)
No. 3 Marquette (25-7) vs. No. 14 Davidson (25-7)
At Greensboro, NC, Fri/Sun
No. 7 Iowa State (22-10) vs. No. 10 Alabama (21-11)
No. 2 Duke (27-6) vs. No. 15 Loyola (MD) (24-8)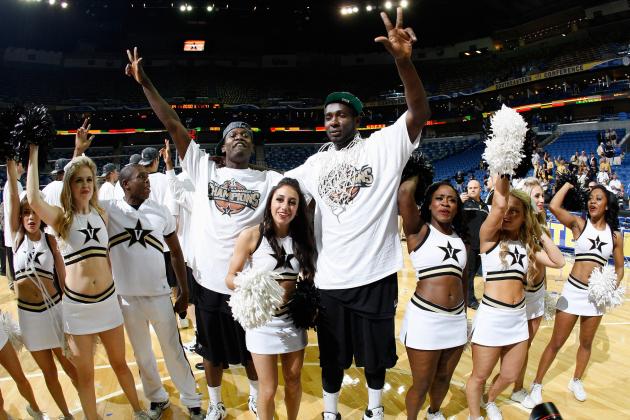 Chris Graythen/Getty Images
After knocking off top-ranked Kentucky, Vanderbilt is now deserving of a No. 5 seed in the East Region
At Pittsburgh, PA, Thu/Sat
No. 1 Syracuse (21-2) vs. No. 16 Vermont/Miss Valley St
No. 8 Kansas State (21-10) vs. No. 9 Memphis (26-8)
At Portland, OR, Thu/Sat
No. 5 Vanderbilt (23-10) vs. No. 12 BYU/Drexel
No. 4 Wisconsin (23-9) vs. No. 13 Colorado (21-11)
At Albuquerque, NM, Thu/Sat
No. 6 Notre Dame (22-11) vs. No. 11 NC State (22-12)
No. 3 Baylor (27-7) 14 Montana (23-6)
At Louisville, KY, Thu/Sat
No. 7 UNLV (24-8) vs. No. 10 Saint Louis (24-7)
No. 2 Ohio State (27-7) vs. No. 15 LIU-Brooklyn (25-8)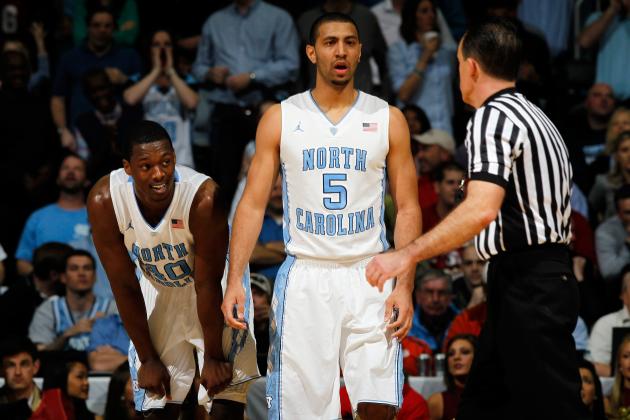 Kevin C. Cox/Getty Images
After losing to FSU in the ACC Championship, its second loss to the 'Noles this season, UNC falls to a No. 2 seed but stays in the South Region
At Omaha, NE, Fri/Sun
No. 1 Kansas (27-6) vs. No. 16 UNC-Asheville (21-9)
No. 8 Gonzaga (24-6) vs. No. 9 Connecticut (20-13)
At Nashville, TN, Fri/Sun
No. 5 Indiana (25-8) vs. No. 12 Long Beach State (23-8)
No. 4 Louisville (26-9) vs. No. 13 South Dakota State (25-7)
At Columbus, OH, Fri/Sun
No. 6 San Diego State (24-7) vs. No. 11 Texas (20-13)
No. 3 Michigan (23-9) vs. No. 14 New Mexico State (24-9)
At Greensboro, NC, Fri/Sun
No. 7 Temple (24-7) vs. No. 10 VCU (28-6)
No. 2 North Carolina (29-5) vs. No. 15 Lehigh (25-7)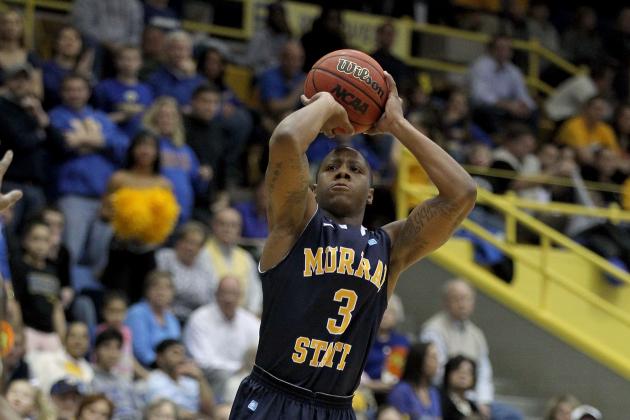 Andy Lyons/Getty Images
After a phenomenal regular season with just one loss, Murray State lands as a No. 6 seed in the West Region
At Columbus, OH, Fri/Sun
No. 1 Michigan State (27-7) vs. No. 16 Norfolk State (22-9)
No. 8 Florida (23-10) vs. No. 9 Harvard (26-4)
At Nashville, TN, Fri/Sun
No. 5 Creighton (28-5) vs. No. 12 ORU/USF
No. 4 Florida State (24-9) vs. No. 13 Ohio (26-7)
At Pittsburgh, PA, Thu/Sat
No. 6 Murray State (27-1) vs. No. 11 Colorado State (19-11)
No. 3 Georgetown (22-8) vs. No. 14 Belmont (26-7)
At Omaha, NE, Fri/Sun
No. 7 Saint Mary's (25-5) vs. No. 10 West Virginia (19-13)
No. 2 Missouri (30-4) vs. No. 15 Detroit (20-13)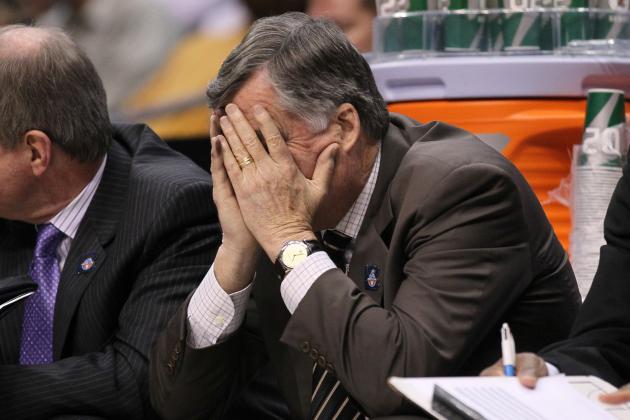 Stephen Dunn/Getty Images

Miami (FL): Losing to the eventual ACC Champs in FSU in the quarterfinal round denied Miami an opportunity for a second over the 'Noles, and a third against a top 25 team. With just one other win (vs. UMass) against the top 100, Miami just simply did not have quite enough depth on its profile to back its big wins over Duke and FSU.
Dayton: After losing a nail-biter to Xavier in the A-10 Quarterfinals, Dayton fell beneath Xavier in the race for the league's third at-large bid. A 4-4 mark vs. the top 50 was very impressive, keyed by wins at Temple, as well as over Alabama, Saint Louis and Xavier at home. However, like Seton Hall, Dayton was just a bit too inconsistent in conference play, with a 9-7 record and an inexplicable loss at home to Rhode Island.
Seton Hall: The Pirates nearly snuck in thanks to some pretty good non-conference wins (VCU, St. Joseph's and Dayton) as well as a signature win over Georgetown at home. However, they were extremely inconsistent throughout the season, as evidenced by losses to Rutgers (at home) and DePaul (by 28) to end the regular season. That was ultimately what broke the back of Seton Hall.
California: The Pac 12 lost its second team and only at-large team in this year's NCAA Tournament field after St. Bonaventure "stole" a bid by earning the A-10's automatic bid.
While Cal had a good overall record (24-9), good RPI (36) and respectable road wins over the Pac-12's other two best teams—Washington and Oregon—it also had zero wins against the top 50. It would have been the only at-large team without such a win, and was the logical choice to be the casualty to the Bonnies' earning a bid.
Next Four Out: Mississippi State, Marshall, Iona, Nevada