Big Ten Tournament 2012: Highlights, Twitter Reaction and Grades from MSU's Win
March 11, 2012

Andy Lyons/Getty Images
Michigan State exacted revenge for last weekend's loss to Ohio State in East Lansing, edging the Buckeyes in the season rubber match in Indianapolis, 68-64. The victory gives the Spartans their first Big Ten tournament title since 2000 after earning a share of the regular-season crown alongside OSU and Michigan.
Tweets of the Night
Wondering where Draymond Green really was on Sunday? ESPN's College GameDay crew might have an idea:
"Digger and Draymond in our selection Sunday hq twitter.com/ESPN_ReceDavis…"
Sunday's Big Ten final was good enough to draw the attention of folks from all over the sports world, including ESPN NBA insider Chad Ford:
"This amazing Michigan State-Ohio State game has the makings of an instant classic.They are throwing haymakers at each other."
And Matt Duchene of the Colorado Avalanche, who wasn't shy to reveal his rooting interest: 
"This MSU vs Ohio ST game is sick. The Spartans are my squad #gogreengowhite"

 
Must-See Highlight
There wasn't any one big play that defined this game, though Michigan State's celebration immediately afterward was certainly worth watching:
Grades for Key Ohio State Players
Jared Sullinger: B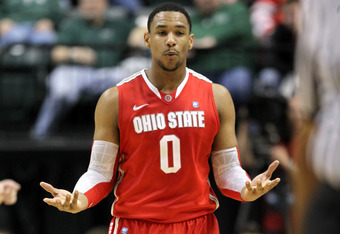 Andy Lyons/Getty Images
Jared Sullinger wasn't quite his usual self against Sparty on Sunday, pouring in 18 points on a less-than-efficient 7-of-19 shooting performance and ripping down nine rebounds. The big sophomore did an excellent job of shutting down MSU star Green (see below), though he couldn't quite kill the Buckeyes' dry spell down the stretch when they needed him most. 
Aaron Craft: B+
Like Sullinger, Aaron Craft enjoyed a solid day on the floor for Thad Matta's squad, contributing 10 points, eight rebounds, four assists and three steals to the cause while hounding Keith Appling throughout.
Then again, Craft's contributions could have (and perhaps should have) been greater had he not been plagued by foul trouble all afternoon.  
Grades for Key Michigan State Players
Draymond Green: C+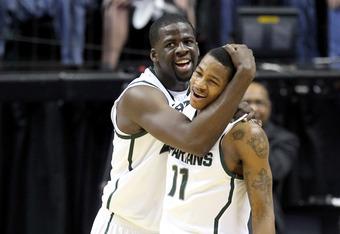 Andy Lyons/Getty Images
Green looked like anything but the Big Ten Player of the Year on Sunday. The senior closed out his Big Ten career with 12 points on just 4-of-14 shooting
To his credit, though, Green hit a crucial three-pointer to extend Sparty's lead to five with 1:36 left to play, and he added nine rebounds, three assists and a steal for good measure. 
Keith Appling: C- 
It's not unusual for star guards to struggle against Craft, though even that can't quite excuse Appling's no-show for Sparty. The sophomore managed all of four points on a paltry 2-of-8 from the field, though he staved off an even lower grade with a game-high five dimes.
Deciding Factor: Runs
The second half of the Big Ten final was something of a back-and-forth affair, with each team taking its turn smothering the other with a lengthy scoring run. The Buckeyes built up a 52-45 lead by way of an 11-3 spurt before the Spartans strung together a 17-5 stretch of their own to capture a lead that they never relinquished. 
Stat of the Night: Nine
That's how many three-pointers the Spartans hit in 21 attempts, compared to just four makes in 17 shots by the Buckeyes. That disparity allowed Michigan State to overcome a big deficit on the boards and in the paint on the way to the Big Ten title. 
Game MVP: Brandon Wood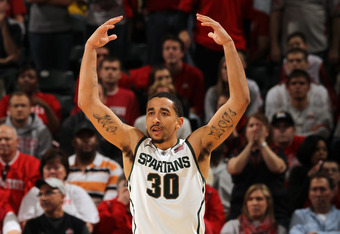 Jonathan Daniel/Getty Images
The Spartans wouldn't have survived poor performances from Green and Appling without the spectacular contributions of Brandon Wood. The senior transfer from Valparaiso scored a season-high 21 points on 8-of-14 shooting, including four three-pointers, just a week removed from tallying 15 points against this very same OSU squad.
Green may be the MVP of the Big Ten tourney, but Wood deserves some serious credit for getting MSU over the hump in the end.
What's Next?
Both teams will prepare for the first round of the NCAA tournament this weekend.