Arsenal News: Can These Reported Transfers Make Arsenal Title Challengers?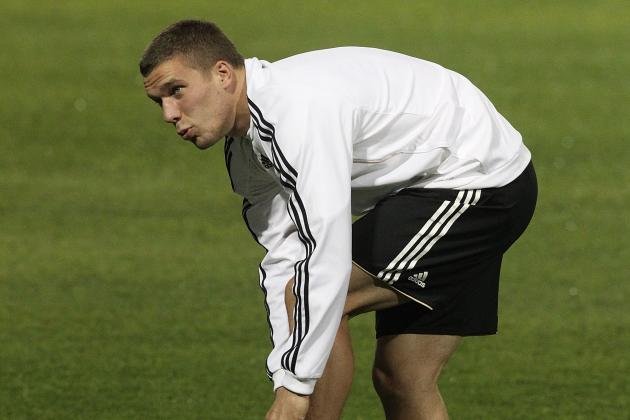 Joern Pollex/Getty Images

After the recent news of the imminent signing of Lukas Podolski, we look at the deal and other deals reportedly already done or reported to be very likely.
This season has been the first for a long time in which Arsenal have been at no point really challenging for the title. We suffered the worst start of Arsene's reign, but with the flurry of signings in the last 48 hours of the summer transfer window we have forced our way back up the table.
Lately we've been in incredible form. Wins over Tottenham, Liverpool and Milan have really boosted confidence within the group as we look to force our way into third place. The current form shows how good this team can be, but we all know we need more strength and depth.
Can these players add the much needed "super quality" and depth Arsenal need to once again become a force in English and European football? But almost as importantly, can these players prove to Robin van Persie that we are an ambitious club and that we will fight for all trophies we can?
Begin Slideshow

»
Let's start with the name on most people's lips at the moment.
Lukas Podolski, 26, German/Polish forward from Cologne.
Most people know about Podolski from his years of smashing it at International level with 43 goals in 95 appearances, however, at club level it's been a reasonably different story.
His senior career started at FC Köln, and he soon became one of the Bundesliga's most prolific with 51 goals in 84 appearances between 2003 and 2006.
Due to his impressive form he then moved to Bayern Munich. There he suffered injuries and just never really got going. He scored a total of 26 goals in 106 appearances between 2006 and 2009.
He then returned to FC Köln and returned to his best form and has currently scored 33 goals in 87 appearances, which isn't bad for a team who are fighting for survival and spend the majority of time in their own half.
Podolski has very direct and powerful style of play, and a mean left foot. He's predominantly a central striker, but has played in various positions across the front line and has been successful in all of them. His versatility is a key factor for Arsenal as it will add needed depth to more than just one position, and let's face it, he's much better cover for van Persie than Chamakh or Park.
It's been reported that a deal will be completed within a few weeks for a fee somewhere around £10.9 million, and he's going to be earning a reported £100k a week.
He'll definitely be a welcome to addition to the Arsenal squad as he is a world class striker, and still has plenty of years left in him.
Matias Suarez, 23, Argentinian forward from Anderlecht.
Now this is a transfer that isn't all in the news, and not too many people really know anything about it or who he is. He has apparently signed a pre-contract with Arsenal, and we have the option whether to sign him or not at the end of the season. The fee reported for him is around £4-5 million pounds.
This deal was reported by an Argentinian journalist who is very very reliable, his name is Javier Perez and you can follow him on twitter: @JavierPerez108
He apparently spoke to Matias in late January, and from there he learned of the deal.
From what I've read about Suarez and seen of Suarez, he seems to be a very tricky player, your typical South American player. Very good dribbling, vision, pace, and he can certainly finish.
He can play anywhere along the front line or as a No. 10. His versatility is once again a very important thing for Arsenal.
He's scored 44 goals with 34 assists in 139 games for Anderlecht.
He could be a very good player for Arsenal.
Lewis Holtby, 21, German midfielder from Schalke 04.
This is another deal exactly the same as the Matias Suarez deal, he signed a pre-contract with Arsenal, and the reported fee for the player is around £3-4 million.
This is another deal reported by the reliable: @JavierPerez108
He's an attacking midfielder with an eye for a pass and an eye for a goal.
He's very skillful and pacey on the ball, is a very quick-minded player and can change a game with his excellent vision. He also is a dead ball specialist, and has a good reputation for taking a pop from 30 yards.
He's a young talent, and with the guidance of Arsene Wenger, he could prove to be a very astute signing for the Gunners.
Jan Vertonghen, 24, Belgian defender from Ajax.
The situation with Vertonghen is that Arsenal are reportedly discussing personal terms with him, and they should be concluded within a few days, however, it's unknown whether a deal with Ajax has been done, but it seems very likely.
This was also reported back in early January by: Javier Perez but has since been reported in several newspapers and different aspects of the media.
He's a very, very versatile defender and can play left back, centre back, or even as a defensive midfielder. Now, this type of versatility is especially what Arsenal need, with our defensive injury curse, this guy would be an excellent addition to the squad.
Like the video says, he is a leader, he was Thomas Vermaelen's partner at centre back before we signed him, Thomas handed the captaincy over to Vertonghen, who now seems set to hand over the captaincy again and follow in the footsteps of his Belgian compatriot Vermaelen and join the Gunners.
He has the same lethal left foot Vermaelen possesses, and is very strong in the air, he has pace, and is a very intelligent defender.
He would prove to be a huge signing for the Gunners.
The usual rumours will surface surrounding Arsenal in the summer, and two players in particular will be on Arsenal's shopping list.
One is Mario Götze the young 19-year-old German midfielder from Dortmund.
We apparently bid in excess of over £20 million back in the previous summer window, but were turned down by Dortmund.
Everyone knows this guy's talent, he's the essentially the biggest talent in Germany, a bit like how Wilshere is in England.
He's quick, skillful, intelligent, has an eye for a pass and goal, he can do pretty much anything. He's a very, very good young player.
Arsenal clearly have an interest in him, but how successful we would be in trying to sign him is a different question. He's 19, playing for the top team in Germany, almost certainly going to win the league for a consecutive season while playing amazing football. Why would he want to leave so soon?
He does though apparently have a strong interest in Arsenal, but still, he seems maybe a bit too expensive for Arsenal.
The same goes for Eden Hazard, the 21-year-old Belgian forward from Lille.
Everyone knows he will be continuously linked with Arsenal, he has been for years, and this summer it seems he is definitely on the move, but to where, that is the question.
He says his preferred destination is England, he's essentially ruled out Chelsea due to their lack of history, and Liverpool can be counted out due to their lack of Champions League football.
It leaves the North London and Manchester clubs.
He's a bit of a transfer flirt and has bigged up Arsenal and Tottenham a lot, he hasn't said too much about the Manchester teams, but would still obviously consider them.
He is probably Europe's hottest property, and has been for a few years.
Will he join Arsenal? It's once again a case of can we afford him, and will he want to join us?
Either of these two players would be a huge signing and would make any Arsenal fan happy, they would seriously boost any teams title hopes.
As unlikely as it is, we can only pray one is at the Emirates next season.