Virginia Tech Football 2012: Predicting the Pre-Spring Two-Deep Depth Chart
Geoff Burke/Getty Images

Spring practices have begun and before you know it the spring games for all major college football programs will be upon us. Virginia Tech's annual Maroon and White game will give fans and the media a chance to get a sneak peak at the 2012 Hokies.
The Hokies are returning of nine of their 11 defensive starters from last season, making them pretty much set on that side of the ball. The offense is another story; the only returning skill position starter is quarterback Logan Thomas. The offense lost four of five offensive linemen, an All-American running back and two record-setting wide receivers.
Virginia Tech's spring game will give us our first glimpse of a slew of new starters on the offense. Many are young and inexperienced but a few are seasoned backups that will receive some well-earned playing time. The following is the predicted depth chart of the Hokies heading into the spring.
Begin Slideshow

»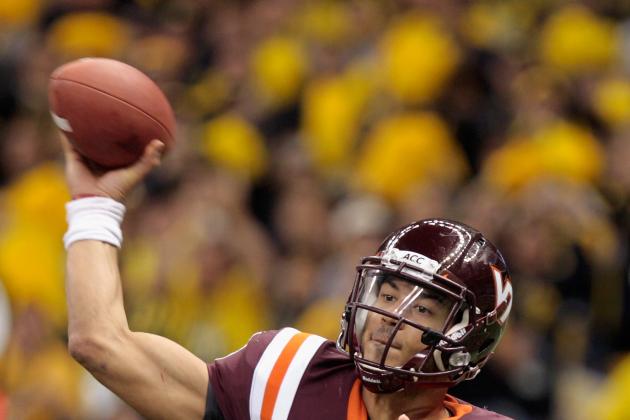 Chris Graythen/Getty Images

Starter: Logan Thomas
Second String: Mark Leal
This isn't much of a surprise. Thomas is coming off one of the best seasons a Virginia Tech quarterback has ever had. There possibly would have been a competition for the backup but Ju Ju Clayton transferred, leaving the job to Leal. Fans hope to see some growth from Thomas in his second season as he is now the main offensive threat for the Hokies.
True Freshman J.C. Coleman
Starter: Michael Holmes
Second String: J.C. Coleman
The loss of David Wilson and Josh Oglesby is going to hurt the Hokies early in the season, but the word out of Virginia Tech is that Holmes is a solid running back and will probably be the starter in the spring. J.C. Coleman is a true freshman and early enrollee. If he puts on a show in the spring then he could easily get the job. True freshman Drew Harris is also a tailback to keep your eye on.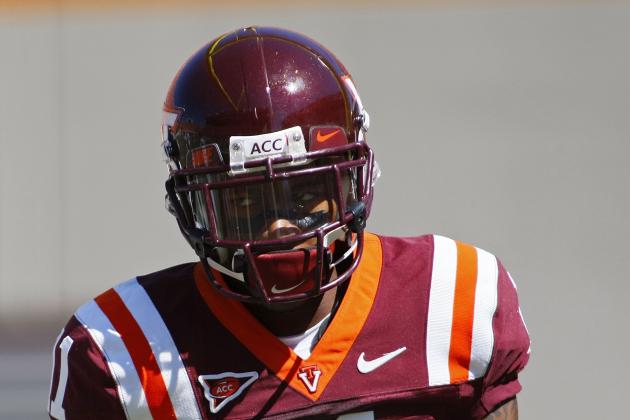 Geoff Burke/Getty Images

Starters: Marcus Davis, D.J. Coles
Second String: Dyrell Roberts, Corey Fuller
Davis, Coles and Roberts have all been productive in their Hokie careers. Davis is a potential big-play receiver but has some drop issues. Coles could prove himself to be a great offensive threat like Danny Coale.
If Roberts can stay healthy (something he hasn't done the past two seasons), then he will excel in the passing and kick-return game. Fuller is an unproven commodity, but this is his chance to get some playing time.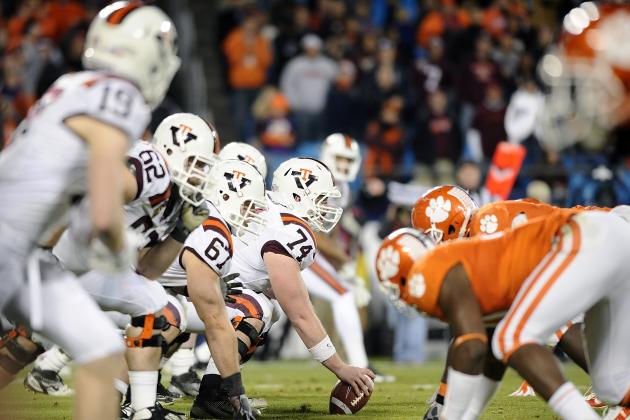 Jared C. Tilton/Getty Images

Starters: Michael Via, David Wang, Andrew Miller, Courtney Prince, Nick Becton
Second String: Laurence Gibson, Michael Via, Caleb Farris, Matt Arkema, Vinston Painter
Michael Via is on this list twice because he has experience playing offensive tackle, guard and center. If an injury occurs on the offensive line (Via excluded) then Via will probably be moved to that position and either Laurence Gibson or Vinston Painter will take over his position. Losing four of five starting offensive lineman would make you think that the line would suddenly become young, but that isn't the case here. The line is full of juniors and seniors.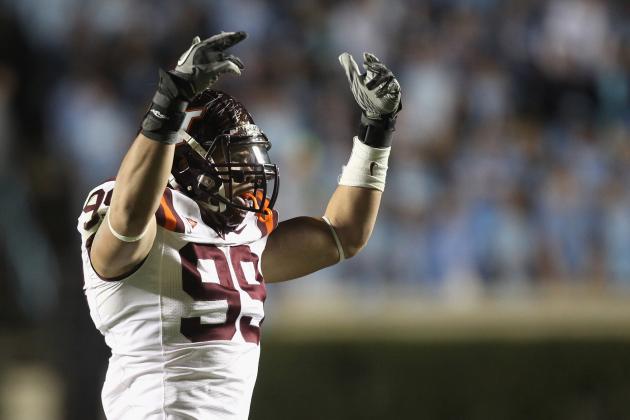 Streeter Lecka/Getty Images
Defensive End James Gayle
Starters: James Gayle, Antoine Hopkins, Derrick Hopkins, J.R. Collins
Second String: Tyrel Wilson, Luther Maddy, Corey Marshall, Zack McCray
The Hokies return all four starters from last season's defensive line. Antoine Hopkins is recovering from a torn ACL but he should be ready for the start of the season. Both Luther Maddy and Corey Marshall received some much-needed experience last season while replacing Hopkins. If the starters remain healthy throughout the season then this could be a dominant unit.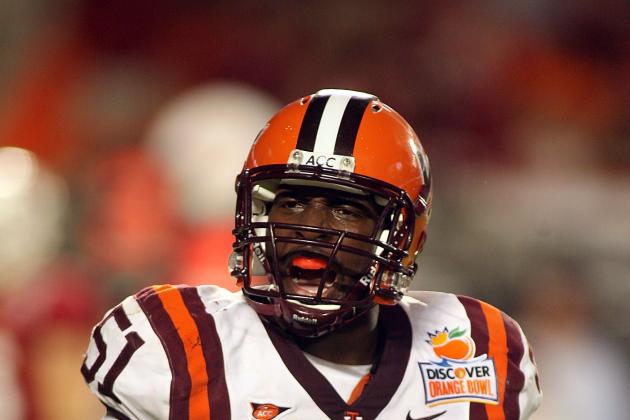 Marc Serota/Getty Images
Linebacker Bruce Taylor
Starters: Jeron Gouveia-Winslow, Bruce Taylor, Tariq Edwards
Second String: Alonzo Tweedy, Ken Ekanem, Ronny Vandyke
Both Gouveia-Winslow and Taylor are coming off of Lisfranc sprains in their feet. Taylor was a playmaker for the Hokies and Winslow showed a lot of upside so fans hope to see more of the same from the two starters. Tweedy is small for a linebacker but he filled in nicely when Winslow went down. Ekanem is a true freshman who could become a star for this defense in the future.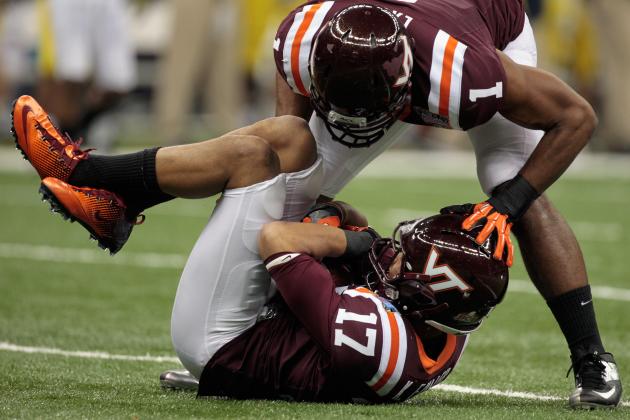 Chris Graythen/Getty Images
2012 Cornerbacks Kyle Fuller and Antone Exum
Cornerback Starters: Antone Exum, Kyle Fuller
Corner Second String: Donaldven Manning, Detrick Bonner
Safety Starters: Detrick Bonner, Kyshoen Jarrett
Safety Second String: Michael Cole, Boye Aromire
Andy Bitter recently wrote an article that said Exum will switch from safety to corner this season and Bonner will move from corner to safety. If for some reason that doesn't work out then they can always switch back. Detrick Bonner is listed as a second-string corner because the Hokies only have three scholarship corners on the roster. Manning was one of Virginia Tech's best recruits this year and he could turn into a big playmaker as a nickelback.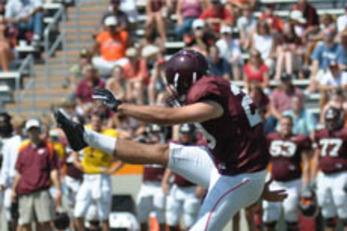 Punter Michael Branthover
Starting Punter: Michael Branthover
Second String Punter: Scott Demler
Starting Place Kicker: Conor Goulding
Second String Place Kicker: Unknown
Justin Myer's graduation and Cody Journell's arrest leave the Hokies with little experience at place kicker. Conor Goulding is the only returning kicker on the roster. It is possible that a walk-on (preferred or not) leaves spring training with the starting position.
The punting position is a little more tested. Fans saw a lot of both Branthover and Demler last season but that doesn't mean that they like what they saw. Both of them are wildly inconsistent in the punting game. Danny Coale came in to save the day late in the season but his departure gives the job back to Branthover and Demler.