NCAA Bracket 2012: Live Reaction to This Year's Bracket Release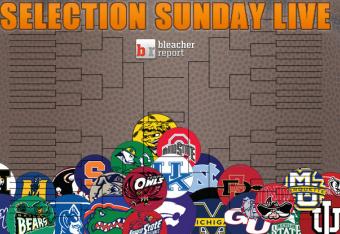 One of the greatest, most exciting days on the sports calendar is finally here: Selection Sunday!
Alright, that is a wrap on the Selection Sunday live blog and a wrap on my first-ever live blog. Thanks so much to everyone who read and commented and contributed and to everyone who helped out.
There will be a lot of coverage coming up this week and a lot of great basketball as well. It's the best time of year so everyone enjoy. Thanks again!
And one more thing before this live blog ends at 7:30. The lowest seed I see with a chance to win it all is Wisconsin as a No. 4 seed. I don't think they will win it, but I think they can. Their style of play isn't fun to go against, they have a great and tested point guard and they are well-coached. Wisconsin will not be an easy out.
I really came into today thinking Ohio State was the best team and they were going to be my pick to win it all. Michigan State showed me something today. They are Draymond Green and not a lot of big names after that but they can shoot, rebound, defend and I guess that's what happens with Tom Izzo as your coach. They are a really good team.
Also, so glad Seton Hall didn't get in to this field. South Florida is brutal and Seton Hall is worse. But really look at the teams that got left out and nobody has a leg to stand on as far as saying they were cheated.
I'm a huge fan of Iowa State this year. Royce White is a player to watch as well. He leads his team in scoring, rebounding, assists, steals and blocked shots. He is a player. UConn has the talent to run with anyone, but they haven't beaten anyone really good in a while. Beating Villanova isn't really impressive this year.
Iona against BYU is a good "First Four" game. I thought Iona deserved to get in and I thought BYU didn't. That should test my methodology right off the bat.
Who are the biggest snubs? Probably Drexel. Every bigger conference team had an opportunity to earn their way in and they didn't do it. Maybe Washington because they were the Pac-12 regular season champ at 14-4, but they got bounced immediately from their tourney and they were 9-10 against the top-150 RPI teams. That is the top half of college basketball. Not good enough.
With those picks though, I would take Michigan State over Kentucky and North Carolina over Ohio State. From there I think that's a great final game and I take North Carolina. Draymond Green is great but North Carolina just has so much size and scoring and I think they are the best team on paper. Kentucky's youth has to catch up at some point, right?
Looking at what I picked initially, I hate that I have three No. 1 seeds and a No. 2. I do think that there are a handful of really good teams though, and after that it's all so even. I have Kentucky, Michigan State, Ohio State and North Carolina. Not sure if I like those picks, I would probably criticize myself if I had just done that on TV.
And now finally, coming out of the East: Syracuse, Wisconsin, Cincinnati and Ohio State to the Sweet 16 with Wisconsin and Ohio State moving on. Ohio State to the Final Four. This is a pretty tough region to pick though.
And now on to the East Region: Possible first-round upsets are Harvard, Texas and Saint Bonaventure. Vanderbilt is good, but so is Harvard. Texas has a lights-out scorer that can win a game in J'Covan Brown and the Bonnie's are playing good basketball and have a star in Drew Nicholson. They scraped in, but they could stay for a little while. A must-see player in this region is Montana point guard Will Cherry. He hung tough against Weber State's more hyped Damian Lillard.
Out of the Midwest, I have to say, it's tough to do this so knee-jerk, but Carolina, Temple, San Diego State and Kansas to the Sweet 16. UNC and Kansas advance and North Carolina to the Final Four. I think these may change by tomorrow though. Temple is a good team though and so is Georgetown.
Next up is the Midwest: Possible first-round upsets are Ohio and Belmont. D.J. Cooper against Trey Burke is going to be a really fun match-up to watch. If I had to pick one lesser-known player to watch it would be Cooper, but I've already mentioned him twice. I'll go with Ray McCallum from Detroit. He is a legitimate draftable guard who can score of the bounce and distribute. If you make it a point to watch him you won't be disappointed.
Coming out of the West, Michigan State, New Mexico, Murray State and Missouri to the Sweet 16. Michigan State and Missouri move on and Michigan State to the Final Four. Missouri doesn't have to deal with size until the Elite Eight if they face the Spartans. New Mexico is a lot better than people realize. Beat out UNLV and San Diego St in the regular season and the tournament.
Moving on to the West: Long Beach State and Iona are two of my personal favorites and my picks as the most likely upsets. Davidson has a shot too. The must-watch players are Casper Ware and Scott Machado from both of those teams respectively. Machado might be the best floor-general in the country.
Coming out of the South I'd say Kentucky, Wichita St, UNLV and Duke in the Sweet 16, Kentucky and Duke advance and Kentucky in the Final Four. Wichita State is dangerous though.
Starting with the South Region: Possible first round upsets are South Dakota State and Colorado, with neither being a great bet to win. A fun player to watch that most people haven't seen is C.J. McCollum from Lehigh. He is a quick scoring guard who can get to the rim and hit from the outside. Duke will have its hands full with him.
Time to look back over the bracket and see who looks good to make a run or who are some possible upset candidates.
As far as the Midwest, Creighton got seeded a little bit low from my standpoint, I thought they would be at least a No. 7. With their three-point shooting they could give UNC a game. Michigan got a rough game as well with Ohio. Their point guard D.J. Cooper is a disruptive force and he gave Georgetown fits as a freshman.
The brackets are done. Iona in, Drexel out. It's a shame for Bruiser Flint and the Drexel Dragons. They had a phenomenal season and they get sent to the NIT once again.
Midwest Region
1: North Carolina
16: Lamar/ Vermont
8: Creighton
9: Alabama
5: Temple
12: Cal/ South Florida
4: Michigan
13: Ohio
6: San Diego State
11: NC State
3: Georgetown
14: Belmont
7: Saint Mary's
10: Purdue
2: Kansas
15: Detroit
We are 75 percent of the way there, then it's just time to debate.
Syracuse has Ohio State as their No. 2 seed, but got a relatively nice road to the Elite Eight. Vanderbilt I think got shafted a little. Harvard can play. Wisconsin is a dark horse.
East Region
1: Syracuse
16: UNC Asheville
8: Kansas State
9: Southern Miss
5: Vanderbilt
12: Harvard
4: Wisconsin
13: Montana
6: Cincinnati
11: Texas
3: Florida State
14: St. Bonaventure
7: Gonzaga
10: West Virginia
2: Ohio State
15: Loyola (MD)
Norfolk State has a really good big man in Kyle O'Quinn. Missouri doesn't have much size. Missouri should take them apart, but it could be interesting.
This article is
What is the duplicate article?
Why is this article offensive?
Where is this article plagiarized from?
Why is this article poorly edited?