Detroit Red Wings: Henrik Zetterberg Proving He's No 'Fake Zetterberg'...Finally
March 12, 2012

Christian Petersen/Getty Images
Over the summer, on the streets of New York City, there were multiple sightings of a slim, bearded man wearing a No. 40 Red Wings jersey in full uniform.
Aside from the fact that, even in New York, walking around in full hockey gear in the summer is bound to draw some stares, the guy presenting himself as Henrik Zetterberg actually comes off as a reasonably convincing doppelganger.
The ruse was so convincing to some that there was actually some semi-serious question as to Zetterberg's whereabouts during the days in question.
As it turned out, the "Fake Henrik Zetterberg" was shooting various spoof videos that had him interviewing for a job and surfing the Internet.
The videos (just search for "Fake Henrik Zetterberg" on YouTube) were reasonably amusing and all in good fun, but that term "Fake Henrik Zetterberg," at least for me, began to have a more daunting connotation once the season began.
The real Zetterberg did not appear so at season's start.
He collected just four points in his first 10 games this season and labored on at that pace for most of the next 20 or so games after that.
I remember looking at his projected totals for the season sometime in November and saw the franchise forward was on pace for about 38 points for 2011-12.
I remembered the tales of Fake Henrik Zetterberg bouncing around New York and wondered if, somehow, the same guy had managed to pull the same trick on the ice.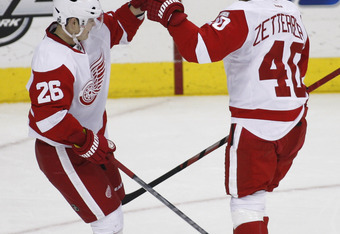 John Grieshop/Getty Images
Zetterberg was getting plenty of ice time, taking plenty of shots and receiving ample time on the power play.
However, his offensive impact was significantly less strong than it had been in previous seasons. While his fellow Euro Twin, Pavel Datsyuk, began assuming his regular rotation in the nightly NHL highlight reels, Zetterberg struggled to get his name on the scoring sheet on a regular basis.
It can be argued that there were legitimate reasons for Zetterberg's declining stats. Certainly, his permanent separation for the aforementioned Datsyuk was a factor.
Split up for long stretches over the past three seasons, the once overwhelming dynamic duo have now permanently been placed into more solid individual roles, with each centering his own line.
Speaking of linemates, Zetterberg's wingers this season, Valtteri Filppula and Jiri Hudler, each entered the year with their own set of question marks.
Filppula seemed a season or two overdue for his coming-out party as the 60-point-per-year, two-way threat the organization has seen in him for the better part of five seasons.
Hudler, coming off an utterly forgettable (if only we could forget) season in 2010-11, was more often associated with trade rumors than he was with offensive optimism.
Putting Zetterberg in between these two was a risk inasmuch as they both came into the season with some baggage that even the best centerman would be hard-pressed to unload.
Christian Petersen/Getty Images
Clearly, centering a new line with two wingers with varying degrees of doubt around them had an effect on Zetterberg's production early on.
However, it is at this point in the season that one can see that, despite his unexpectedly low offensive production, Zetterberg is playing as strong as he ever has.
He's not only picked up the flag of leadership left fluttering on the ground since Nicklas Lidstrom's absence with an ankle injury, he's put the team's offensive production on his back since Datsyuk was forced off the ice nine games hence.
Zetterberg has contributed 12 points in that span, and while Datsyuk is expected to return sometime in the next week or so from minor arthroscopic knee surgery, Zetterberg shows no signs of backing off his scoring pace in deference to his buddy.
What's more, both Filppula and Hudler are exceeding expectations playing alongside Zetterberg.
Filppula is nearly pacing Zetterberg's point production and is having the career year the Wings have been so patiently (well, maybe even impatiently) waiting for.
Hudler is finally back among the respectable in Detroit having cracked the 20-goal mark expected of him last season.
Something tells me neither of these scenarios would be true had No. 40 not been between them.
Sure, at the beginning of the season, Hank Zetterberg didn't look a lot like the guy who's been wearing No. 40 in Detroit the past nine years.
But, as we see him now, there's no question that Zetterberg is once again proving he is the real deal when it comes to franchise players.
Fake Henrik Zetterberg can keep doing his shtick all he wants now. There's no reason he'll ever be confused for the real one.


Follow Matt on Twitter @MAhutter12