NCAA Bracket 2012 Predictions: Kentucky and More Big Schools That Will Fail You
March 11, 2012

Chris Graythen/Getty Images
If you're thinking about picking Kentucky, Syracuse or Duke in your 2012 March Madness bracket, I highly suggest that you think twice. To be honest, I highly suggest that you pick against them once you start getting into the middle rounds of the tournament.
If you trust in these teams they are going to fail you.
Sure, they are big names, big schools and traditionally big schools are the ones that advance the farthest in the tournament.
While these teams have a lot of talent, they are lacking some of the intangibles that you'd like to see from a national championship contender. Let's break it down:
Kentucky: Depth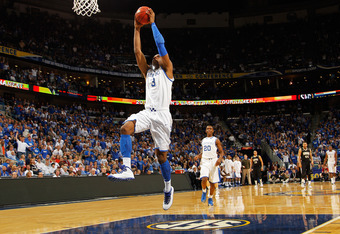 Chris Graythen/Getty Images
The two biggest gripes that I have with this Wildcat team are that they are not experienced, and that their lack of depth can cause them to be susceptible to fatigue.
If a team can get them running up and down the court, they will wear out easy and with only two seniors on the team, trying to keep this squad focused in the big moments may be hard—especially when they are a few games in.
Eric Prisbell of the Washington Post cites Marv Albert's thoughts on the Wildcats' depth:
When venerable broadcaster Marv Albert looks at Kentucky, he said he sees one thing: six future NBA players. But beyond those six standouts, the Wildcats hardly have any other players of consequence. The Gators played fast to fatigue the Wildcats, whose reserves account for just 22.4 percent of Kentucky's team minutes this season, which ranks 317th nationally.
In a tournament where attrition is so important, the Wildcats lack of depth is going to leave them extremely vulnerable.
Syracuse: Killer Instinct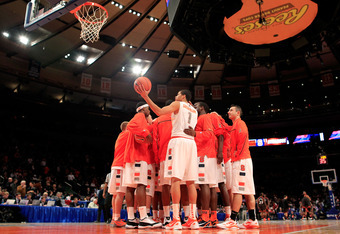 Chris Trotman/Getty Images
The Orange have the ability to the be the best team in the country, but they've never really played up to that potential. This leads me to believe that they lack that killer instinct that it takes to be successful in the NCAA tournament.
They had the opportunity to finish the year with only one loss on the way to a Big East title, but they ended up losing to Cincinnati, who then wound up losing to Louisville in the Big East championship.
All the cards were lined up for Syracuse to go in, take the east, and set themselves nicely for the tournament—especially after they knocked UConn out—but then they let it go.
It shows a lack of focus and a lack of killer instinct that makes me weary of this team.
Duke: Consistency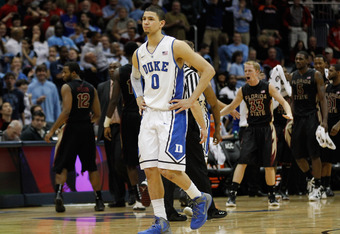 Streeter Lecka/Getty Images
The Blue Devils have the pieces to be a national championship team, but probably more so in the next two years rather than now.
While they have incredible numbers from freshman Austin Rivers and a good post presence from Mason Plumlee, this team is way too inconsistent to trust.
One game they look like the best team in the nation, and the next, they are losing to Temple.
They've gotten blown on my superior opponents and have lost to far inferior ones.
This is a team that I'd be staying far away from in the middle rounds of my bracket.