SEC Tournament 2012: Kentucky's Loss to Vanderbilt Will Help in the Long Run
March 11, 2012

Chris Graythen/Getty Images
There should be little doom and gloom in Lexington these days, even after Kentucky's 71-64 loss to Vanderbilt in the SEC Tournament Championship Game on Sunday.
If anything, the Wildcat's latest defeat—just their second of the season—might actually be a blessing in disguise for John Calipari's club. While still clearly the best team in the country even after having its 24-game winning streak snapped, UK now has some clear and relevant evidence to show that it's supremely talented squad is not, in fact, invincible on a neutral floor.
You know, like the ones on which Big Blue will play ball in the NCAA tournament.
For all of their McDonald's All-American ability, the Cats could never quite find separation from the Commodores, and ultimately fell when they failed to score from the field over the final eight minutes of the game.
It didn't exactly help the Wildcats' cause that they shot just 35.9 percent for the entire game, either.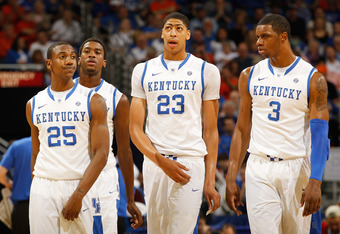 Chris Graythen/Getty Images
But, as easy as it would be to look at Sunday's result and raise concerns about the inexperience of UK's "Diaper Dandy" trio of Anthony Davis, Michael Kidd-Gilchrist and Marquis Teague (somewhat legitimate) or the team's streaky outside shooting (less legitimate), it's still not reason enough to push the panic button.
If there was any team Kentucky was going to lose to prior to the Big Dance, it was Vandy. The Commodores had the requisite talent and experience to top Kentucky at some point, with four seniors (Jeffery Taylor, Festus Ezeli, Brad Tinsley and Lance Goulbourne) and a junior (John Jenkins) amongst its starters.
Compare that to Kentucky, who starts three freshmen and two sophomores, and even the wealth of NBA talent (of which Vandy has quite a bit also) is hardly overwhelming.
And don't forget that Kevin Stallings' squad had played Big Blue tough in two previous meetings this season, the second of which saw UK score the final eight points of the game to pull out the win.
So, realistically, Vandy's victory in the SEC tourney shouldn't take too many people by surprise—not after the Commodores were ranked seventh in the preseason and expected to challenge Kentucky in the conference. They did just that during this campaign.
There's little doubt, too, that Kentucky will face and have to overcome teams that are as good as, if not better than, Vandy in the Big Dance on the way to the National Championship Game. Surely, North Carolina, Michigan State, Kansas, Missouri and Syracuse (to name a few) will get at least a word in edgewise in what's bound to be a chaotic conversation that could rattle the Cats' nerves. 
However, Kentucky is now acutely aware of that. The Wildcats' phenomenal freshmen, while still confident in their own abilities, have been humbled at just the right time and have been reminded that there are no guarantees in March Madness.
The agony of defeat brings with it the opportunity to refocus, especially after a month's-long winning streak and with six games standing between the most talented team in the country and its not-so-inevitable Final Four fate.